Investing in the right master limited partnership will reward you with high dividend yields and share price growth, but how can you distinguish which are worth your money? Tim Plaehn  shows you what to look out for in this hot topic. 
The market for master limited partnership (MLP) IPOs is really starting to heat up. Besides the three new MLPs that will be covered here, there are another dozen in the pipeline and one or two emails hit my inbox each week announcing another new filing.
Since an MLP comes out the gate as a viable business, with locked in revenue, free cash flow and usually a minimum distribution rate, you need some specific factors to review before jumping into one of these new partnerships. Use the following features to analyze future MLP IPOs and pick out the ones that will give you that nice combination of growing distributions and unit price gains.
Bigger, Better Sponsors Equals More Growth
Nothing helps a new MLP grow like a deep pocket sponsor that already owns additional assets that can be transferred in stages to the partnership, allowing a rapid and steady increase in the distributions paid to investors. The best recent example, is Phillips 66 Partners (NYSE: PSXP), spun-off by refining giant Phillips 66 (NYSE: PSX). The PSXP unit price has gained 99% since its July 2013 IPO. Yet, to date Phillips 66 has made only one asset transfer to the MLP, with over $1 billion of EBITDA paying assets still available.
What's the MLP's Sector or Niche
The business of the new MLP is important. Midstream assets like pipelines, storage facilities and loading docks will produce steady income and opportunities for growth. Some niche focused MLPs like the fracking sand suppliers have done very well by offering a relatively unique product or service. Limited or easy to compete with assets – such as trucks to transport crude oil – offer a less compelling story.
The Minimum Distribution and Payment Timing
The partnership agreement will list a minimum distribution amount, which will give you an initial yield for the new MLP. For smaller IPOs you may get a 6% yield with potential for growth. However, it is a better bet to go with a lower initial yield combined with very visible growth prospects. A high 8% plus initial yield indicates the partnership will probably not be focused on growing the distribution.
These three MLPs have come to market in the last few weeks, or will price and start trading later this week. Analysis using the selection of factors shows each with quite different investment potential. The list is from oldest to newest:
CONE Midstream Partners LP (NYSE: CNNX) went public with a September 25 IPO. CONE Midstream hits the market with two very strong sponsors: CONSOL Energy Inc. (NYSE: CNX) and Noble Energy, Inc. (NYSE: NBL), that own a large group of assets that can dropped down to the MLP. CNNX seems almost certain to become a rapid growth MLP, increasing distributions by 15% to 20% per year. The trade-off is a low 3% initial yield. The CNNX unit price jumped 34% on the first day of trading, so I would wait for the price to drop back down below $26. Since the first distribution will not be announced until January, the market will get bored at some point and lower the value before then.
JP Energy Partners (NYSE: JPEP) was formed by a private equity company and came to market with an October 2 IPO. JPEP will be a small cap MLP and over half of its initial EBITDA comes from a fleet of 135 trucks. The total asset base is not well integrated. The initial yield of 6.75% was set high to attract investors, but the units closed the first day and continue to trade below the IPO price. There is no good reason to get into this MLP early. You can wait a year and watch to see if the company has a valid plan to grow the distributions.
USD Partners LP (Pending: USDP) is set to price and start trading on October 9. The company will own a crude rail terminal in Canada and ethanol rail terminals in California and Texas. Crude by rail is a growth sector, since pipelines out of Canada cannot be completed or even approved such as the Keystone XL pipeline, to keep up with the growth in crude production in Western Canada. The company's sponsor has a long history of developing rail terminals, providing visibility for future growth. The units are expected to price to yield 5.75% at the minimum distribution. This could be a sleeper growth MLP investment.
While you're waiting to see how these MLP IPOs play out now's a good time to add a few mature MLPs to your portfolio. Weather experts predict another brutal winter for much of North America and that usually means a pattern of increasing unit prices as we move from fall to winter. This summer was particularly mild and many stocks in the energy space are trading at discounts, meaning right now you have a number of attractive entry points before the next run-up. I've added several high yield MLPs to The Dividend Hunter at attractive entry points. Click here for the full report on my top 5 MLPs.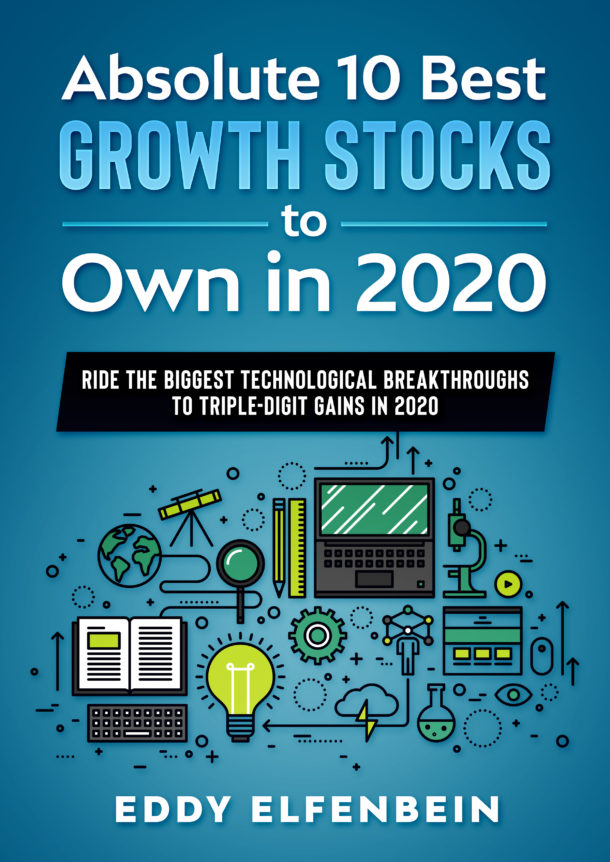 [NEW REPORT] Absolute 10 Best Growth Stocks to Own in 2020
Get the best 10 stocks to ride the 2020 tech explosion. 
One could be the most valuable stock of the next decade. 
Normally, I charge $20 for this report…
But, today...you can claim a copy absolutely free.
One stock alone has a chance at 167% profits in the next 12 months (or sooner). 
Enter your email below to claim a free copy while they last.