Well, that was inevitable.
Eleven days after the United States imposed trade tariffs on Chinese imports, China retaliated this week by dishing out some tariffs of its own on U.S. goods.
The war appears to be officially on.
To recap…
On March 22nd, the United States announced $60 billion worth of tariffs, complete with a shortlist of 1,000 Chinese products that could get hit with a 25% duty. Steel and aluminum were among them.
The move came amid festering, long-term anger at China's trade, currency, and business policies. A White House report says China's state-run government imposes unfair trade terms on U.S. companies by forcing them to surrender intellectual property if they want to do business in China. With a trade deficit of $375 billion, the United States says trade tariffs are required to combat the inequality.
In response, China said it would "fight to the end" in any trade war. Its Commerce Ministry said, "China will not sit idly by… and will take all necessary measures to resolutely defend its legitimate rights and interests."
Those measures came this past Monday.
It struck back with tariffs on 128 U.S. imports. This includes 25% on crucial industries like pork (China is the third-largest consumer of U.S. pork and imported $1.1 billion in U.S. pork products last year) and aluminum, plus 15% on wine, fruit, and nuts. In all, the new import tariffs total $3 billion.
The battle escalated yesterday, with the United States listing a further 1,300 products set for a 25% duty – worth a total $50 billion. China hit back with equal 25% tariffs on 106 U.S. imports – including big markets like soybeans, aircraft, orange juice, tobacco, and certain automobiles. The tariffs are also worth $50 billion.
Needless to say, this doesn't bode well for U.S. companies that do a lot of business in China…
War… What Is It Good For?
Given its trade surplus, China has more to lose from a prolonged battle. However, while it doesn't want to escalate a trade war, the scrap could last a while.
However, while it doesn't want to escalate a trade war, it's likely just the opening salvo in a trade scrap that could last a while.
Chinese news agency Xinhua labeled the U.S. tariffs a "self-defeating gamble that may hurt China… yet the damage will be done at the expense of enormous American interests."
Naturally, Wall Street hated the news, with the markets tumbling.
As I mentioned in my trade article a few weeks ago, there are several U.S. sectors and industries that will suffer the biggest impact from a reckless trade war: Agriculture, aerospace, construction, and transportation, to name a few.
Technology is another one – including one of the biggest names in it…
Intel's Black Monday
If you're concerned about the impact of a U.S.-China trade war on U.S. companies, you should be particularly aware of those who generate a lot of their sales in China.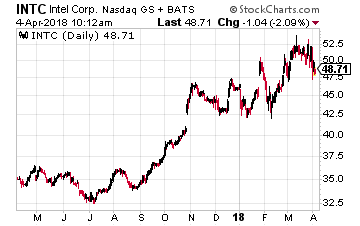 Intel Corp. (Nasdaq: INTC) is exposed here, given the amount of semiconductor chips it sells to Chinese manufacturers. In fact, Goldman Sachs says 40% of Intel's revenue comes from China.
If trade tensions escalate, it could affect the supply chain – and, in turn, Intel's top-line.
Things got worse for Intel on Monday, too.
According to a Bloomberg report, Apple will ditch the company as the chip supplier for its Mac computers in 2020 and start putting its own processors in Macs instead.
This is a big development. Apple enlisted Intel as its main chip supplier in 2005 and the two have formed a dominant partnership ever since, as IBM and Motorola lost out.
The move is part of Apple's Kalamata initiative, which aims to streamline Mac computers (both desktops and laptops), iPhones, and iPads in order for the hardware and software to work more seamlessly together.
Using its own chips would also mean Apple doesn't have to rely on anyone else and could potentially bring new products and features to market quicker. Bloomberg says Apple would also be the only major PC manufacturer to use its own processors. HP, Lenovo, and Dell all use Intel chips.
For Intel, losing Apple as a client is a big blow. Even though Apple has a small share of the PC market and only accounts for 5% of Intel's annual sales, that revenue comes from high-end Apple products. It's also allowed Intel to dominate the processing space for many years with faster, more powerful chips.
The news from Apple follows a similar move a year ago from Microsoft, who announced it would use ARM Holdings processors in its servers.
Investors reacted badly. The combination of the trade battle and Apple's news caused Intel shares to plunge by as much as 9.2% on Monday – its biggest intraday drop since January 2016.
So what's the bottom line here?
Well, there's no doubt that Intel is well-diversified. It boasts solid fundamentals, too. But the company lost its position as the world's largest chipmaker to Samsung in January and while investors' reaction to this week's news may be exaggerated, the fact that Apple has now joined Microsoft in switching away from Intel chips only squashes upward momentum for the stock.
Shares are up an impressive 39% over the past year, but this news, coupled with trade war concerns (remember, 40% of Intel sales come from China), knocked the stock below its 50-day moving average and into correction territory, having fallen by 10% from its recent peak. The investment upside could be limited from here.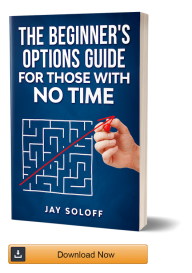 If not, here's your chance to save it to your computer while it's still free. That way you will never have to pay for it again in the future.
This guide will get you placing winning trades without you needing to spend hundreds of hours studying.
In fact, you can place your first trade today after reading my "Beginner's Guide" to trading options.