Upstream MLPs have built fortresses around their profits protecting them from the price volatility of crude oil. This long-term strategy protects the distributions of these companies and also ensures that you receive your check every quarter. Give your income portfolio a huge boost and buy these stocks while they're still cheap.
The core businesses of upstream MLPs include the finding, drilling, pumping, and selling of oil and natural gas. The master limited partnership (MLP) companies operating in the upstream sector now sport yields of 11% to 13% on the fears that lower energy prices will force these companies to reduce their distributions. However, I will cover the reasons why those fears are unfounded, and why the current low prices for these MLPs may represent a once-in-a-decade buying opportunity for you to lock in double digit yields.
Business Operations Built for Price Volatility
For years the upstream MLPs have stressed how they hedge oil and gas prices to lock in the minimum prices they will receive for the oil and gas produced and sold. These companies have 90% or more of the expected 2015 production hedged at $90 per barrel and higher. Most have significant hedge positions going out as far as 2018. Now those hedging practices will pay off and allow the upstream MLPs to maintain their distributions to investors.
Upstream MLPs have more financial flexibility than investors realize. While the calculated distributable cash flow may show a very tight margin between the cash available for distribution and the distributions paid to investors, an MLP can adjust its capital spending plans to make sure cash is available to cover the distribution.
A significant portion of the upstream MLP production consists of natural gas. Winter is here and the price of natural gas should start rising. Higher natural gas prices will help offset some of the drop in the value of crude oil.
The current decline in crude could also reduce the value on the energy producing assets that upstream MLPs like to buy to grow future production and cash flows. Expect to see these companies making acquisitions, securing strong cash flows for the future.
Big Boy Upstream MLPs
The larger upstream MLPs have the financial strength to weather the current downturn in the price of crude and come out even stronger when the price recovers – which it will over the next six to 18 months. Here are the two largest upstream MLPs: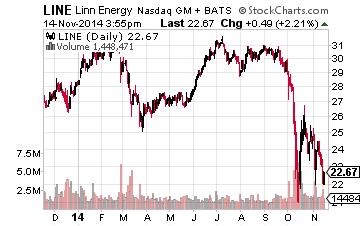 Linn Energy LLC (Nasdaq: LINE) is by far the largest company in the sector, with operations in several of the major energy plays. LINE currently yields 12.9%. Investors also have the option to buy shares of LinnCo LLC (Nasdaq: LNCO) which are backed share for share by a unit of LINE. LNCO shares pay 1099 reported dividends rather than the K-1 distributions of an MLP.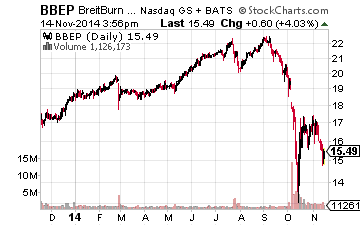 BreitBurn Energy Partners LP (Nasdaq: BBEP) with soon merge with QR Energy LP (NYSE: QRE) another upstream MLP to become the second largest company in the sector. BBEP currently yields 13%.
Small and Nimble MLPs
Smaller MLPs have the opportunity to produce growth for investors without the need to make blockbuster acquisitions. These two MLPs have done a nice job to date of producing a growing income stream for investors.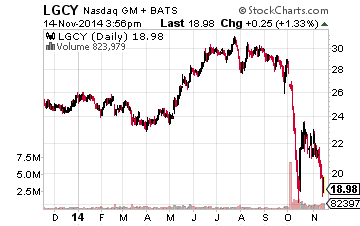 Legacy Reserves LP (Nasdaq: LGCY) has partnered with mainstream upstream energy producers in a unique revenue sharing arrangement that will produce distribution growth for investors. LGCY yields 12.0%.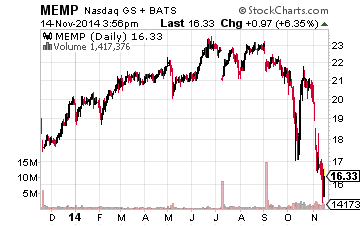 Memorial Production Partners LP (Nasdaq: MEMP) is one of the few upstream MLPs with a general partner sponsor that can assist with the acquisition and development of new assets. MEMP yields 13.6%.
The stock market has badly misjudged the ability of these companies to pay distributions and the unit prices will be 10% to 20% higher after a few quarters of stable payout to investors and proof that these companies can handle energy price volatility. That basically means you can purchase MLPs on sale right now.
MLPs are an integral part of the income strategy with my newsletter, The Dividend Hunter. And there are currently several of them in my Monthly Paycheck Dividend Calendar.
The Monthly Dividend Paycheck Calendar is set up to make sure you're getting 3, 4, even 5 dividend paychecks per month from stable, reliable stocks with high yields. And that you're income stream will be more stable and predictable as you're getting payments every month, not just once a quarter like some investors.
The Calendar tells you when you need to own the stock, when to expect your next payout, and how much you could make from stable, low risk stocks paying upwards of 8%, 10%, even 11%. I've done all the research and hard work, you just have to pick the stocks and how much you want to get paid.
The next critical date this month comes on Wednesday, November 26th, so you'll want to take action today to make sure you don't miss out. Click here to find out more about this unique, easy way of collecting monthly dividends.