On one recent Sunday business show, I caught an interview with Allianz chief economic adviser Mohamed El-Erian. He said a couple of things that really caught my attention. Talking about the big market swings during the last week in August he said, "The journey mattered more than the destination," which is untrue for any investor that avoided selling into the big swings that occurred during the week. One very true point was this quote: "The functioning of markets and ETFs in particular have difficulties in this massive volatility." He noted that the big down days were opportunities to buy shares of quality companies. And, my favorite line from El-Erian: "A lot of people sold at the worst possible time on Monday," when the market was down the most. It was those sell orders that drove the market down in the first place.
This type of thinking is one reason I focus on income stocks. Cheaper share prices make it easier for me to buy shares of my best picks and increase the average yield on my holdings. I am looking at longer term results and want to be well invested when the market turns up again, giving me both share price gains and attractive dividend payments.
Currently, the energy sector is in a serious bear market. The decline in the price of crude oil has resulted in share price declines for all energy companies, even those whose fortunes are not directly tied to energy commodity prices. Many master limited partnerships (MLPs) own and operate essential energy infrastructure assets. These assets include pipelines, storage terminals, loading and unloading terminals, and processing plants. A lot of the services provided by MLPs are on fee-based contracts and essential to the functioning of the entire energy system of the United States. Yet, MLPs have sold off right along with the oil and gas drilling companies and big multi-national energy businesses.
Master limited partnerships pay out most of their free cash flow as distributions and investors buy them for the cash flow yields. The drop in MLP values across the board has pushed up yields to an average of 7.2%. The Alerian MLP Equal Weight Index is yielding over 8%. With these yields, MLPs are now yielding 500 to 600 basis points (5% to 6%) more than the 10-year U.S. Treasury yield. The 500 basis point spread between the 10-year Note and MLP yields has historical significance.
And when I say historical significance, I really mean it.
In the 20 year history of MLPs as a sector, the yield spread has been greater than 500 basis points only 5% of the time. The majority of the time, MLPs are priced to yield 300 to 400 basis points above the bond yield. Whenever that spread has exceeded 500 basis points, MLP sector values have increased by between 20% to 40% over the next 12 months 100% of the time.
Let me repeat that statistic.
When the yield spread between 10-year U.S. Treasury bonds and the MLP sector exceeds 500 basis points, the MLP sector has had 20% to 40% total returns over the next 12 months 100% of the time. That is a statistic I like to put my money behind.
If history repeats, buying quality MLPs now should result in very attractive total returns over the next year and beyond. Yields are very attractive on high-quality MLP units. You can invest now and get well paid to wait for the sector to recover. Here are a couple of names to start with: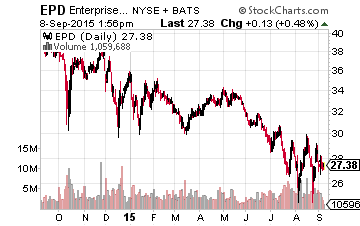 Enterprise Products Partners LP (NYSE:EPD) is the largest MLP by market cap. The company is conservatively managed and has consistently increased distributions by 5% to 6% and has increased the distribution rate every quarter for 44 consecutive quarters. EPD currently yields 5.6%. A year ago, the units carried a yield that was less than 4%.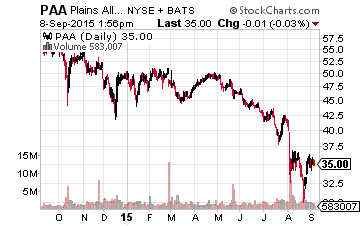 Plains All American Pipeline, LP (NYSE:PAA) is a large cap provider of crude oil pipeline and storage services. Plains is another MLP managed to do well during the bad times in the energy sector. Historically, the PAA distribution has grown by 10% per year, but you should expect slower growth for the next couple of years before the typical growth rate resumes. The units yield 7.9%, compared to a historical average of about 5%.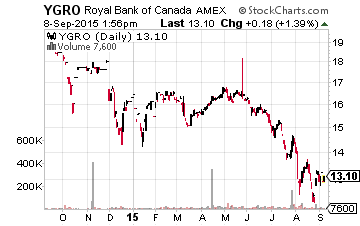 The RBC Yorkville MLP ETN (NYSE:YGRO) is a new exchange-traded note that tracks an index focused on the 25 MLPs with the fastest dividend growth rate. I have made this ETN a recommended holding for my Dividend Hunter subscribers. The current yield is 5.6%.
In this market turbulence, I have added (at no additional charge) a weekly dividend stock recommendation that will go to The Dividend Hunter subscribers. The goal is to help them pick up shares of the top quality dividend stocks when fear drives the market.
High yield / high dividend growth investments that regularly boost their dividends are an integral part of the income strategy with my newsletter, The Dividend Hunter. And there are currently several in my Monthly Paycheck Dividend Calendar, an income system used by thousands of dividend investors enjoying a steady stream of cash.
The Monthly Dividend Paycheck Calendar is set up to make sure you're a minimum of 5 and in some months 8, 9, even 12 paychecks per month from stable, reliable stocks with high yields.
And it ensures that your dividend stock income stream will be more stable and predictable as you're getting payments every month, not just once a quarter like some investors do.
The Calendar tells you when you need to own the stock, when to expect your next payout, and how much you could make from stable, low risk stocks paying upwards of 8%, 9%, even 11% in the case of one of them. I've done all the research and hard work; you just have to pick the stocks and how much you want to get paid.
The next critical date is Friday, September 18th (it's closer than you think!), so you'll want to take before that date to make sure you don't miss out. This time we're gearing up for an extra $3,115 in payouts by October, but only if you're on the list before the 18th. Click here to find out more about this unique, easy way of collecting monthly dividends.
Positions: Long YGRO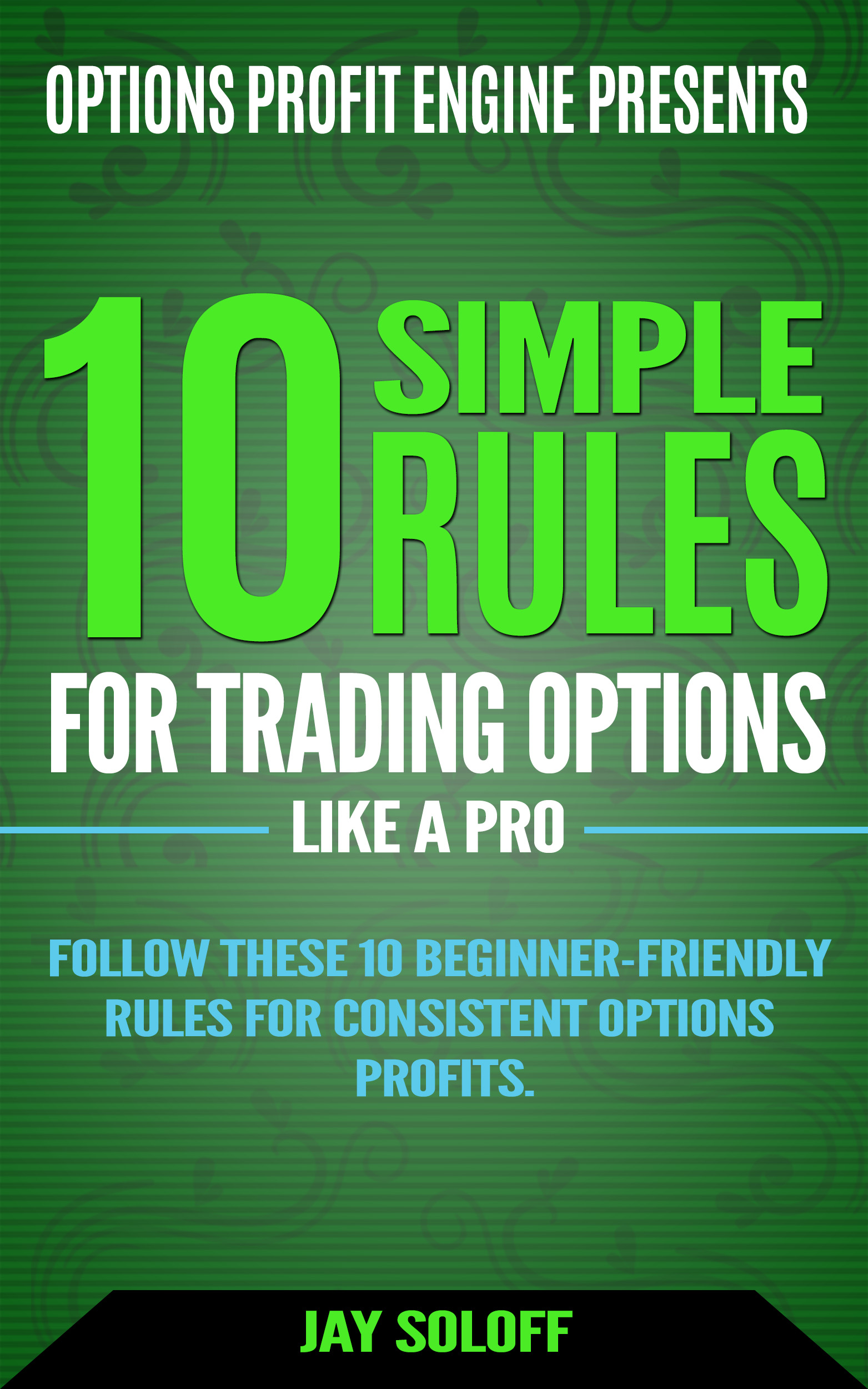 [FREE DOWNLOAD] 10 Simple Rules for Trading Options Like a Pro
Follow these 10 simple rules from 20-year professional options trading veteran, Jay Soloff and start earning a reliable extra income from options.
NO prior experience needed to master these 10 simple options trading rules. 
Enter your email below and receive access to this FREE guide...