Marking a significant change from the governing style of the last eight years, Trump's executive-laden cabinet promises to unlock growth in the American economy in big ways, and these seven stocks look like they could be the biggest beneficiaries of the new government. 
Back in 2008, with the financial crisis upon us, the American electorate voted for "hope and change".
Disappointed, this time Americans voted for someone that will approach governing the country in a very different way – Donald Trump.
His Cabinet choices shows he means business, big business. The latest tabulation I saw, which may have changed with new appointments, is that Trump's Cabinet nominees have 83 combined years of C-Suite experience.
The only President going back to John F. Kennedy that had a Cabinet with close to as much business experience was George W. Bush. President Obama's initial Cabinet has a total of just 5 years of business experience, but 117 years of experience in government.
While Trump's Cabinet will have 55 years of government/military experience, it is definitely a complete change of culture.
Businessmen in Charge
The change hasn't escaped the notice of smart people like hedge fund star, Ray Dalio of Bridgewater Associates.
He likens the change to the 1979-1982 shift from socialists to capitalists in the U.S., U.K. and Germany with the elections of Ronald Reagan, Margaret Thatcher and Helmut Kohl. Or to China's drastic move from the "iron rice bowl" to believing that "it's glorious to be rich."
In other words, the effect on the American economy may even be greater than most anticipate.
Of course, much will depend on Congress. The Democrats are already questioning many of Trump's Cabinet choices. They believe they will have conflicts of interest between their businesses and the position in government they will hold.
SEE ALSO: 3 Stocks that Will Go From Worst to First in 2017
But if most nominees obtain Congressional approval, it will be a Cabinet made up largely of successful, independent-thinking business people that are results oriented.
Corporate Connections
Getting back to those Democratic objections, there are a lot of corporate connections in Trump's proposed Cabinet and advisers.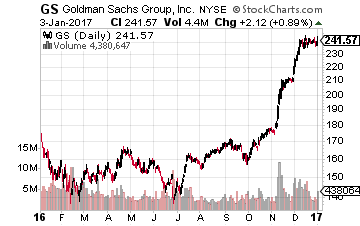 And we're not just talking about the obvious ones – the nominees with Goldman Sachs (NYSE: GS) ties – Steve Bannon, Gary Cohn and Steve Mnuchin. Or even Rex Tillerson, the ExxonMobil (NYSE: XOM) CEO, who is slated to be Secretary of State.
Many of Trump's picks have served or are serving on the board of directors of a number of companies.
Here is just a partial list of the connections. A more complete and updated list can be found at the website of the corporate data firm Equilar: corporate-connections-in-the-cabinet.
Elaine Chao, Transportation Secretary nominee: Ingersoll-Rand (NYSE: IR), Vulcan Materials (NYSE: VMC), News Corporation (Nasdaq: NWS) and Wells Fargo (NYSE: WFC).
James Mattis, Secretary of Defense nominee: General Dynamics (NYSE: GD).
Rick Perry, Energy Secretary nominee: Energy Transfer Partners (NYSE: ETP) and Sunoco Logistics Partners (NYSE: SXL).
Wilbur Ross, Secretary of Commerce nominee: ArcelorMittal (NYSE: MT), EXCO Resources (NYSE: XCO), Sun Bancorp (Nasdaq: SNBC) and Nexeo Solutions (Nasdaq: NXEO).
While it may be interesting to follow the fortunes of the specific companies affiliated in some way to Trump's Cabinet and advisors, investors would be wise to pay attention to the bigger picture, as Ray Dalio is doing.
What a Trump Presidency Will Do
I think the number one takeaway is that the heavy regulatory hand of the Obama Administration will be lifted. And not just for the financial industry, which is Wall Street's current focus.
For example, the nominee to head the Environmental Protection Agency is Oklahoma Attorney General, Scott Pruitt. He has been a primary architect of legal challenges to EPA regulations.
Trump's pick for Labor Secretary is Andrew Puzder. He is the CEO of CKE Restaurants, the parent of Hardee's and Carl's Jr. He has been an outspoken critic of the Obama Administration's worker pay policies.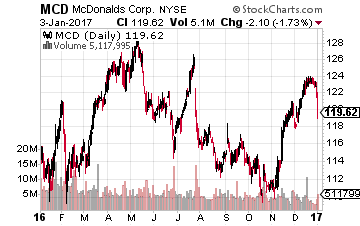 If Puzder's views become implemented, it will be a huge relief to the entire restaurant industry. This will include firms like McDonald's (NYSE: MCD), Domino's Pizza (NYSE: DPZ) and Jack in the Box (Nasdaq: JACK).
Others including Ben Carson and Wilbur Ross have also been critical of certain regulations.
And then we come to the special adviser to Trump on overhauling federal regulations, famed investor Carl Icahn.
Look to Icahn's Companies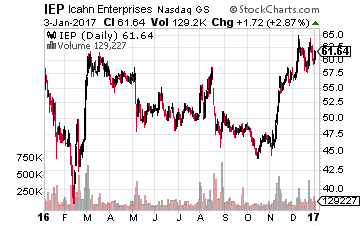 The stock of his publicly-traded company, Icahn Enterprises L.P. (Nasdaq: IEP) has gone from about $48 a share on Election Day to nearly $64 now, with the added boost (8+ points) received after the announcement Icahn would be a special adviser to the incoming President.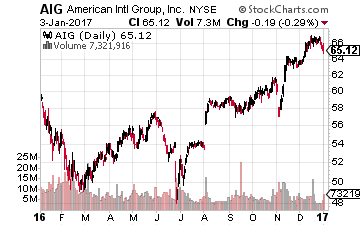 One large current investment is in the giant insurance company, American International Group (NYSE: AIG). It will benefit from its removal from the list of systemically important financial institutions.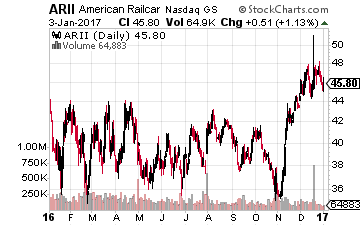 Icahn-controlled American Railcar Industries (Nasdaq: ARII) is suing the Federal Railroad Administration. It is trying to overturn the ruling that its tank cars be tested for leaks. That resulted from a 2014 ethanol leak from one of its rail cars.
Speaking of ethanol, Icahn has fired the most ammo at the EPA for its regulations regarding biofuels being blended into the nation's gasoline supplies.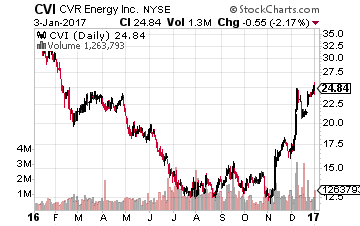 Icahn says this regulation will bankrupt not only the refinery company he controls – CVR Energy (NYSE: CVI) – but the entire industry.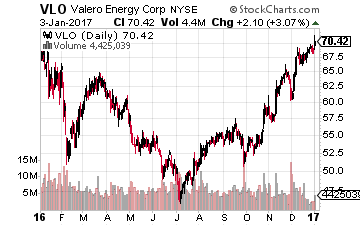 Other companies in the sector, such as the largest U.S. independent refiner, Valero Energy (NYSE: VLO), agree. It has struggled to meet the EPA requirements and was forced to spend $370 million on ethanol credits this past spring and summer. VLO's stock is up about 10 points since Trump's election.
For me, many of the basic industries like rail and refining will benefit the most from a relaxation of regulations under Trump. Buying equities in these sectors should prove profitable.
Even as we look forward to 2017 I'm looking at a stock right now that could give us a nice end of year pop then set up for big gains early in the new year. It has a key catalyst date of February 28, 2017. This event is expected to propel the stock by as much as 66% in short order, perhaps even more. In my new briefing I detail how this may be the best investment you make in 2016 and how you can expect windfall profits in 2017.