Add some dividend growth horsepower to your portfolio with any of these seven REITs increasing their dividends by double digits and start collecting a growing stream of income.
One of my goals for 2016 is to add some more dividend growth horsepower to my dividend-focused investing strategy. My best results in 2015 have been from those companies that are growing their dividend payments by 15% per year or more. After a year with a lot of frustration concerning share prices, even as the dividend payments stayed strong, I want to add a larger shot of dividend growth going forward into the New Year.
In theory the math of dividend growth is pretty straight forward. For the yield on a stock to remain constant, the share price must increase by the same rate as the dividend growth. To illustrate, a hypothetical REIT yields 5%, and is growing its dividend rate by 10% per year. After a year, to still yield 5% the share price must be up by the 10% in dividend growth. The 10% capital gain plus the 5% (actually a little more if the dividend increases have been spaced out) yield gives a 15% total return. That's a nice stock market result in almost anyone's book.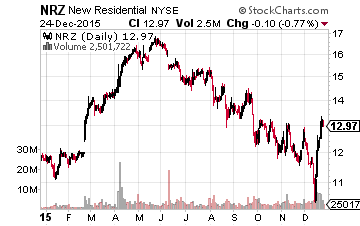 Of course, if you have owned dividend paying stocks, you know that the market is not a calculator and is not even close to logical. Market participants are always looking for different reasons why share price should be going up or down. A good example is New Residential Investment Corp (NYSE: NRZ). The current dividend is now 21% higher than the rate investors were earning a year ago. Yet the NRZ share price is down 3.7% over the same period.
The better news is that NRZ now yields 14.1% compared to 11.7% a year ago. At some point the market will actually realize that NRZ is growing its dividend and will push the share price up, producing the total return the math demands. The dividend yield plus dividend growth return expectation will work out over the longer term.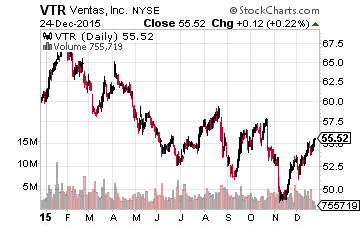 For example, healthcare REIT Ventas, Inc. (NYSE: VTR) is a steady dividend grower, with 8.6% average annual dividend growth over the last 10 years. The result has been 15.4% compounded annual return, right through the 2008-2009 bear market and producing a 320% total return for the 10 years.
I like the idea of a growing dividend income stream flowing into my brokerage account, so as noted above, I am going to put an increased focus on income stocks that can produce double-digit dividend growth. Here are three that you can dig deeper into.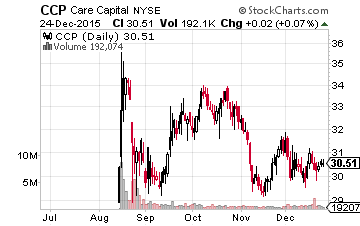 In August, Ventas spun off the bulk of its skilled nursing facilities holdings into a new public company, Care Capital Properties Inc (NYSE: CCP). I think the spin-off will allow Ventas to focus on more growth-oriented acquisitions and boost its dividend growth into the low teens, compared to 7% to 8% growth over the last few years. The current 5.4% yield with 11% dividend growth gives an attractive return potential in a slow growth world.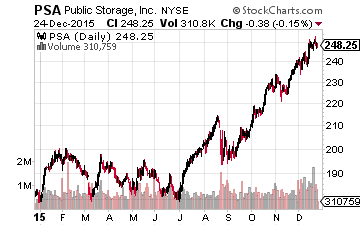 Self-storage is the hot sector in the REIT space. Extra Space Storage, Inc. (NYSE: EXR) has increased its dividend by 25% in the last year and large-cap Public Storage (NYSE: PSA) increased its payout by 21%. National Storage Affiliates Trust (NYSE: NSA) is a newcomer to the sector with an April 2015 IPO. The dividend has already been increased once and the current 4.7% yield is a nice launching point if NSA can match the growth in the sector.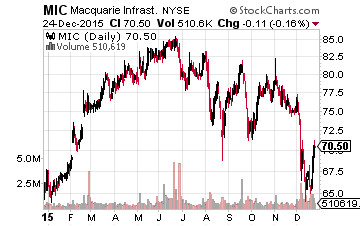 Macquarie Infrastructure Corp (NYSE: MIC) owns a diverse portfolio of assets including infrastructure businesses including bulk liquid terminals, International-Matex Tank Terminals, airport services, Atlantic Aviation, gas processing and distribution, and Hawaii Gas, which provides natural gas to the islands' citizens. MIC has been increasing its dividend every quarter, up 15% over the last year. The dividend growth may slow but should stay in the double digits. The stock currently yields 6.8%.
Finding companies that regularly increase their dividends is the strategy that I use myself to produce superior results, no matter if the market moves up or down in the shorter term. The combination of a high yield and consistent dividend growth in stocks is what has given me the most consistent gains out of any strategy that I have tried.
And, there are currently over twenty of these stocks to choose from in my Monthly Paycheck Dividend Calendar, an income system used by thousands of dividend investors enjoying a steady stream of cash.
The Monthly Dividend Paycheck Calendar is set up to make sure you receive a minimum of 5 paychecks per month and in some months 8, 9, even 12 paychecks per month from stable, reliable stocks with high yields. If you join my calendar by Thursday, December 31st you will have the opportunity to claim an extra $1,135 in dividend payouts by January.
The Calendar tells you when you need to own the stock when to expect your next payout, and how much you can make from stable, low-risk stocks paying upwards of 12%, 13%, even 15% in the case of one of them. I've done all the research and hard work; you just have to pick the stocks and how much you want to get paid.
The next critical date is Thursday, December 31st (it's closer than you think!), so you'll want to take action before that date to make sure you don't miss out. This time, we're gearing up for an extra $1,135 in payouts by January, but only if you're on the list before the 31st. Click here to find out more about this unique, easy way of collecting monthly dividends.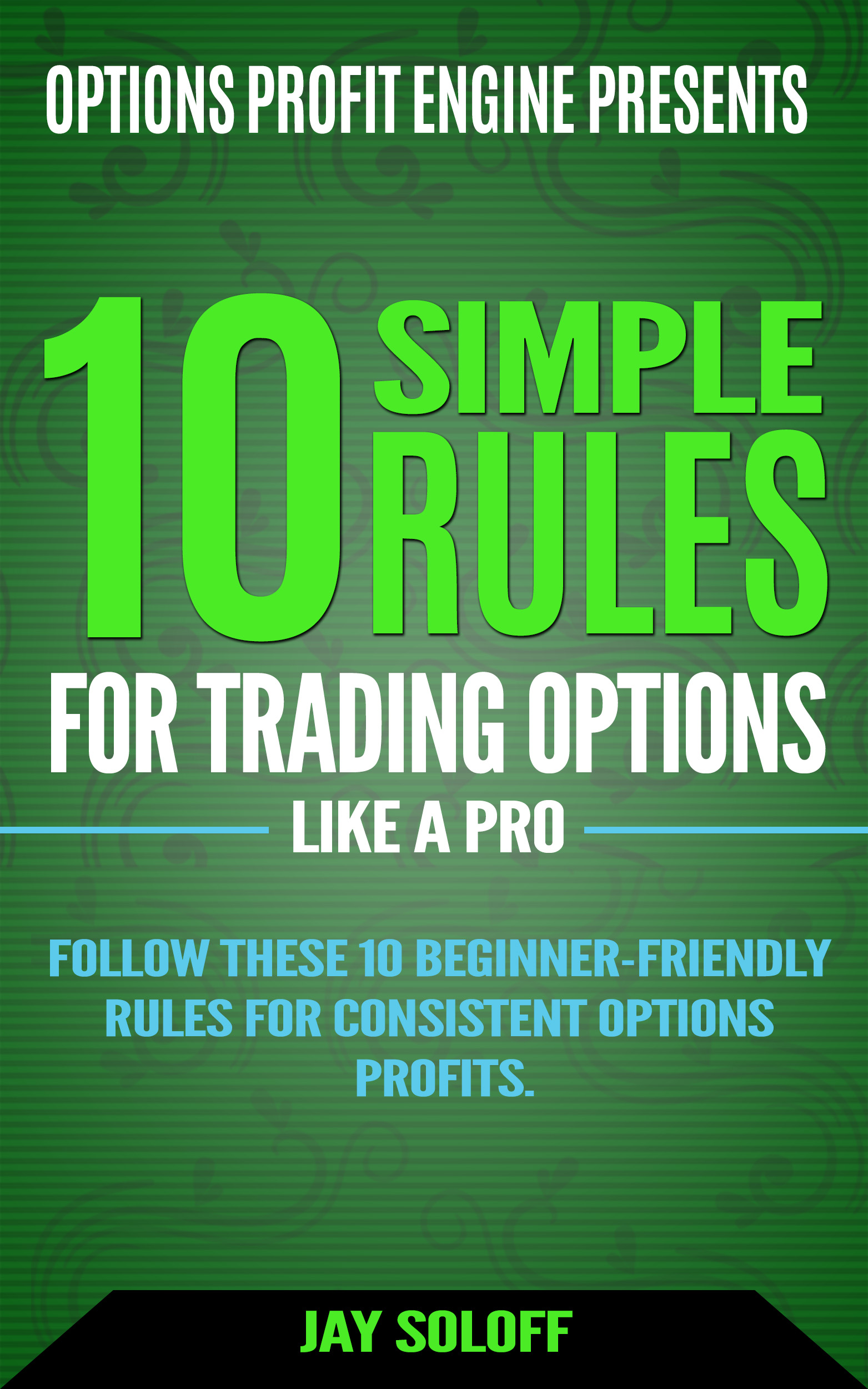 [FREE DOWNLOAD] 10 Simple Rules for Trading Options Like a Pro
Follow these 10 simple rules from 20-year professional options trading veteran, Jay Soloff and start earning a reliable extra income from options.
NO prior experience needed to master these 10 simple options trading rules. 
Enter your email below and receive access to this FREE guide...