The U.S. housing market has improved over the past few years, but new builds are still far short of the peaks during the housing boom. While we may never return to those levels, it has additional upside from current rates. In addition, commercial construction has started to recover domestically. The impact from an improving construction market has helped machinery manufacturers like Caterpillar (NYSE: CAT), Volvo (NYSE: VOLVY ADR), Terex (NYSE: TEX) and CNH Global (NYSE: CNH) along with a wide range of other related companies. Housing related stocks have underperformed over the past year due to slower than expected growth. That said, the market should slowly rebound and the sector has opportunities in a stock market where buy ideas based on long-term value are getting harder to find.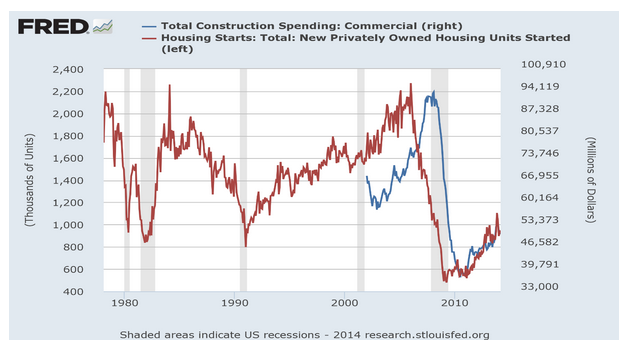 ETFs related to residential construction, like the iShares Dow Jones US Home Construction ETF (NYSE: ITB), have underperformed the Dow Jones over the past year. It is down 7.6% while the Dow is up 8.2%. Other housing stocks like KB Homes (NYSE: KBH) have fared worse (down 30%). However, the housing market should continue to slowly strengthen over the next few years behind an improving economy. There is still an opportunity for long-term value based investors in some of these stocks.
While new housing starts may never hit the highs from 2006-2007, they should return to normalized levels between 1.2 – 1.4 million starts per year with peak of around 1.5 – 1.6 million units. In April, the US Census Bureau reported starts of 1.08 million. Earnings at stocks with significant housing exposure will continue to climb along with housing starts. This should translate to higher stock prices for those companies.
When housing starts to recover, so does commercial construction activity, indicated by the blue line in the above chart. Commercial construction is up by slightly over 7% y/y in each of the last few months. This is below the high-teens growth rates in 4Q13 but and marked improvement from low double digit growth off a relatively low base for the 18+ months prior to that.
The rebound in commercial and non-residential construction drives domestic demand for heavier construction equipment. Housing, excluding large apartment buildings, tends to utilize light equipment. We expect sales and order levels at these companies to remain strong behind the US construction recovery. In addition, firms that rent equipment like United Rentals (NYSE: URI) will also benefit through increased equipment utilization and improving rental rates.
All this said, the recovery has been slow and the weaker than expected growth may have created buying opportunity for some of these stocks.
The following is a list of stocks and two ETFs that play off of the ongoing improvement in the U.S. construction market and avoids businesses with problem areas.
Construction and Housing related stocks to watch in 2014
USG Corporation (NYSE: USG): USG is a manufacturer and distributor of building materials. It has three main businesses, North American Gypsum, Worldwide Ceilings, and Building Products Distribution. Both volumes and pricing were somewhat weak in Q1, and the stock has pulled back as a result. However, there is upside for investors with a longer term focus on a rebound in housing. USG has strong cash earnings potential at the peak of the housing market. When new housing starts approach 1.5 million, the stock could move higher by at least 30% from current levels. In addition, it has significant exposure to the commercial rebound and remodels, both of which provide additional upside to the shares.
Lumber Liquidators (NYSE: LL): The core business of Lumber Liquidators is selling hardwood flooring. It sells through a retail channel and trades along with the housing market. There are also some favorable company specific drivers. The current management team is viewed as an upgrade, it has a growing customer base, it has new products entering the market, and additional retail square feet growth. "Square feet" is a key metric for retailers whose sales are often driven by sales/sq. ft. The stock is down by over 20% in the past year and has a market cap of $2.22 billion. It trades at 19x FY15 consensus EPS.
United Rentals, Inc. (NYSE: URI): United Rentals rents construction equipment to builders. Its fortunes swing also with the trends in the construction markets. Its keys are keeping utilization of equipment high and pushing through higher prices. The upswing in housing and now commercial construction has driven earnings higher at URI. United Rentals is exposed to the US construction market with no significant global exposure. Ten years ago, this was a negative since growth was coming from emerging markets. However, with emerging market appearing unstable, the US is the place to be. The stock is up by over 70% in the past year, but the valuation is still within reason at 12.3x FY15 earnings based on current consensus.
Caterpillar (NYSE: CAT): Caterpillar is the world's largest manufacturer of construction and mining equipment. Its North American construction sales have rebounded nicely and can help drive the shares higher. Investors need to be a bit more cautions and hold off on buying Caterpillar until the declines in its mining business have stabilized. That said, the strong management team, best in class equipment, and exposure to a rebound in U.S. construction are all reasons to look at Caterpillar if the share price drops.
Lowe's Companies, Inc. (NYSE: LOW): Lowe's is a retail derivative play on housing. First, it benefits when housing builds go up but it also has significant exposure to remodels and home improvements, estimated at around 30% of sales. Historically remodeling and home improvement spending accelerates along with GDP and employment growth in the U.S. Better economic conditions should also cause acceleration in remodeling activity over the next few years and contribute to higher earnings at Lowe's. For 2014, management expects pricing to play a critical role in margin expansion and growth at the hardline retailer. The stronger economy provides it greater ability to push through pricing and pull-back on discounting activity.
iShares Dow Jones U.S. Home Construction Index Fund (NYSE: ITB): This ETF provides exposure to the U.S. housing market through a variety of holdings. While it addresses home builders, it misses on some derivative plays in retail like Bed, Bath & Beyond. The fund has net assets of $1.59 billion. Currently, 66% of the assets are in home construction, 18% in building materials & fixtures, 12% in home improvement retailers and 4% in furnishings. This ETF fund is a cap weighted portfolio. It utilizes the IndexUniverse's ETF Analytics research to find the best available industry exposure. It carries a cost of 0.47%, somewhat high for an ETF.
SPDR S&P Homebuilders ETF (NYSE: XHB): Unlike ITB, this fund is equal weighted by market cap, which gives it a wider range of exposure, since each stock included carries the same weight. The changes in a small cap holding have an equal impact to changes in a large cap holding This ETF is intends to track the S&P Homebuilders Select Index. Despite the index name, the holdings are more focused on building products which make up 28% of holdings, with homebuilders at 27%. The other components arehome furnishings retailers are 15%, home improvement makes up 9%, and household appliances the remainder. It charges 0.37% of its holdings.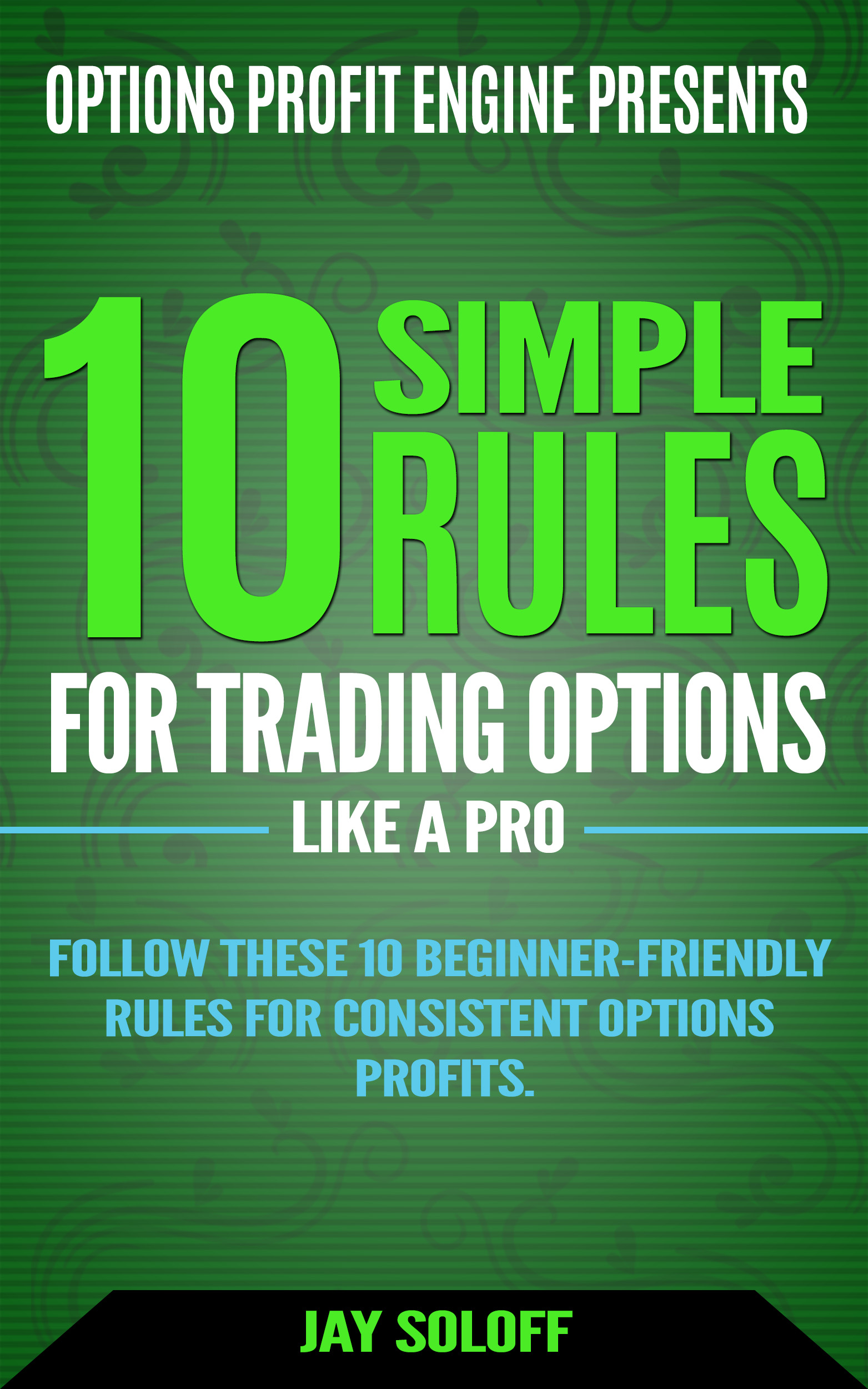 [FREE DOWNLOAD] 10 Simple Rules for Trading Options Like a Pro
Follow these 10 simple rules from 20-year professional options trading veteran, Jay Soloff and start earning a reliable extra income from options.
NO prior experience needed to master these 10 simple options trading rules. 
Enter your email below and receive access to this FREE guide...