With an almost certain increase in the Fed funds rate for this Wednesday, it is time to look ahead into the stocks that will outperform in a higher rate environment. These six stocks fit the bill and can offer investors both stable high yields and strong share price appreciation in the year to come. 
As the Fed gets closer to actually increasing the short-term rates it controls, concerns and fears are affecting investors that own the different types of higher-yield stocks. Investors worry that higher rates will lead to higher borrowing costs, which could affect the ability of companies to continue to pay dividends at the same rate. There is also a worry that as interest rates rise, other investment classes such as bonds or CDs will become more attractive, drawing money out of higher yielding stocks.
Utility stocks are one yield focused sector that should do better as rates increase. Here is a forecast from Barclays, originally published on the Seeking Alpha website:
The bank's team is fairly aggressive in their expectation of rate hikes, seeing a 25 basis point move next week and a total increase of 100 basis points by the end of 2016.
The cycle, they say, most closely resembles that of 2004, and regulated utilities outperformed the broader market by 6% and 18% in the three and 12 months following the first hike that year.
As for this particular moment, Barclays says a flattening yield curve, increasing high-yield default rates, and a strong greenback impacting S&P earnings relative to utilities all bode well for the sector.
The U.S. utilities sector is small, with about 90 publicly traded companies. It is also complicated with utility company returns greatly controlled by state and federal regulators. Because of these two factors, I like to recommend the use of packaged investment products to invest in this sector.
An exchange traded fund (ETF) generally provides the lowest cost way to invest in a basket of stocks from a specific market sector. Here are three utility ETFs that may fit the bill for your stock portfolio.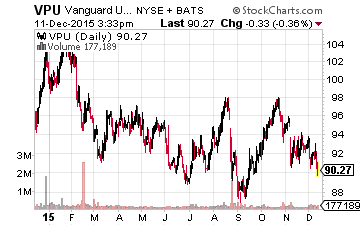 The Vanguard Utilities ETF (NYSE: VPU) has the lowest expense ratio in the sector at just 0.12%. The fund tracks the MSCI US Investable Market Utilities 25/50 Index, which includes small, mid and large-cap utility stocks. VPU yields 3.7%.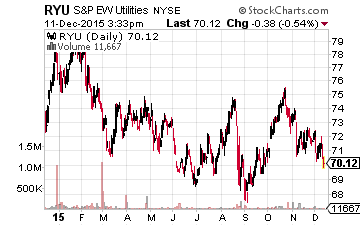 The S&P 500 Equal Weight Utilities ETF (NYSE: RYU) owns the utilities in the S&P 500 utilities sector with an equal weighting of each stock. This means small and mid-cap utilities will have more influence on the fund's results. RYU has a 0.40% expense ratio and currently yields 4.1%.
The Reaves Utilities ETF (Nasdaq: UTES) is a very new ETF that will be actively managed by Reaves Asset Management, a firm that has focused on the utility sector for over 30 years. The fund will be managed to focus on the utilities with the highest dividend growth rates for share price plus yield total returns. UTES has a 0.80% management expense ratio and is targeted to yield about 3%.
Closed-end funds (CEFs) are typically managed to provide higher yields than the ETF sector. The utility CEFs will have a broader mandate on the types of stocks they can own. Many CEFs use moderate leverage and dividends you earn may include capital gains from the sales of shares owned by a fund. Here are three of the utility focused ETFs that have performed best in 2015 and should provide better results going forward.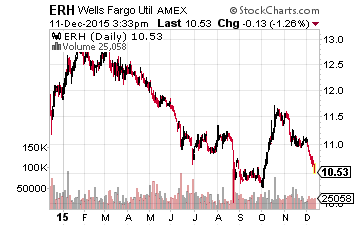 Wells Fargo Advantage Utilities & High Income Fund (NYSEMKT: ERH) has paid the same monthly dividend rate since 2010. The fund must be at least 80% in securities of utilities such as water, gas, electric and telecommunications companies. ERH currently yields 8.5%.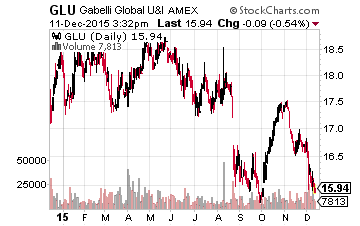 The Gabelli Global Utility & Income Trust (NYSE: GLU) is more diversified with about 60% of assets in utilities and telecommunications companies. The balance is spread across consumer goods and services, industrial, energy, financial, and healthcare stocks. The fund has been paying the same 10-cent monthly dividend since its launch in 2004. GLU currently yields 7.5%.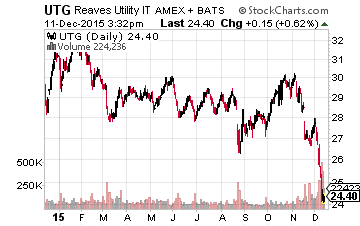 The Reaves Utility Income Fund (NYSE: UTG) has 90% of its assets in utility and telecom stocks. This CEF has also been in existence since 2004. The UTG dividend has never been reduced and has been steadily, if slowly increased. The Reaves Utility Income CEF currently yields 7.4%.
Closed-end funds offer utility sector exposure focused on current income with the opportunity for moderate share price gains if the sector does well. Remember that those nice monthly dividends probably include capital gains. The ETFs offer low-cost paths to total returns from the utility sector. These are all conservative investments that may provide attractive returns in a troubled stock market.
While utilities stocks should do well in 2016, finding companies that regularly increase their dividends is the strategy that I use myself to produce superior results, no matter if the market moves up or down in the shorter term. The combination of a high yield and consistent dividend growth in stocks is what has given me the most consistent gains out of any strategy that I have tried.
And, there are currently over twenty of these stocks to choose from in my Monthly Paycheck Dividend Calendar, an income system used by thousands of dividend investors enjoying a steady stream of cash.
The Monthly Dividend Paycheck Calendar is set up to make sure you receive a minimum of 5 paychecks per month and in some months 8, 9, even 12 paychecks per month from stable, reliable stocks with high yields. If you join my calendar by Monday, December 21st you will have the opportunity to claim an extra $4,006.50 in dividend payouts by January.
The Calendar tells you when you need to own the stock when to expect your next payout, and how much you can make from stable, low-risk stocks paying upwards of 12%, 13%, even 15% in the case of one of them. I've done all the research and hard work; you just have to pick the stocks and how much you want to get paid.
The next critical date is Monday, December 21st (it's closer than you think!), so you'll want to take before that date to make sure you don't miss out. This time, we're gearing up for an extra $4,006.50 in payouts by January, but only if you're on the list before the 21st. Click here to find out more about this unique, easy way of collecting monthly dividends.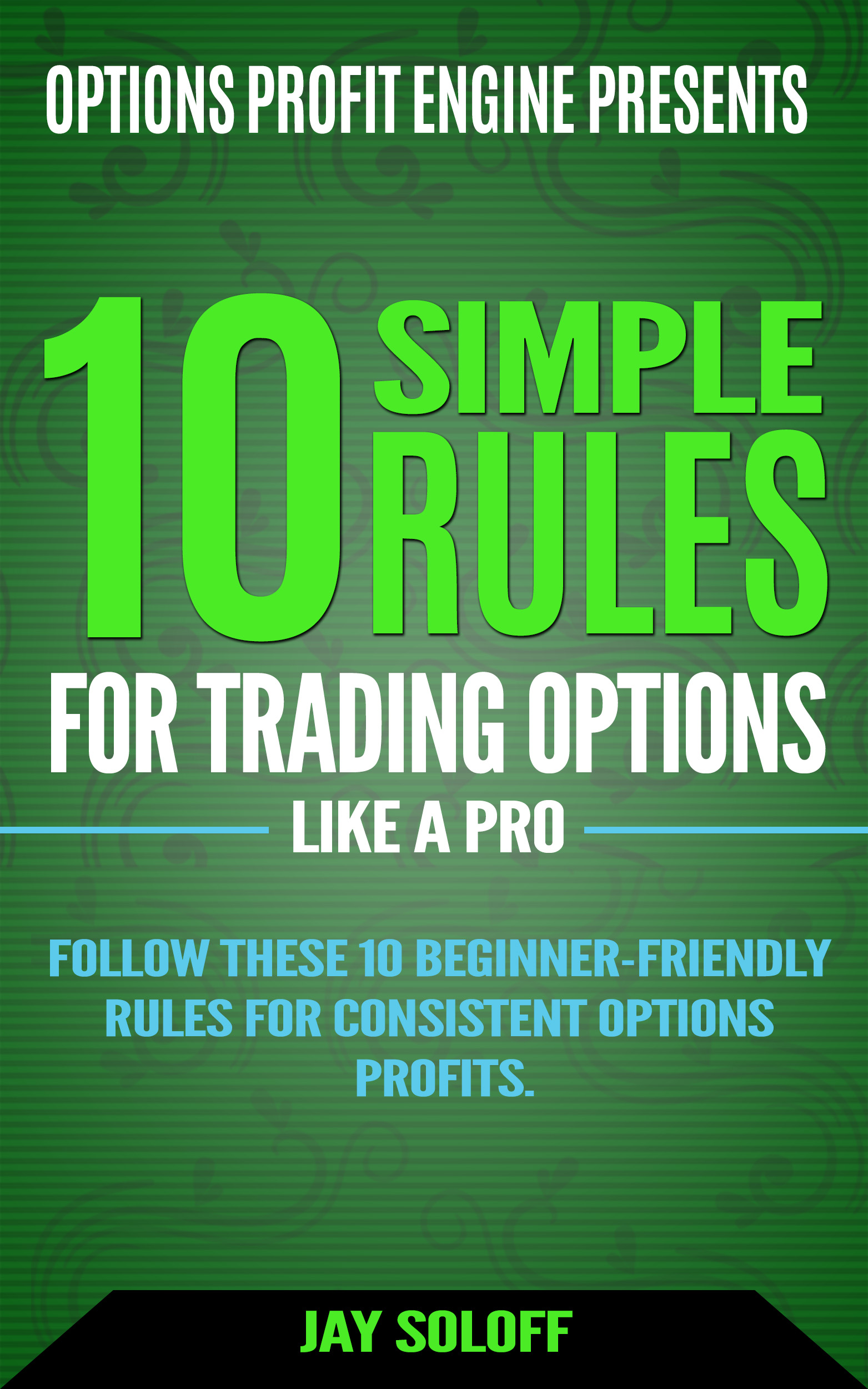 [FREE DOWNLOAD] 10 Simple Rules for Trading Options Like a Pro
Follow these 10 simple rules from 20-year professional options trading veteran, Jay Soloff and start earning a reliable extra income from options.
NO prior experience needed to master these 10 simple options trading rules. 
Enter your email below and receive access to this FREE guide...