Protecting your computer from the hundreds of cyber attacks it likely faces in a year is big business. We're talking billions of dollars, and the growing need for cybersecurity makes these five companies great purchases for growth over the next five years. 
Who knew that the 'Oracle of Omaha', Warren Buffett, would actually turn out to be an oracle?
A few days before the launch of the latest cyber attack, the WannaCry ransomware, Buffett spoke at the annual Berkshire Hathaway (NYSE: BRK.A) shareholder meeting.
During the get-together, Buffett said, "I don't know that much about cyber, but I do think that's the number one problem with mankind."
This quote was part of Buffett's discussion on how weapons of mass destruction – nuclear, biological and cyber – pose the greatest threat to humankind.
The Hard Truth About Cyber
Buffett is spot on with regard to cyber dangers.
There are some harsh realities our increasingly technological world needs to face…
The number of cyber attacks is rising, and the costs of fighting such attacks are skyrocketing.
An estimate back in 2015 from Lloyds of London put the global economic cost that can be attributed to cyber attacks at $400 billion per year.
That's probably a reasonable estimate considering the wide scope of companies and government agencies that can be affected by a cyber attack.
Even if one looks at only ransomware, the number of attacks has gone up from just 643,000 in 2014 to 2.55 million in 2015 and to 3.87 million in 2016. This data comes from cyber security software provider McAfee.
Keep in mind that WannaCry was a rather tame 'worm', despite it infecting over 200,000 computers in 150 countries. Think about the effects if future such attacks target data directly (wiping it out).
Other cyber attacks are sure to follow.
The WannaCry 'worm' was based on the National Security Agency's hacking tool called EternalBlue.
Already, a second classified stolen NSA cyber weapon has been re-purposed by criminal hacking groups. It is based on the NSA's EsteemAudit cyber weapon.
These stolen hacking tools are likely the result of actions last year taken by a group known as the Shadow Brokers, which began to leak NSA cyber weapons online. It is believed the group is linked to Russian intelligence agencies.
One Future Beneficiary
One likely future beneficiary of cyber attacks will be the insurance companies.
As I remarked in a previous article for Investors Alley, cyber insurance is a rapidly growing sub-sector of the insurance industry.
Estimates are that, by 2020, the market for such insurance, will triple in size to $10 billion. And many forecast by 2025, it will be a $20 billion market.
Unfortunately, there aren't any solid pure plays in that sector yet.
But there are a number of cyber security stocks available for investors like you.
Cyber Security ETF Play
Wall Street seems to have awoken (finally!) to the importance of this sector.
At the moment, the cyber security market is worth $40 billion and is growing at a 7% annual rate. Not a market anyone should disregard.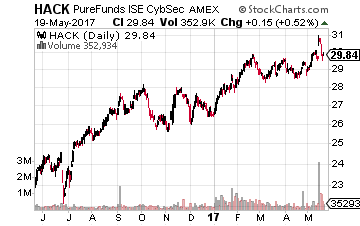 The broadest way to play the cyber security is through the PureFunds ISE Cyber Security ETF (NYSE: HACK).
The fund gained about 3% since the attack, outpacing the S&P 500 index that was little changed.
On Monday, May 15, this ETF saw its highest volume traded since August 2015.
HACK's portfolio consists of 39 stocks, of which 34 have advanced since the WannaCry attack. I like the fact that it is a global fund with about 73% U.S. stocks and the remainder spread across the globe.
Cyber Security Stocks
If you decide to invest into individual cyber security stocks, tread very carefully. There are a few very good companies in the sector, but also many not-so-good ones.
In fact, most of these stocks have underperformed the Nasdaq Composite.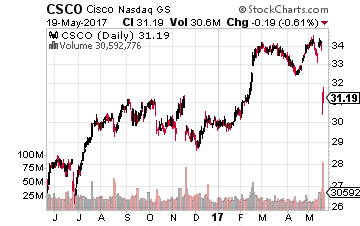 A nice conservative way to play cyber security is through Cisco Systems (Nasdaq: CSCO), which now generates more than $2 billion in revenue annually from its security business.
One well-known name that has outperformed the Nasdaq is Symantec (Nasdaq: SYMC), with a rise of 82% over the past year. The company reported it blocked nearly 22 million WannaCry infection attempts across 300,000 endpoints.
Another good choice is Israeli firm Check Point Software Technologies (Nasdaq: CHKP), whose stock is up 34% in the past 52 weeks. It said it stopped a variant of WannaCry by activating a "kill switch" in the software.
Two other companies were pointed out as prime beneficiaries of WannaCry by Goldman Sachs analysts – Proofpoint (Nasdaq: PFPT) and Mimecast (Nasdaq: MIME) because of their best-in-class email security.
These stocks have climbed 58% and 227% respectively in the last year. Bear in mind though that these two stocks are very richly valued.
Bottom line: the cyber security sector is definitely one you and I need to keep a sharp lookout for and one that I will continue to monitor for my subscribers of Growth Stock Advisor.
A megatrend like this will produce at least a couple of huge winners in your portfolio.
Investing in a long-term theme with lots of clear upside has always been one of my best strategies for unlocking life-changing profits in the markets.
It's how I've scored my biggest winners and just the other week, I recommended a new stock to my Growth Stock Advisor subscribers that sits right at the core of one of the biggest megatrends taking place in the manufacturing and industrial sectors of the economy.
These two traditionally boring businesses are about to get a huge tech upgrade over the next ten years, and this company is going to be the one to reap huge profits as their technology is deployed all over the world.
This isn't some speculative small cap play either, this company has a 100-year history of success and is on the verge of a growth spurt that could hand investors massive returns.
Retail is dead. You probably already knew that.
Malls are empty, stores are closing, and Amazon is taking over.
The media is telling you to sell all retail stocks right now.
But that's not the entire story...
There's actually a small handful of retail stocks doing better than ever. What's their secret? It's a business blueprint called the "Digital Helix"...
Home Depot used the 'Digital Helix' to hand investors 618% gains...
Best Buy used the 'Digital Helix' to hand investors 834% gains...
And my #1 Stock to Own in 2019 is using the 'Digital Helix' to revolutionize their business and deliver massive profits.
If you act soon, I'm targeting potential gains of 2,537%.
Click here to get the details.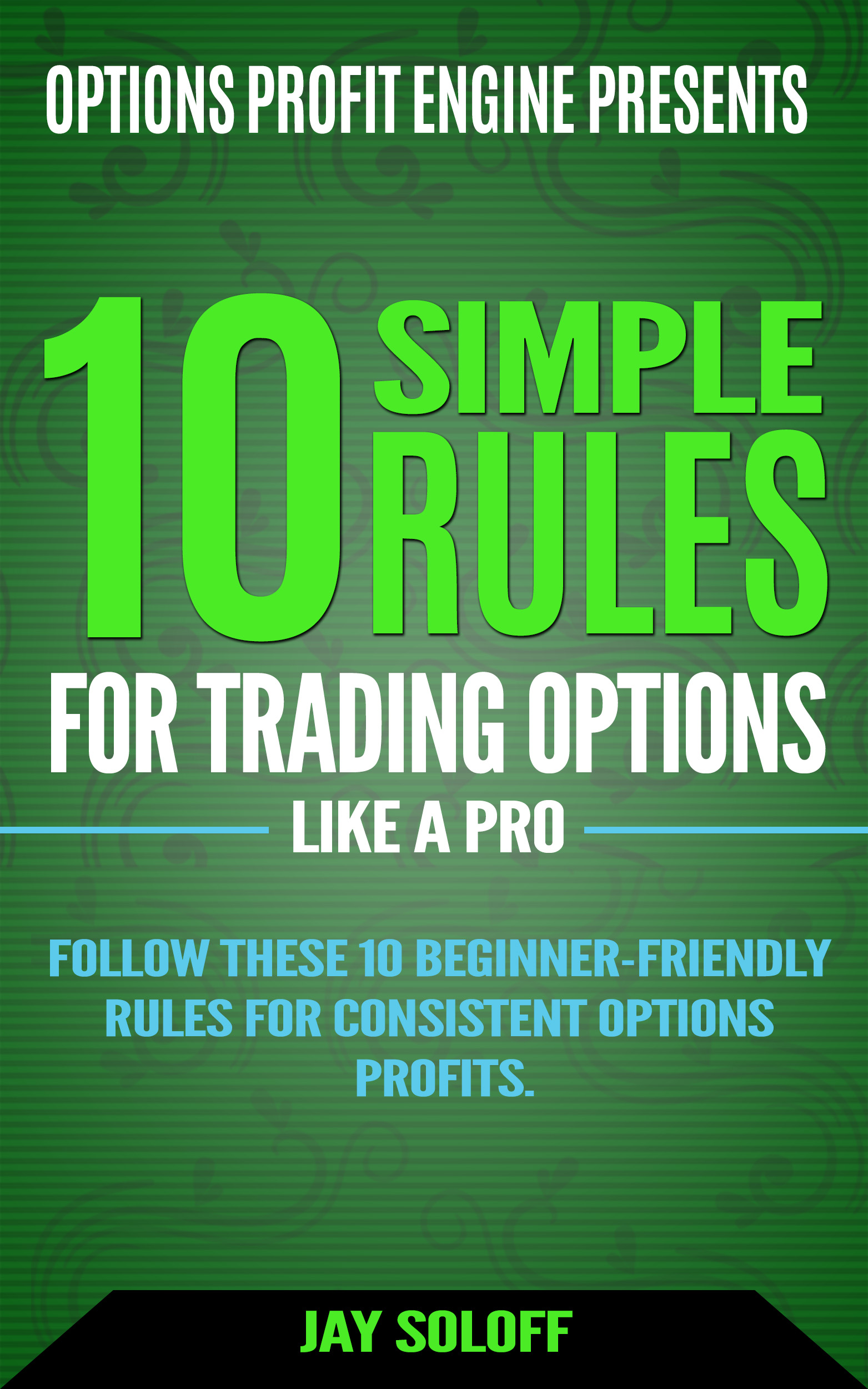 [FREE DOWNLOAD] 10 Simple Rules for Trading Options Like a Pro
Follow these 10 simple rules from 20-year professional options trading veteran, Jay Soloff and start earning a reliable extra income from options.
NO prior experience needed to master these 10 simple options trading rules. 
Enter your email below and receive access to this FREE guide...