2017 looks like it will be the year that energy infrastructure stocks, the companies that transport oil and natural gas across the country, bounce back from oversold levels. All five of these stocks have investment grade credit ratings, secure distribution payments, and strong future growth prospects. 
The investing public generally does not differentiate between energy companies that produce energy products and those that provide the necessities to produce. These include the infrastructure pipeline, storage facilities, and terminals that allow crude oil and natural gas to move from the well heads to the gas station or power generation plant.
Starting in late 2014, infrastructure stocks have gone through a painful bear market as the price of crude oil dropped. Then, we had a year of relatively stable share prices as companies restructured their finances to operate in the new energy price environment. Up next, I foresee a cycle of attractive yields and share price appreciation.
The majority of investors remain focused on the rear-view mirror and do not yet see the profit potential of these stocks. Investors who get in now while the stocks still aren't popular with the mainstream will be buying in at bargain prices. The follower crowd will later jump on these stocks, when they have already had a nice increase in value, and pump the share prices even higher.
Many of the pure play energy infrastructure companies are organized as master limited partnerships (MLPs). Don't let the idea or what you've heard about MLPs scare you. Keep reading first. The partnership structure allows these companies to pay tax-advantaged distributions to investors.
As an investor, you own limited partnership (LP) units. The units trade on the stock market just like shares of a corporation. The typical MLP owns infrastructure assets like pipelines, storage tanks, and processing facilities that generate stable and predictable revenue streams. An MLP will pay out a large portion of its cash flow as distributions to unitholders. Historically, MLPs have been investments with attractive current yields and steadily growing distributions.
SEE ALSO: The Dividend Stock that Pays an 18% Yield Like Clockwork 
The drop in crude prices that started in the Fall of 2014 resulted in a drop in new well drilling and crude oil production. These production declines put a crimp in the energy infrastructure sector's growth plans. The result was a stock bear market for the entire energy sector, producers, and infrastructure companies included.
For most of these companies, share values bottomed in early 2015 along with the bottom in the price of crude oil. Also, a significant number of companies in the MLP sector had over-extended their debt based on growth plans that did not materialize. Many of these companies were forced to restructure their finances and quite a number slashed the distribution rates paid to investors.
As you look back over the last two years, 2015 can be viewed as the year of the crash in energy infrastructure stocks and 2016 was a year of restructuring. Looking forward, the largest, most financially secure MLPs have well-supported distributions at high current yields. These companies have also put themselves in the position to grow revenues as oil prices stabilize and drilling activity picks up in North America.
Here are five of the largest MLPs by market cap. They all have investment grade credit ratings, secure distribution payments and strong future growth prospects.
A note to Dividend Hunter subscribers. The following companies use Schedules K-1 to report tax information. In the Dividend Hunter recommended stocks list, I do not include any K-1 reporting stocks. There are energy infrastructure stocks in the Dividend Hunter portfolio that report on Forms 1099 that is tax-time friendlier.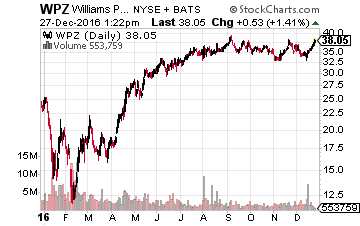 With a $23 billion market cap, Williams Partners L.P. (NYSE:WPZ) owns and operates the largest natural gas and natural gas liquids gathering, processing, and moving network in North America. WPZ's general partner and sponsor company, Williams Companies Inc (NYSE:WMB) slashed its dividend by 70%. Instead of paying the big dividend, WMB will invest about $1.7 billion in growth projects at WPZ. This investment helps ensure that WPZ will be able to grow future cash flow as distribution payments. The stock currently yields 9.1%.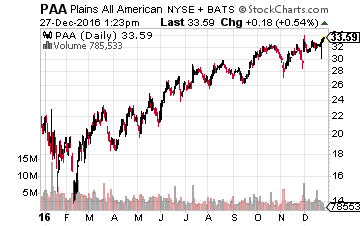 Plains All American Pipeline, L.P. (NYSE:PAA) is the largest MLP focused on the gathering, pipeline transport, and storage of crude oil. The company has a $21 billion market cap. The existing transport contracts Plains has with oil producers and buyers do not take up the full capacity of the company's pipeline and storage network. Plains has the potential to grow revenue by one-third as crude oil production increases without the need to build new pipelines or storage. PAA currently yields 6.6%.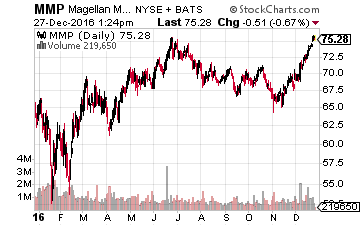 Magellan Midstream Partners, L.P. (NYSE:MMP) has a $17 billion market cap and owns the largest independent network of refined products pipelines. Unlike most MLPs, which regularly issue new LP units to raise capital to pay for growth projects, Magellan Midstream has funded its growth from internally generated free cash flow. The company has increased its distribution every quarter since its 2001 IPO. The stock currently yields 4.4%.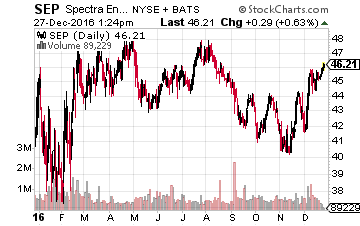 Worth $14 billion, Spectra Energy Partners, L.P. (NYSE:SEP) operates pipeline and storage assets to support crude oil, natural gas and natural gas liquids (NGL) production in North America. SEP has steadily increased its distribution by about 8% per year for the past three years, right through the energy sector bear market. SEP currently yields 5.9%.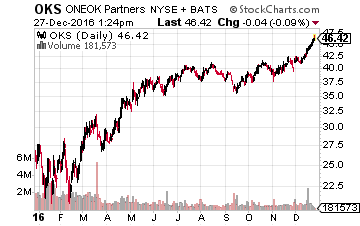 Oneok Partners L.P. (NYSE:OKS) has a $13 billion market cap and is engaged in gathering, processing, storing, and transporting natural gas in the United States. The company may be the best positioned MLP to see higher profits as natural gas and NGL prices increase. The current distribution is secure and would start to grow with increasing energy commodity prices. OKS currently yields 6.8%.
Stocks that have a high current yield and the potential for dividend growth are an integral part of my income investing strategy that I share in my newsletter, The Dividend Hunter. This is where I recommend the market's strongest, most stable high-yield dividend payers, and there are 20 high-yield stocks currently available through my Monthly Dividend Paycheck Calendar system for generating a high monthly income stream from the market's most stable high-yield stocks.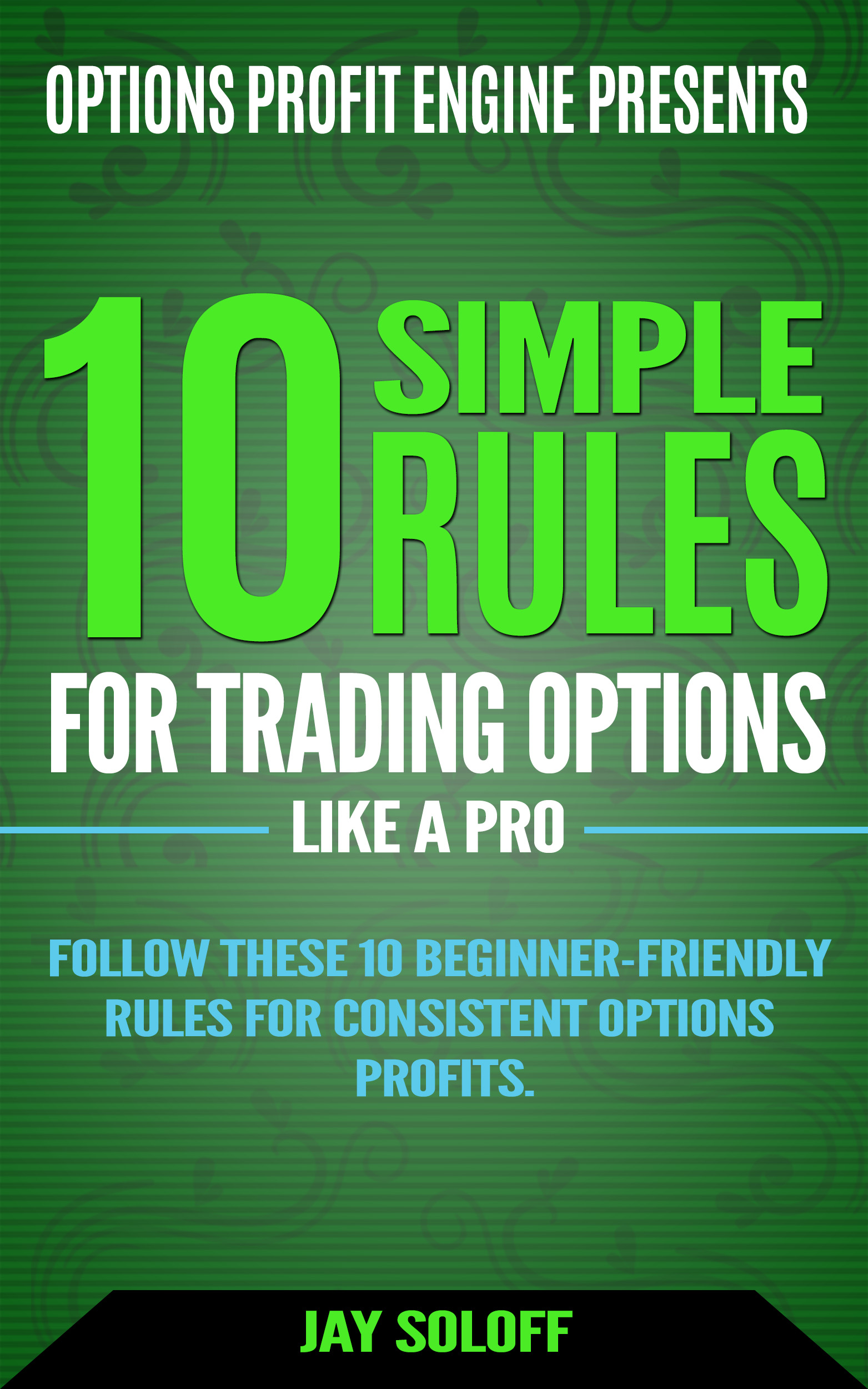 [FREE DOWNLOAD] 10 Simple Rules for Trading Options Like a Pro
Follow these 10 simple rules from 20-year professional options trading veteran, Jay Soloff and start earning a reliable extra income from options.
NO prior experience needed to master these 10 simple options trading rules. 
Enter your email below and receive access to this FREE guide...