It's the silly season again on Wall Street. It's the time of the year when analysts look ahead and tell us what they think.
Fortunately for you, it's also the time of the year when major profit-making opportunities present themselves. Why? Because analysts from the major Wall Street firms are often 100% wrong. However, their pronouncements often will drive down the price of a stock or even a whole sector, creating that opportunity.
We saw a perfect example of that last week, when analysts from major firms including Morgan Stanley and JPMorgan among others downgraded the semiconductor sector. And of course, traders (or are they lemmings?) promptly dumped semiconductor stocks across the globe.
Semiconductor stocks were due for a pullback. Not only had they been the strongest sector in 2017, but the semiconductor index just recently passed a major milestone. The index just topped the record set in March 2000 at the height of the dot-com bubble. Experience tells me indexes often pause after attaining such a milestone.
Related: Buy These 3 Hot Semiconductor Stocks for Long-Term Profits
Semiconductor Supercycle
But let me get back to those Wall Street analysts. Many were basically saying, "Hey, the semiconductor cycle is over. Bad times are just around the corner." And they are 100% wrong…
Because this cycle is different than the average cycle – we are in the midst of a supercycle that will go on for several years more.
I want you to think back to the commodity supercycle, which ran from 2000 to 2014. After the first few years, Wall Street analysts continued to proclaim that the cycle was over and that commodities and commodity stocks were due for a major tumble. But those analysts completely missed the fact that China was rapidly industrializing in a once-in-a-lifetime event.
Fast forward to today, and Wall Street analysts are missing the fact that products with semiconductors in them are becoming ubiquitous in every aspect of our lives. Artificial intelligence, Internet of Things, robotics, cloud computing, augmented reality, electric vehicles, and other technologies that will need lots of the latest generation of semiconductors are barely in the second inning of a very long ballgame.
Huge Growth Ahead
The growth the semiconductor industry is experiencing is clearly illustrated by a report issued on November 27 from World Semiconductor Trade Statistics (WSTS).
This year the market will reach $408.6 billion in valuation, a rise of 20.6% from 2016. That estimate is $30 billion larger than WSTS's last report in June. This would be the first year of double-digit growth since 2010 for the industry and the first time ever sales exceeded $400 billion.
WSTS pointed to a number of factors for this growth including the spread of smartphones (and the constant replacement for upgrades), the growth in memory technology and the rise of video content. Memory chips, manufactured by the likes of Samsung and Micron Technology (NYSE: MU) now make up 30% of the semiconductor market and WSTS says this segment expanded by 60.1% in 2017.
It sees much more growth for this segment in particular thanks to the number of Internet-of-Things devices multiplying almost exponentially to more than 1 trillion units over the next few years. WSTS believes chip demand here will exceed even that from the 1.5 billion smartphones shipped annually. (Note: I explain much of this in my new Singularity report. If you're not a regular Growth Stock Advisor reader then click here to check it out.)
Another demand driver, if you pardon the pun, will be our cars. They are rapidly turning into "data centers on wheels" according to the head of the automated-driving group at Intel (Nasdaq: INTC), Doug Davis in a story from the Nikkei Asian Review.
This growing demand may be lost on Wall Street analysts, but not by the chipmakers themselves. The research firm IC Insights sees $90.8 billion in capital investments this year, which is 35% more than in 2016: an obvious boost for chipmaking equipment sector.
5 Semiconductor Supercycle Investments
Here are five ways you can participate in the semiconductor supercycle: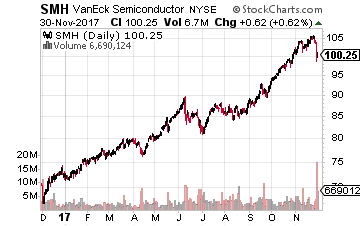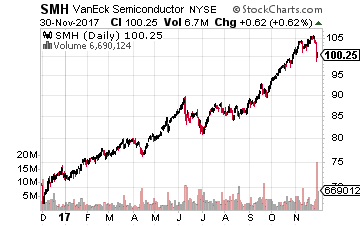 The first and the broadest way you can invest in semiconductors is the MarketVectors Semiconductor ETF (NYSE: SMH). It owns 26 of the world's top semiconductor-related companies such as Intel. The only major stock not in this portfolio is Samsung. This ETF has, of course, done very well for its holders. It has soared over 50% over the past year and is up about 42% year-to-date.
Second is the aforementioned Intel, the world's biggest supplier of semiconductor products, which both designs and manufactures chips. The company is rapidly diversifying away from its PC-centered business. That was evidenced in its third quarter earnings report where results were pushed ahead by strong performances in its data center, Internet-of-Things and memory solutions groups.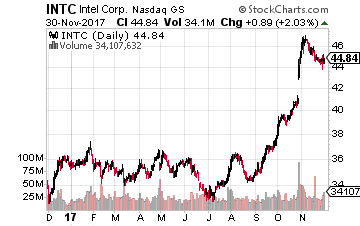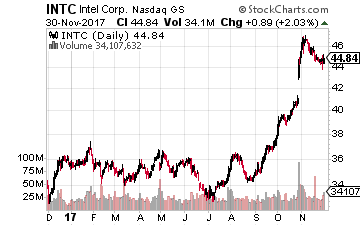 Today, its chips can be found in iPhone modems, drones and self-driving cars. Its acquisition of Mobileye will significantly boost its presence in the autonomous vehicle market, accelerating Intel's growth. Despite its move into growth areas, Intel's stock still sells at a 15 p/e. The stock is up 21% year-to-date and 24% over the past 12 months.
Next on the list was the hottest stock in the market earlier this year, Nvidia (Nasdaq: NVDA). Its stock is still up 84% year-to-date and 108% over the past 52 weeks.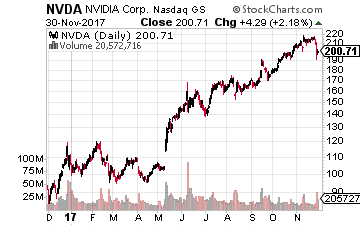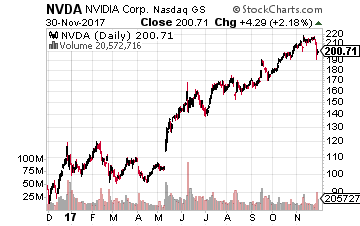 Founded in 1993, Nvidia like Intel, missed the entire mobile phone revolution. Its strength though, as always, has been in graphical processing units (GPUs), which run alongside CPUs. Gamers, such as those using the Switch console from Nintendo, love its GPUs. And, of course, its GPUs have been in the news a lot lately because of their popularity with the miners of cryptocurrencies like BitCoin.
I expect even faster growth for Nvidia as its processors become crucial to artificial intelligence, deep learning and driverless cars. As Goeff Blaber, an analyst at research firm CCS Insights said to the Financial Times, "Nvidia is at the center of AI, machine learning and deep learning."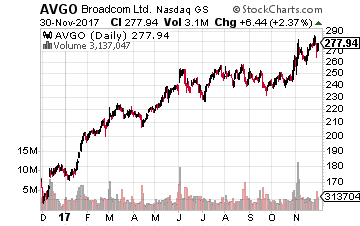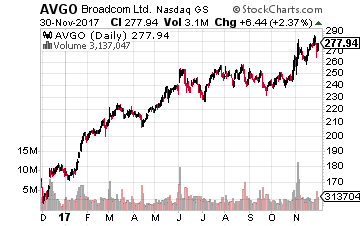 Next up is Broadcom (Nasdaq: AVGO), which is currently attempting to take over rival Qualcomm. Its stock is up 55% year-to-date and about the same amount over the past year.
The company's origins date back to the 1960s at AT&T's Bell Labs and also at Hewlett Packard. It supplies components to telecoms and industrial customers, which are used in items such as TV set-top boxes, smartphones, broadband infrastructure and energy systems. The company has particularly benefited this year from demand for its wireless solutions, but it is looking to the Internet-of-Things as a future driver of growth.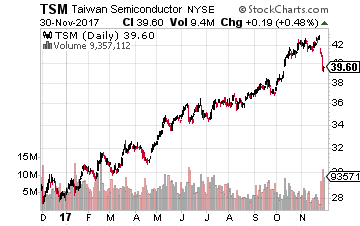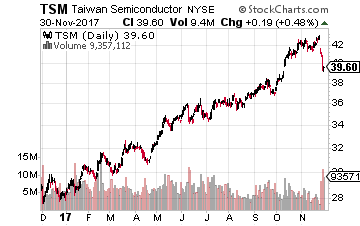 Finally, we come to Taiwan Semiconductor (NYSE: TSM), whose stock is up 37% year-to-date and about 33% over the last 12 months.
Apple (Nasdaq: AAPL) is believed to be designing its own power management chips for use in iPhones as early as next year. These new chips will be manufactured by Taiwan Semiconductor, the world's largest contract chip manufacturer. It has been Apple's sole supplier manufacturing chips for iPhones since 2016.
In 2016, Apple was the company's number one customer, contributing 17% to its overall revenues. That contribution should be about 20% for 2017 and even higher in 2018, especially if it does begin to manufacture those power management chips. The growing relationship with Apple remains a big plus in Taiwan Semiconductor's corner.
My bottom line message to you is to ignore the Wall Street lemmings and enjoy the semiconductor supercycle to its fullest.
FREE Report reveals the $100 Trillion "Industrial Singularity"
A historic event the World Economic Forum predicts will create more wealth in the next 7 years than in the entire history of civilization combined.
But only small group of fast acting investors will accelerate their wealth by 3,000%.
Click here to discover how to find the $100 trillion in industry profits.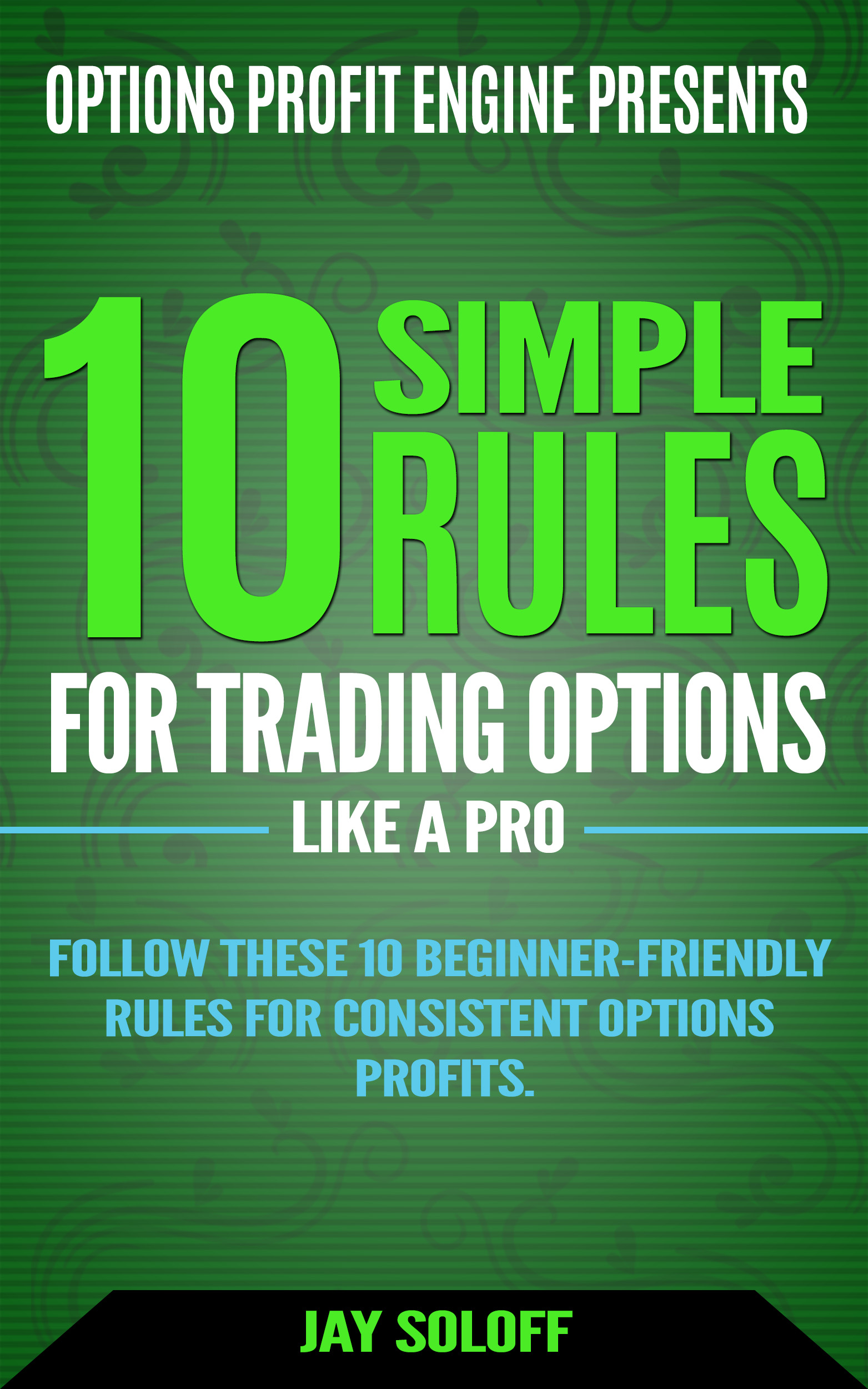 [FREE DOWNLOAD] 10 Simple Rules for Trading Options Like a Pro
Follow these 10 simple rules from 20-year professional options trading veteran, Jay Soloff and start earning a reliable extra income from options.
NO prior experience needed to master these 10 simple options trading rules. 
Enter your email below and receive access to this FREE guide...