The Russian-Ukraine turmoil has led to a vast selloff across the Russian market. The NASDAQ Russia Indexed Market index fell 20% in just three weeks. It has recovered some of this loss, but is still down 10% year-to-date. The investments taking the largest hit have been stocks with exposure to Russia.
As one of the world's largest countries, Russia plays a big part in the global growth story. Nevertheless, it is also one of the most hated countries in the world. Many in the West view Russia's strong handing of Ukraine as "bullying."
While the ultimate fallout looked to be uncertain, it appears that things are taking a turn for the better. There was a face-to-face meeting between Russian and Ukrainian presidents about ending the conflicts in Ukraine. Tensions could be easing, making an entry into Russian stocks less risky than just a couple months ago.
However, many major Russian companies are still down. Here are the top 5 ways to profit from the world's most hated market: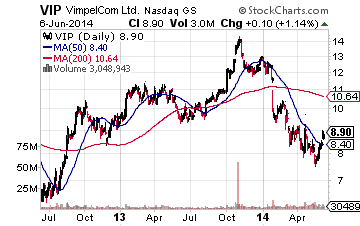 No 1. Stock To Buy On The Overreaction In Russian Stocks: VimpelCom Ltd (NASDAQ: VIP) has tumbled 33% year-to-date, but it is Russia's third largest telecom. The decline has put VimpelCom trading at a P/E ratio of less than 10 based on next year's earnings estimates. The company's P/E to growth (PEG) ratio is a mere 0.4.
During the first quarter, VimpelCom's Ukraine segment actually came in stronger than expected. However, the Russian mobile market appears to be somewhat saturated. As a result, VimpelCom has been aggressively expanding into Asia, Africa and Europe. This has left the company saddled with debt, but it recently became proactive. It is looking to sell off various units and cut its dividend in an effort to pay down debt.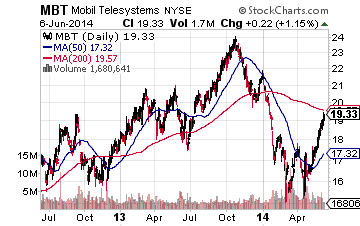 No 2. Stock To Buy On The Overreaction In Russian Stocks: Another telecom that is being beaten up is Mobile TeleSystems OJSC (NYSE: MBT). Shares of Mobile TeleSystems are down 12.5% year-to-date.
Mobile TeleSystems actually beat analysts' revenue estimates for the first quarter, with better-than-expected revenues from its Russian mobile segment. It plans to continue to invest in its networks in Russia. One of the big overhangs is that the company generates about 12% of its earnings before interest taxes depreciation and amortization from Ukraine. However, the company has not had issues providing services throughout Ukraine.
While VimpelCom cut its dividend, Mobile TeleSystems still offers investors a robust 6.3% dividend yield. Shares of both telecoms, VimpelCom and Mobile TeleSystems, were being bought up by major U.S. hedge funds Renaissance Technologies and Citadel Advisors last quarter.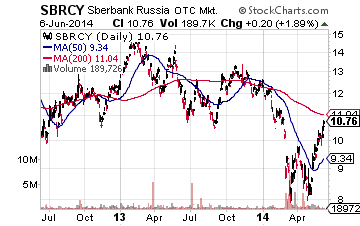 No 3. Stock To Buy On The Overreaction In Russian Stocks: Sberbank Rossii OAO (OCTMKTS: SBRCY) is Russia's largest lender and is down around 17% year-to-date. Sberbank provides a range of corporate and retail banking services, from deposits, credit cards, mutual funds, and brokerage services. Sberbank is one of the cheapest bank stocks available.
It trades below book value and with a P/E of just 5.0. Meanwhile, its return on equity is a robust 19%. Better than two of the U.S.'s best banks, Wells Fargo has a return on equity of 13.5% and JPMorgan Chase's is 7.8%.
When it comes to international sanctions, banks can be the most exposed. The Ukrainian government labeled Sberbank as one of the 14 Russian banks that could be allowing Russian terrorists to transfer money. With the easing of tensions, it is very unlikely Sberbank will be sanctioned.
Even if the Ukraine decided to take action against Sberbank, the bank's Ukraine exposure is less than 1% of its total assets. Sberbank also pays a 2.8% dividend yield and plans to pay out dividends of no less than 20% of net profits for the next five years.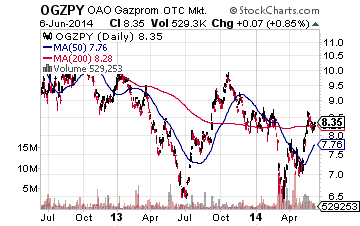 No 4. Stock To Buy On The Overreaction In Russian Stocks: Gazprom OAO (OCTMKTS: OGZPY) trades at one of the lowest P/E ratios in the global markets, at only 2.5. Russia owns 50% of Gazprom, but the company has a monopoly on exporting LNG from Russia. It owns over 17% of the world's gas reserves and pays an impressive 5% dividend yield.
Ukraine owes Gazprom roughly $1.7 billion for gas, where Ukraine gets about half of its gas from Gazprom. The gas giant was demanding Ukraine pay the bill up front, which is in part by the two countries are in the current conflict. Yet, Gazprom recently extended its deadline. Another sign that tensions might be easing.
Meanwhile, about 15% of Europe's annual gas demand passes through Ukraine. Over the near-term, Gazprom's reliance on Ukraine as a transit route will decrease, as the company completes new pipelines. Its gas volume passing through Ukraine should go from 50% last year to less than 20% once its Southstream pipeline is completed.
No 5. Stock To Buy On The Overreaction In Russian Stocks: LUKOIL (OCTMKTS: LUKOY) is Russia's second-largest oil producer. It is down close to 8% year-to-date and is another very cheap stock, trading at a P/E of only 6.4. Unlike Gazprom, Lukoil is not state-owned.
Lukoil CEO Vagit Alekperov owns over 22% of the company. It is rare to see management own so much of a public company in Russia, which is a positive. Worth noting is that Alekperov plans to use all of the dividends he receives in 2014 (roughly $600 million) to buy even more shares of Lukoil. He bought $680 million worth of Lukoil last year. Lukoil is expected to increase its 2014 dividend by 15% year-over-year, where its current dividend yield is 5.6%.
Lukoil continues to be an international force when it comes to oil production. Earlier this year it inked a joint venture with France's Total to explore tight oil reserves in the Bazhenov formation located in Siberia. The Bazhenov is expected to have over five times the amount of oil as the United States' largest share formation, the Bakken.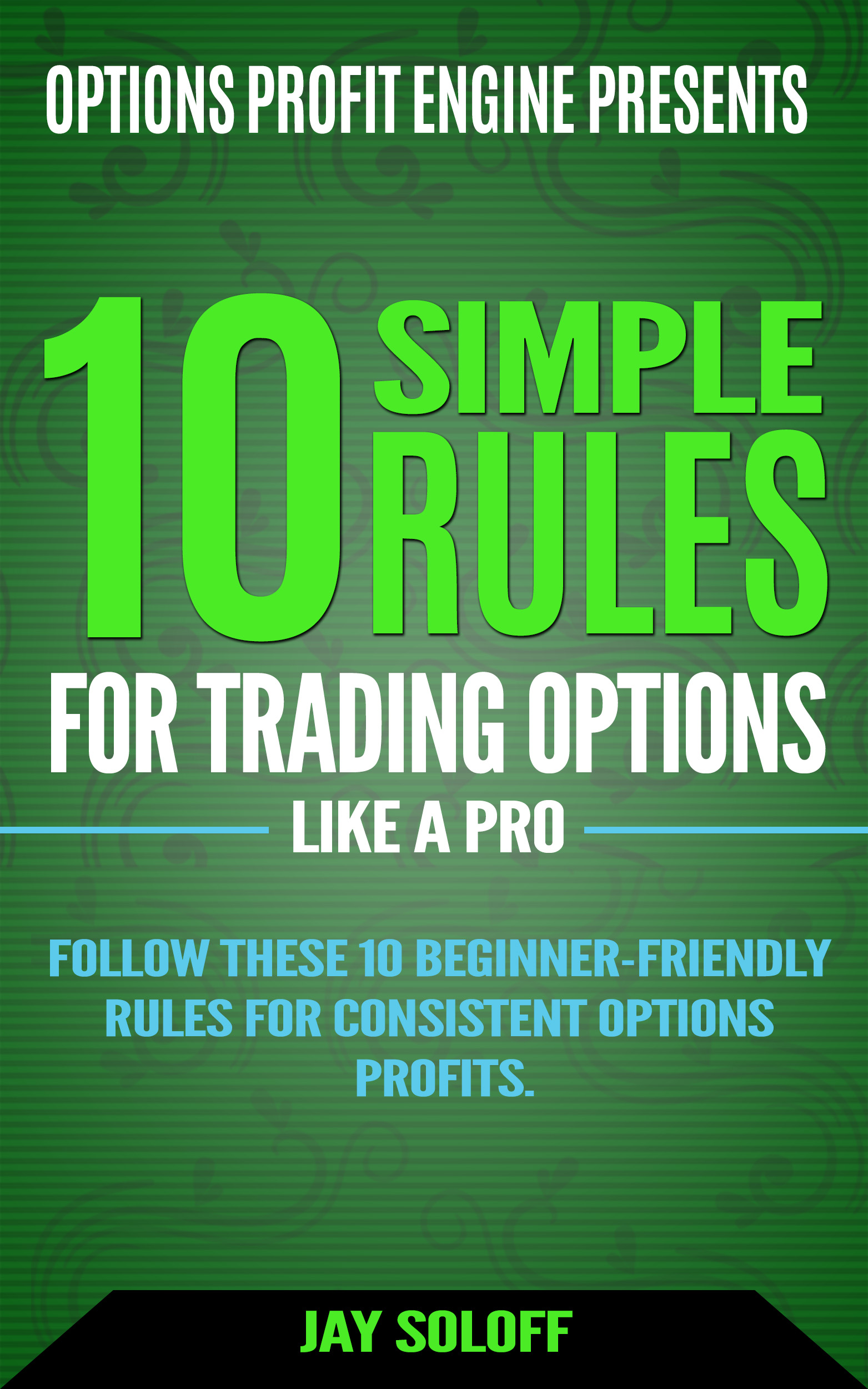 [FREE DOWNLOAD] 10 Simple Rules for Trading Options Like a Pro
Follow these 10 simple rules from 20-year professional options trading veteran, Jay Soloff and start earning a reliable extra income from options.
NO prior experience needed to master these 10 simple options trading rules. 
Enter your email below and receive access to this FREE guide...