A surprise dividend increase announcement could be the beginning of a yearly trend of accelerating payments and share price gains. With the increases expected soon, purchasing before the news will only increase the potential for returns from these stocks.
My research for income stock investment prospects primarily focuses on companies that have historically announced and paid regular dividend increases. As the saying goes, no dividend is as safe as the one that has just been boosted to a higher rate. However, I do maintain a list that I regularly check in on of income stocks that have the potential to resume or start a growing dividend pattern.
In total, there are about as many dividend timing and growth strategies as there are companies that pay dividends. When you find the pattern of a specific income stock, you can use that information to buy when prices are cheap and then sit back and enjoy the share price gains when the rest of the investing public catches up with the facts that led to your share purchase. Listed below are five real estate investment trust (REIT) stocks that have the potential to announce unexpected dividend increases at some point during the next several months. A surprise dividend increase announcement should lead to share price gains as well as a higher yield for investors who bought in before the news.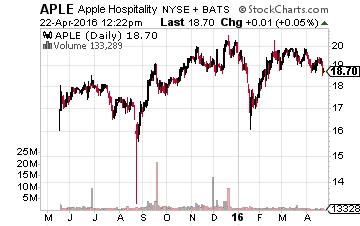 Apple Hospitality REIT Inc (NYSE:APLE) is a hotel/lodging REIT that came to market with a May 2015 IPO. Since the IPO, APLE has declared 12 straight monthly dividends of $0.10 per share. Over the course of 2015, the company grew EBIDTA by 13.7% and modified funds from operations (FFO) per share by 12.9%. The current dividend rate is 85% of the reported 2015 fourth quarter FFO, so any dividend increase will be moderate. The company could announce a one-quarter or one-half cent increase to the monthly payout to show the company is focused on generating dividend growth. APLE currently yields 6.3%.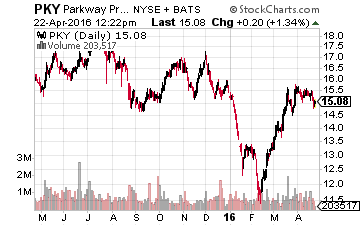 Parkway Properties Inc (NYSE:PKY) owns office buildings located in the Sunbelt of the U.S., from Miami to Arizona. In 2015, Parkway went through an aggressive capital recycling program, which involved selling a significant number of underperforming properties, paying down debt, and strengthening the balance sheet. This REIT has not increased its quarterly dividend rate since the third quarter of 2013. At that time the payout was boosted by 25%. The current dividend is just 55% of the FFO per share reported for 2015. With a stronger balance sheet and stronger credit metrics, the Parkway board may be ready to announce a dividend increase. This is not a sure thing, but a nice increase to the quarterly rate would be a big boost to the stock price. PKY yields 5.0%.
Related: How to collect $3,594 on average for every month in 2016.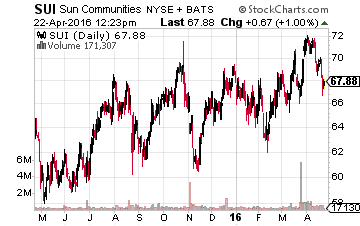 Sun Communities Inc (NYSE:SUI) owns and operates manufactured housing and recreational vehicle communities. The company generates revenues from space rentals, home rentals, and home sales. Currently, Sun Communities has not increased its dividend rate since the third quarter of 2014. In March, the company announced a $1.7 billion acquisition of a portfolio of 103 manufactured housing communities. The deal will increase the size of Sun Communities holdings by 45%. Management has stated that the purchase will be accretive to FFO per share. The current dividend rate is 69% of the pre-acquisition FFO per share run rate. It seems probable that the company will announce a significant dividend increase before the end of 2016. SUI yields 3.9%.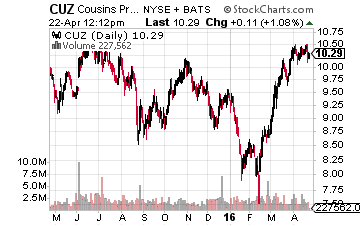 Cousins Properties Inc. (NYSE:CUZ) owns and operates Class A office buildings and mixed-use properties. This company has not increased its dividend rate for over two years, and a dividend increase or large one-time dividend payment is probably required to meet the REIT tax rules. A real estate investment trust is required to pay out at least 90% of net income as dividends. The current $0.32 annual dividend rate is just 55% of the net income per share reported for 2015. If the 2015 net income is indicative of the ongoing profits for Cousins Properties, the dividend must be increased by 60% to stay within the REIT rules. CUZ currently yields 3.1%.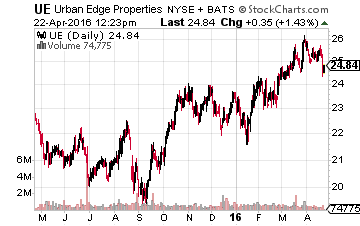 Urban Edge Properties (NYSE:UE) is a shopping center REIT that came to market with a January 2015 IPO. In its short life as a public company, Urban Edge has paid five consecutive $0.20 per share quarterly dividends. Over the course of 2015, FFO per share ran right at $0.30 each quarter. With a full year of operations under its belt, the company's board of directors and management team may be ready to announce the first dividend increase. First quarter results will come out the first week of May and if FFO per share is growing a dividend boost will come not be too far into the future.
Finding stable companies that regularly increase their dividends is the strategy that I use myself to produce superior results, no matter if the market moves up or down in the shorter term. The combination of a high yield and regular dividend growth is what has given me the most consistent gains out of any strategy that I have tried over my decades-long investing career.
And, there are currently over twenty of these stocks to choose from in my Monthly Paycheck Dividend Calendar, an income system used by thousands of dividend investors enjoying a steady stream of cash.