Navigating higher rates and a new government, investors should turn to these five stocks that can offer safety and income for your portfolio. Having proven histories of growth and economic tailwinds at their backs, you can be confident owning any of these stocks. 
The election of Donald Trump as President has changed the economic outlook in a couple of meaningful ways. If the new President and the Republican controlled House and Senate can pass business friendly reforms, such as corporate income tax and regulatory simplification, economic growth could go higher than the barely 2% GDP growth of the past eight years. Along with the growth, investors can expect to deal with rising interest rates and inflation. For REIT investors, this is not completely bad news, even though the financial news networks might lead you to believe so.
The combination of a faster-growing economy and rising interest rates changes the lineup of which REIT sub-sectors should do better in the future. One way to judge which sectors will thrive in the new environment is to look at the typical length of their rental contracts. In recent years, the net lease REITs have been very popular with investors. The typical net lease REIT owns a portfolio of free-standing retail properties, such as auto parts stores and convenience stores. This group of stocks is often compared to bonds because of the lengths of lease terms, typically 15 to 20 years.
The long-term leases lock in the revenue streams of a net lease REIT. In a low interest rate, no inflation economy, these long-term revenue streams are a good thing. However, in an economic environment with higher inflation and rising interest rates, that locked-in revenue stream can lead to lower profits as interest and other expenses rise faster than any rent escalators built into the lease contracts. Long-term leases make it difficult for a REIT to be nimble in the face of higher interest rates. Healthcare and industrial REITs are two more subsectors that rent properties on long-term lease contracts.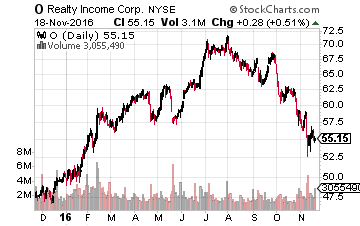 As an investor in these types of REITs, you want to make sure the ones you own are those that have the ability to grow dividends in a rising interest rate environment. For examples, Realty Income Corp (NYSE: O) and Ventas, Inc. (NYSE: VTR) are net lease and healthcare REITs, respectively, that have proven they can grow their dividends at meaningful growth rates over multi-year periods of time.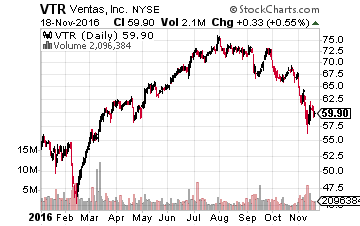 These stocks will be fine over the long haul. In contrast a net lease REIT like W.P. Carey Inc. REIT (NYSE: WPC) where dividend growth has gone basically flat would not be a good choice in the future economy I have described. HCP, Inc. (NYSE: HCP) is an example of a slow or no growth healthcare REIT.
At the other end of the REIT spectrum is those sectors where lease or rental periods are very short. These companies have the ability to re-price their rates quickly in response to higher expenses or growing demand. Apartment REITs have tenants that usually sign one-year leases and then may go month-to-month after the initial year passes. Self-storage REITs have customers that pay month to month. And the REITs with the shortest lease term of all are the hotel/lodging companies, who rent out their rooms in one-day increments.
SEE ALSO: Investing for a Better Retirement Under President Trump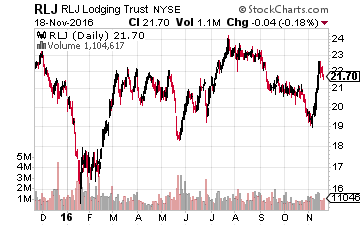 Since the election, the hotel REITs have quickly turned into very interesting investment prospects. First, lodging REIT share values peaked in January 2015 and then went into a 40% to 50% decline from which they have not recovered. Also, most REITs in this group have not been increasing their dividends for the past six to eight quarters. Profits have been OK, but the companies have been retaining free cash flow rather than electing to pay higher dividends. On the other side, the hotel industry is one that will most quickly respond with higher profits if we get a faster-growing economy. Lodging is the commercial property sector that most closely mirrors the ups and downs of the overall economy. When times are good, more people –for both business and leisure– stay in hotels and those hotels can quickly raise room rates in response to higher demand.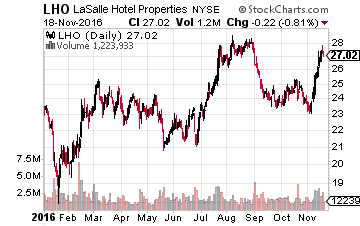 Lodging REITs currently pay attractive yields of around 6%. If the economy does start to grow faster over the next few years, these stocks will experience share price increases and the companies should be able to nicely increase dividends. Three hotel REITs that produced above average dividend growth during the last up cycle for hotels are RLJ Lodging Trust (NYSE: RLJ), LaSalle Hotel Properties (NYSE: LHO), and Pebblebrook Hotel Trust (NYSE: PEB). One or more of these stocks have the potential to put some serious gains in your income stock portfolio.
Stocks like the five above that have high current yields and the potential for dividend growth are an integral part of the income strategy for my newsletter, The Dividend Hunter. The stocks in this article are strong, stable dividend payers and just like the 20 high-yield stocks currently available through my Monthly Dividend Paycheck Calendar system for generating a high monthly income stream from the market's most stable high-yield stocks.