Add these five stocks to your portfolio and give your income and total return potential a huge boost. With cash flow growing in the double-digits, these stocks will be able to increase their dividends year after year and put more money into your pocket.
Over several days last week, I was invited to make several presentations to investors at the Las Vegas MoneyShow. I enjoy that my talks are well attended and that the investors in the room learn quite a lot when I discuss my cash flow focused stock analysis techniques. Because it is the core of my investing strategy and I write articles and newsletter sections on stocks that my strategy digs out, I sometimes forget that what I do is very different and new for a lot of investors. I also find that it is new and useful for even experienced stock market investors.
Here are some of the basic guidelines that make of the core of my strategies that I covered in detail during my MoneyShow presentations:
Income-oriented investors need to have or develop the mindset that to earn dividends, you have to own shares of dividend paying stocks. This means that this type of investor cannot try to jump in and out of stocks based on their beliefs about share prices.
From that outlook, the investor's stock selection needs to focus on the safety of dividend payments from the purchased income stocks. If dividends are secure, share prices become less of a concern, and share price declines can be viewed as buying opportunities to boost dividend cash flow earnings.
Traditional stock valuation metrics do not provide the information you need to evaluate the ability of a company to continue to pay and grow dividends.
I show investors how to find cash generated per share in the income statement. This is the money that supports dividend payments.
Many dividend-focused companies do provide a cash flow per share number. This metric may be called adjusted funds from operations (AFFO), distributable cash flow (DCF) or cash available for distribution (CAD).
Each quarter, you should evaluate your income stocks for dividend coverage from the CAD per share and, for the highest level of safety, a growing CAD per share.
SEE ALSO: Stocks to Buy for a Never-Ending Stream of Dividend Increases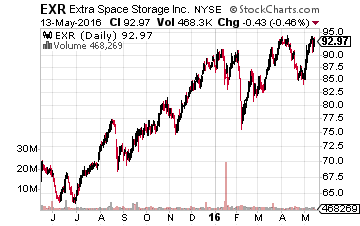 To close one of my presentations, I provided a list of dividend stocks that had reported stellar cash flow dividend growth for the 2016 first quarter compared to the same quarter in 2015. Here are those stocks:
Extra Space Storage, Inc. (NYSE:EXR) is a self-storage REIT that has been a high dividend-growth-r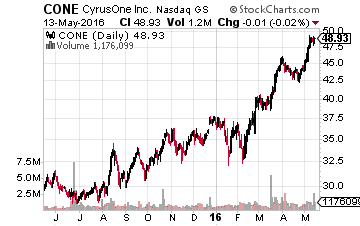 ate investment. In Q1, the reported FFO per share was up 24.6% compared to a year earlier. EXR yields 2.6%.
CyrusOne Inc. (NASDAQ:CONE) is one of the high-growth data center REITs. For the 2016 Q1, the reported FFO per share was up 29% over the same quarter in 2016. CONE yields 3.2%.
Tallgrass Energy GP LP (NYSE:TEGP) holds the general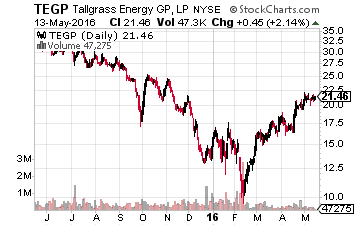 partner interest in Tallgrass Energy Partners LP (NYSE:TEP) a crude oil and natural gas pipeline MLP. TEP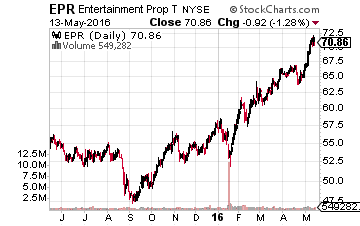 has been one of the top MLPs for distribution growth, and the general partner interest will allow TEGP to increase dividends at an even faster rate. After the 2016 first quarter, TEGP increased its dividend by 21% over previous quarter's payout. My projections have the dividend growing by at least 10% each quarter through the end of 2017. TEGP yields 4.1%.
EPR Properties (NYSE:EPR) is a net lease REIT that owns multiplex theaters, golf and ski recreation facilities, private and charter schools, and is now developing a property in New York for a recently approved casino. For the first quarter, AFFO per share up 15% compared to a year ago. EPR historically has grown its dividend by 6% to 8% per year and currently yields 5.4%.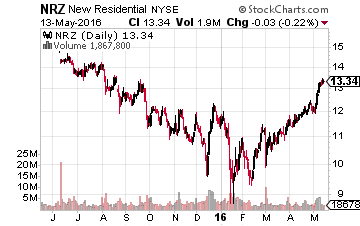 New Residential Investment Corp (NYSE:NRZ) is a high-yield finance REIT, providing financial support for the servicing of home mortgages. In its Q1 earnings report, the company reported adjusted core earnings per share that were up 27% from a year earlier. NRZ yields 13.8%.
These levels of cash flow growth provide confidence that dividend rates are secure and the dividends will grow over time. No matter what the market does with share prices.
Finding stable companies that regularly increase their dividends is the strategy that I use myself to produce superior results, no matter if the market moves up or down in the shorter term. The combination of a high yield and regular dividend growth is what has given me the most consistent gains out of any strategy that I have tried over my decades-long investing career.
And, there are currently over twenty of these stocks to choose from in my Monthly Paycheck Dividend Calendar, an income system used by thousands of dividend investors enjoying a steady stream of cash.