Simplify your stock selection by purchasing any of these five stocks today that you can confidently buy and hold for decades of growth. Every investor should own at least one of these five stocks.
The stock market is always a place full of surprises.
Think back to just after the election to when Silicon Valley had their sad face on after Donald Trump was elected President. He was not considered to be friendly to the technology industry. And tech stocks were duly weak in the election aftermath.
Fast forward to April 25, 2017, and everyone had their party hats on. The technology-heavy Nasdaq index crossed the 6,000 point threshold for the very first time.
The Nasdaq's roughly 12% gain year-to-date is nearly double the return for the S&P 500 index.
It turned out that, during President Trump first 100 days, the technology sector flourished more than any other.
Now the question for investors is whether the outperformance can continue.
Especially in the light of the fact that the Nasdaq trades at a 25% premium to the S&P 500 as a multiple of forward earnings.
Risk-On Rally
First off, one point should be clear to all. This rise in the Nasdaq is not really the "Trumpflation" rally, but simply investors going back to searching for growth in a slow economic environment.
The latest U.S. GDP figure for the first quarter of 2017 showed the economy grew at its slowest pace since 2014 – an annualized rate of only 0.7%.
In effect, it is a "risk-on" rally. But one that is logical, based on the economy.
Investors think that the big technology companies will continue to grow rapidly, amassing large profits.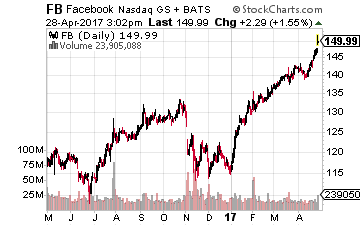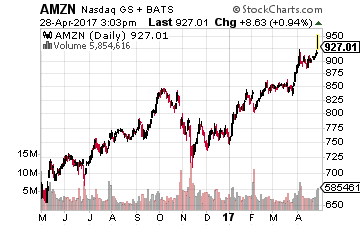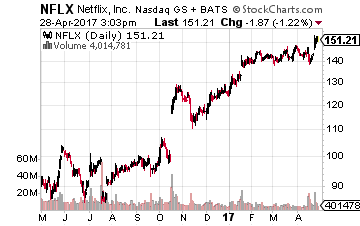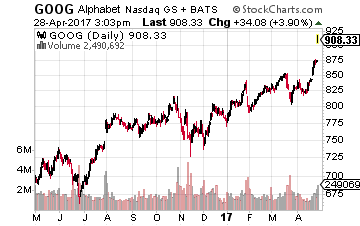 Foremost among these, of course, are the FANG stocks… Facebook (Nasdaq: FB), Amazon.com (Nasdaq: AMZN), Netflix (Nasdaq: NFLX) and Growth Stock Advisor recommendation – formerly Google and now known as Alphabet (Nasdaq: GOOG).
Collectively, these stocks have added more than $250 billion onto their market capitalizations so far in 2017. This just adds to their spectacular past five-year run: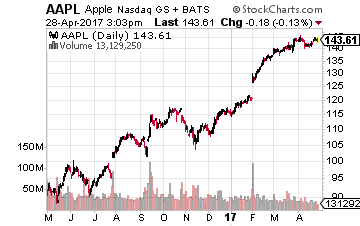 If you throw in Apple (Nasdaq: AAPL), these five stocks have accounted for about 40% of the Nasdaq's gain so far in 2017.
So far though, it seems like investors into these technology stocks are being proven correct. Earnings are coming through in a big way.
Earnings Strength and More
Overall, technology companies will account for about 22% of all S&P 500 profit growth in the first quarter of 2017. The average technology company is expected to report earnings gain of around 13%.
Leading the way on the earnings side were Amazon and Alphabet, both of which I like a lot. Amazon, in fact, is enjoying its longest earnings streak (8 consecutive quarters) since 2012.
Amazon checked in with first quarter revenue of $36 billion. That is roughly a 23% gain from a year ago as both its retail and cloud businesses prospered. Operating cash flow also soared, by 53%.
Alphabet's revenue jumped 22.2% when compared to last year, to $24.75 billion. And its operating margin edged up to 27%.
Alphabet, through Google, and fellow FANG company Facebook accounted for 99% of the industry growth in digital advertising in 2016.
It's not just good earnings boosting investors' confidence.
There's President Trump's tax plan to allow companies to onshore all their overseas cash. Technology companies account for 55% of that $1.3 trillion cash hoard held overseas in 2016.
How to Invest in Technology
You may ask, "But isn't the Nasdaq, and therefore tech, richly valued?"
As I stated earlier, the Nasdaq is trading at a big premium to the S&P 500. But on a historical basis, there may be more room to run.
According to ThomsonReuters data, the Nasdaq trades at 27.5 times the past 12 month earnings.
That level is not much above the level seen in early 2010 and is not even close to the peak seen before the Nasdaq bubble burst in March 2000 of 72.2.
SEE ALSO: Claim Your 30 Day Risk Free Trial of Growth Stock Advisor
History offers another interesting perspective. . . . .
It took the Nasdaq a little over 17 years to move 20% – from 5,000 to 6,000.
That is an annualized rate of just over 1 percent, which quite frankly, is lousy. And it's just an example of why I'm not a huge fan of index funds.
As pointed out by John Authers of the Financial Times, during those 17 years there were stark contrasts… there were 315 Nasdaq stocks that lost over 90% of their value and 125 Nasdaq stocks that soared by 1,000% or more.
Those figures just reinforce what I will be trying to do as editor of Growth Stock Advisor – finding the best places to invest for growth now, such as the Industrial Internet of Things, robotics, and AI.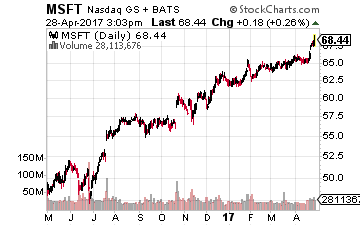 As Satya Nadella, CEO of Microsoft (Nasdaq: MSFT), told his shareholders after a good earnings report on April 27: "There are generational opportunities that are at play."
Finding these 'generational opportunities' will be the pathway to follow so that most of our recommendations end up among the 125 winners and not the 315 losers for the next 17 years.
Starting today, I will be taking over as Investor Alley's Growth Stock Advisor newsletter editor, and today 12:00 eastern I will be sending out my first full issue.
In this issue, I am recommending a stock that sits right at the crossroads of two unbelievably promising industries.
The first industry has the potential to be one of the largest growth opportunities the market will see over the next ten years, and the second is a sector that has been around for over 100 years. It is as essential to the global economy as water is for a human to live.
That combination makes for one massive growth opportunity for this one company. If you're not already a subscriber to Growth Stock Advisor I'm offering up a 30-day free trial to anyone who joins today.
To join at this special discounted rate, CLICK HERE to take advantage.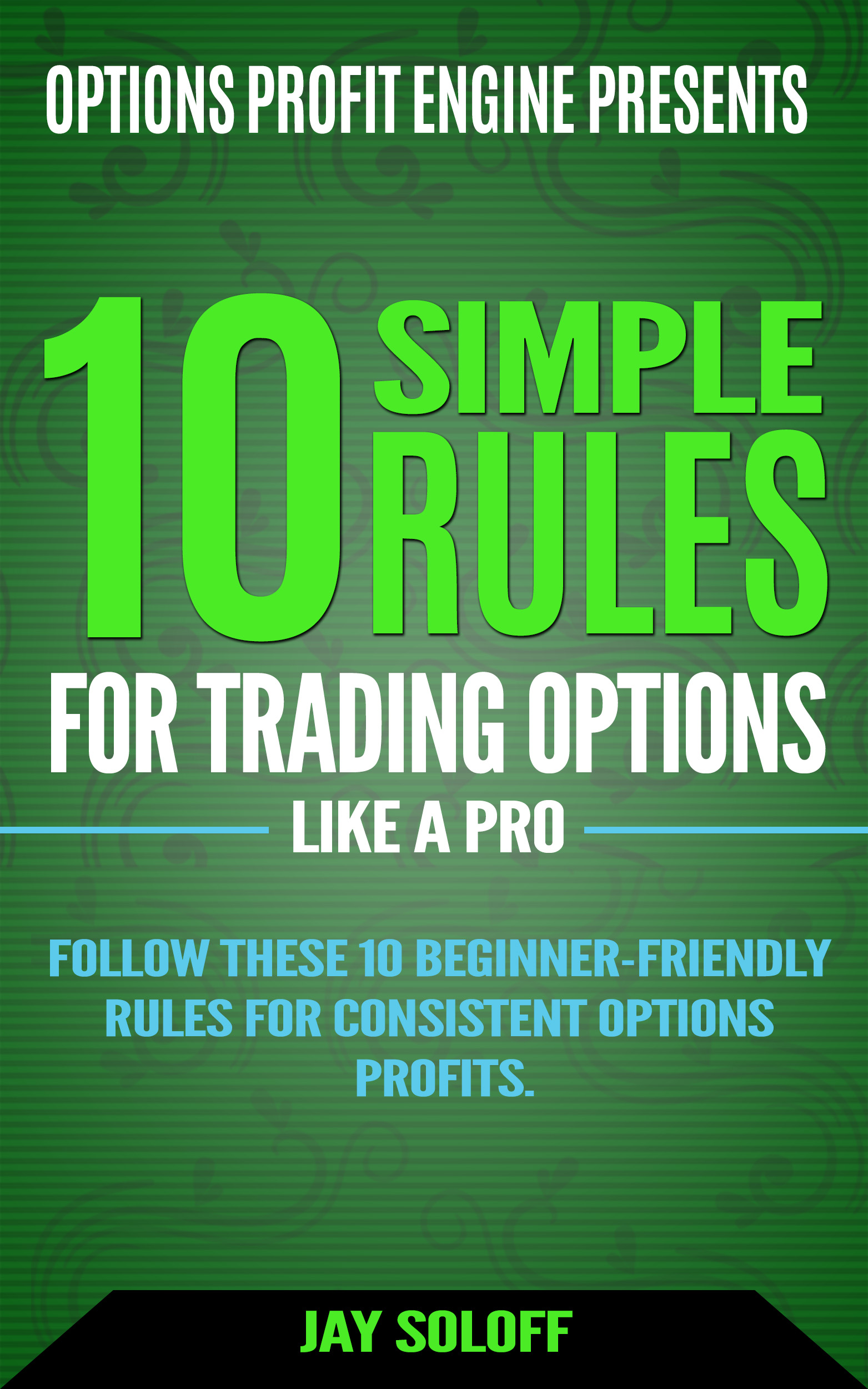 [FREE DOWNLOAD] 10 Simple Rules for Trading Options Like a Pro
Follow these 10 simple rules from 20-year professional options trading veteran, Jay Soloff and start earning a reliable extra income from options.
NO prior experience needed to master these 10 simple options trading rules. 
Enter your email below and receive access to this FREE guide...