They are facing little of the headwinds that are currently souring the market and have strong, growing dividends that will propel share price growth and total returns. In what could be a challenging investing year for most, it will pay to stay cautious.
As much as I think it is short sighted most of the time, I think that the economy and markets in 2016 will end up looking a lot like 2015. The major difference will be a swapping of rankings among last year's winning and losing sectors in the stock market. A growing dividend-focused investment strategy may turn out to be the winning play when we reach the end of 2016.
Economic growth continues to flatten. The U.S. economy has been stuck in a plus or minus 2% annual GDP growth range since coming out of the Great Recession in 2009. In spite of the low GDP growth, the U.S. stock market has done very well over the last six years. From the start of 2009 through the end of 2015 the S&P 500 returned an average of 14.2% per year or 253% in total return for the period.
However, in 2015 the bull market slowed significantly and the S&P 500 ended the year with a 1.25% total return including dividends. The early days of the bull market were a general recovery from the grossly oversold condition at the end of the 2008-2009 bear market, which saw a 50% or more decline in share values. The continuation of value gains came from a combination of growth in the technology sector, international sales growth by the large multi-national companies, and some financial engineering, such as share buybacks to boost earnings per share numbers.
As we move into 2016, those factors that supported the bull market have mostly vanished. Economists are predicting 2% global economic growth, to match the low growth rate of the U.S. economic system. With China in particular and other emerging markets experiencing slower or no growth, the U.S. multi-nationals will struggle to keep revenues and profits growing.
Share buybacks and similar maneuvers are no longer viewed by investors as a saving factor when revenue and profit growth are slowing. Looking at the first few days of trading in the New Year, it seems that investors are also either losing faith in the continued growth in the tech sector, or just taking profits against the possibility of a serious market correction or even a bear market this year.
Just three days into the New Year, Facebook (NASDAQ: FB) is down 4%, Apple (NASDAQ: AAPL) is down 6.5% and Amazon (NASDAQ: AMZN) has lost over 8% of its value. The tech-heavy NASDAQ Composite stock index has lost almost 7%. Many of the formerly hot tech stocks built share values on future expectations, and with the slowing of economic growth, these companies may have a lot of trouble to meet the growth expectations built into share prices.
In the type of economic climate and stock market conditions discussed above, 2016 may be a year to really focus on dividends as the driver of above average stock market returns. There are two factors that propel a dividend-focused investment strategy. First, there is the current cash yield. Dividends are real returns and if you generate 5% or more in cash flow on your investments you may end up well ahead of the rest of the pack by the end of the year.
The second, and in my strategies more important, is to focus on dividend growth. A growing dividend provides the benefit of an ever increasing yield on your initial investment values. When share prices decline due to short-term market gyrations, a dividend growth focus lets you see a growing cash flow stream into your brokerage account. Growing dividends should, over time, also lead to a higher share price. From a pure math perspective, for a stock's yield to stay the same, the share price must increase by the same amount as the dividend growth rate. You may not see the share price changes in the shorter term, but over a period of years, the math will work out as long as a company can produce steady dividend growth. A good example (and a recommended core holding for income investors) is Ventas, Inc. (NYSE: VTR). Over the past dozen years, the VTR dividend has grown by an average of 7.8% per year. The annual total return over the same period is 13.4%, which works out to the dividend growth rate plus an average 5.6% dividend yield. With compounding, the VTR dividends plus dividend growth has resulted in a 454% total return over the 12 year period.
One other recommendation for stock investors in 2016 is to stick with companies that operate and generate most of their revenues in the U.S. Growth here is predictable, even if the GDP growth rate is low. To add even more predictable results on top of the economic growth, add some utility stock investments to your portfolio. There only about 80 public utilities in the U.S. and they are regulated to produce fixed returns. I like the use of packaged products to get investment exposure to the sector.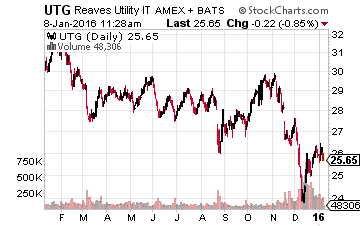 Utilities specialist investment firm Reaves Asset Management offers two actively managed funds that should provide above average returns compared to the utility sector as a whole. The Reaves Utilities ETF (NASDAQ: UTES) is a very new, actively managed ETF which is focused on the best dividend growth prospects in the sector. This is the fund to pick if you are looking for tax-advantaged total returns from your utility holdings. Reaves Utility Income Fund (NYSE: UTG) is a closed-end fund that gives a higher yield of about 7% with modest dividend growth. Be aware that the UTG high yield is supported by realized capital gains in the fund's portfolio. The good news is that in its 11-year history, UTG has never paid out return of capital and has never reduced the dividend.
With the focus on yield plus dividend growth plus U.S. business operations, stock investments naturally fall to REITs, utilities, and those energy companies that will profit from low energy and commodity prices leading to higher demand from consumers. VTR, UTES, and UTG fit into these criteria. Here are a few more stocks that should do better than the averages for investors in 2016: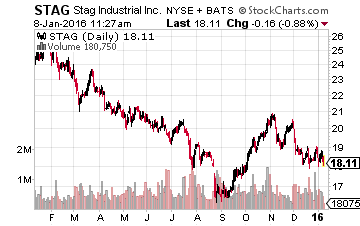 Stag Industrial Inc. (NYSE: STAG) is a REIT that owns single tenant industrial properties. These are facilities used by warehouse/distribution and light manufacturing companies. STAG has been growing its portfolio by 20% per year and is an aggressive buyer in secondary and tertiary markets where cash returns are higher. STAG yields 7.5%, pays monthly dividends and should grow dividends by at least 5% per year.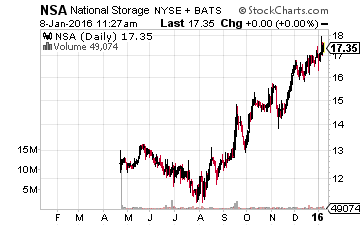 Self-storage has been the best-performing REIT sector of late. Most of the companies in this group are low yield with high dividend growth rates. A couple of new companies in the group give the potential for a higher current yield and high dividend growth. National Storage Affiliates Trust (NYSE: NSA) came to market with an April 2015 IPO. The stock yields 4.7% and the dividend has already been increased once. Jernigan Capital Inc (NYSE: JCAP) is using a new business model for self-storage operators. The company provides loans to build new self-storage facilities. Besides interest on the loans, JCAP will participate in the profits of the new projects it helps fund. Current yield is 9.5%. This is a new, micro-cap stock and should be viewed as a speculative investment.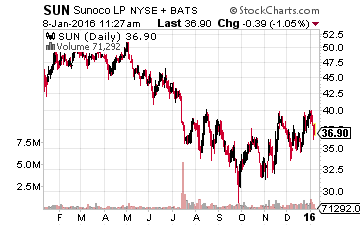 Sunoco LP (NYSE: SUN) operates at the refined products selling end of the crude oil business spectrum. The company operates a wholesale fuels distribution business and also operates approximately 850 convenience stores and retail fuel sites. Sunoco has additional growth prospects through the transfer of additional retail marketing segment assets currently owned by SUN's controlling general partner, Energy Transfer Equity, LP (NYSE: ETE). The stock yields 8% and Wall Street analysts forecast low teens annual dividend growth.
New Report Reveals How to Safely Double Your Money in 4.5 Years
Why settle for puny 1% yields on CDs when you can double your money in 4.5 years with a certain class of safe, dividend-paying stocks?
All you have to do is plug your portfolio into the Accelerating Dividends System.  This breakthrough investment tool works by identifying little-known stocks that consistently increase their payouts year after year…no matter what the market does.
Right now you can get access to this system for free.
Position: Long VTR and UTG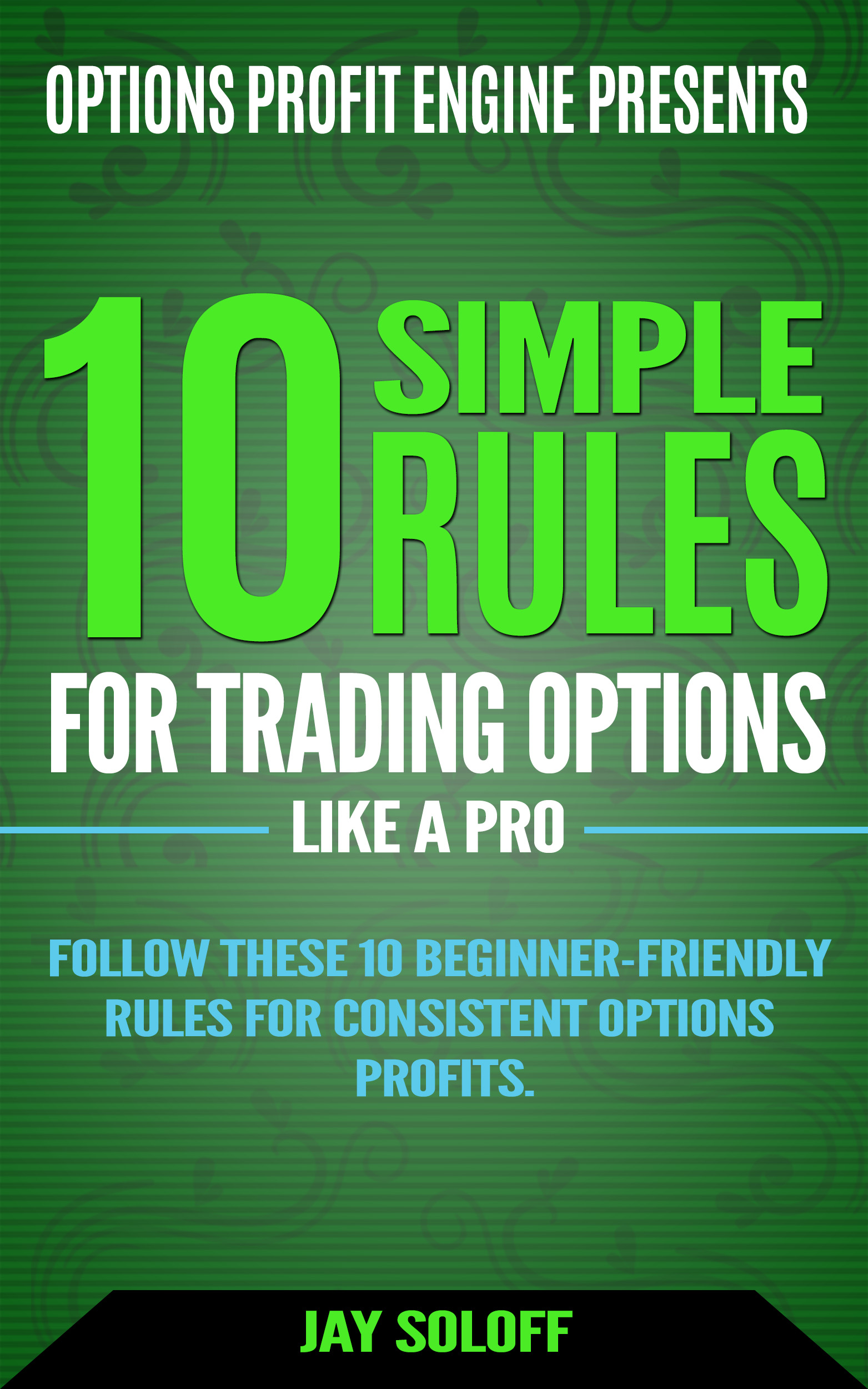 [FREE DOWNLOAD] 10 Simple Rules for Trading Options Like a Pro
Follow these 10 simple rules from 20-year professional options trading veteran, Jay Soloff and start earning a reliable extra income from options.
NO prior experience needed to master these 10 simple options trading rules. 
Enter your email below and receive access to this FREE guide...