If elected, Clinton will have little power to pass regulation on this sector that is offering investors some of the best valuations and growth prospects in the market right now. Buy any of these five stocks that will be great long-term holdings in your portfolio. 
"If politicians stopped meddling with things they don't understand, there would be a more drastic reduction in the size of government than anyone in either party advocates." – Thomas Sowell
Healthcare is the only sector within the NASDAQ that is down for the year as I pen this article, sporting just over a 15% loss year-to-date. Biotech has been hit even harder and is down more than 30% from its last peak early in the summer of 2015.
Fears that a clean sweep by the Democrats in November could bring out the worst impulses of that party's Bernie Sanders/Elizabeth Warren wing has spooked many investors. Regardless of who wins, yet another four years of inept and dysfunctional political leadership is almost assured.
The important thing for biotech and pharma investors to remember is that no one party will control all three levers of government when the smoke clears on November 8th. Particularly, investors in these sectors of the market want to confirm that the Republican party retains at least the House of Representatives and/or Senate which would prevent any major legislative changes that could significantly impact these industries in a negative way.
The Senate is currently little more than a toss-up. However, given the Republicans must defend twice as many seats this election cycle, one should give a slight nod to the Democrats in this race. The House, on the other hand, is an entirely different matter. Less than 60 seats are anywhere near competitive. Given the high negative ratings of both presidential candidates, it is hard to see this as a "wave" election that would be needed to flip 30 seats to give the Democrats control of the House. The prediction market, PredictIt, currently implies an 18 percent chance of a changeover in the House or less than a one in five chance of a change in control.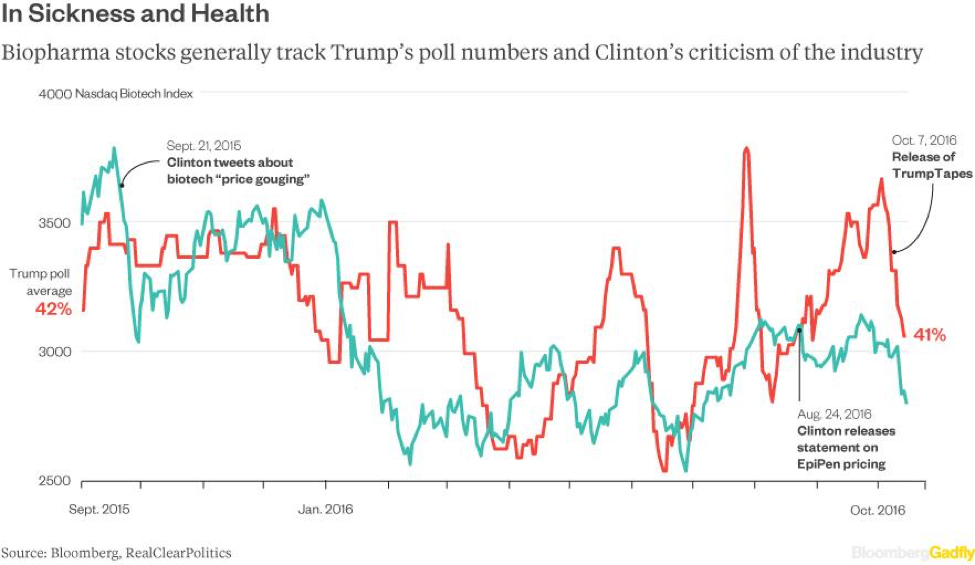 Bloomberg had a good article last week on how the biotech indices have tracked the ebb and flow of Donald Trump's candidacy and his election prospects instead of the more important matter of which party controls Congress when the election is over. To me, this presents a big buying opportunity for contrary investors who want to take advantage of the political overreaction in these sectors in the economy.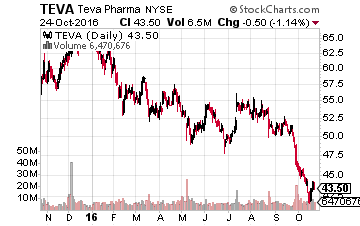 One large cap pharma play here that looks very cheap is Teva Pharmaceuticals (NASDAQ: TEVA). The world's largest generic drug maker has fallen in value as it has been dragged down due to competitors Mylan (NYSE: MYL) and Valeant Pharmaceuticals (NYSE: VRX) being dragged before congressional sub-committees to be treated as political piñatas this election year.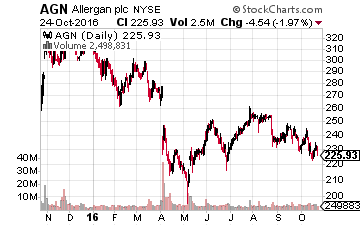 Teva's business has remained above the fray even as its stock has declined. The shares currently go for approximately eight times earnings and yield north of three percent, and the company's revenues should grow at a double-digit clip as it integrates its recent acquisition of Allergan's (NYSE: AGN) generic drug business. The shares are too cheap given its growth prospects and dividend yield.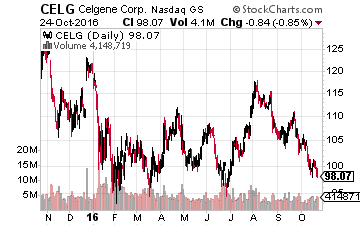 For investors looking for more of a pure growth play, Celgene (NASDAQ: CELG) has gotten very cheap in the sector's pullback of late and goes for around $100 a share. Revlimid, its blood cancer drug, continues to be a blockbuster and is still showing solid growth. The company also has several other drugs doing $100 million to $300 million in sales a quarter.
The more exciting part of the Celgene story is actually in its pipeline. The company acts almost as a "venture capitalist" to a good part of the small and mid-cap ecosystem within the biotech sector. It has dozens of collaboration deals spread generously across a variety of treatment areas like inflammatory diseases and next generation biologics. It is this pipeline that gives analysts the confidence to believe the company will earn $11 to $12 a share three to four years out, more than double what it will make this year. At its current trading levels, investors are getting that growth trajectory on the cheap.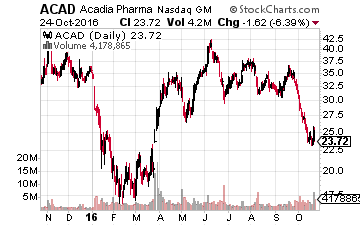 Moving out on the risk scale into the small cap arena, there are numerous names I like a lot at current levels. These include names I have profiled many times before like Progenics Pharmaceuticals (NASDAQ: PGNX) and Acadia Pharmaceuticals (NASDAQ: ACAD). The latter of which is one of my favorite take out targets for 2017.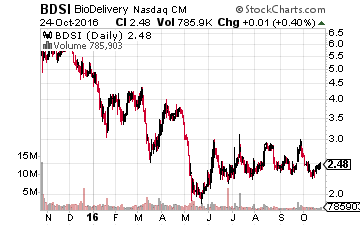 One company you might not be as familiar with is BioDelivery Sciences (NASDAQ: BDSI). Its price has done little in 2016 , however it has rolled out its pain management products, BELBUCA and BUNAVAIL. The stock currently sits at $2.50 a share with an approximate market value of $130 million. However, the company has inked numerous contract wins with insurers and other network providers in recent months. These deals will greatly expand BioDelivery's reimbursement coverage starting on January 1st.
I expect the shares to gain momentum as investors start to factor this in for the New Year. Roth Capital reiterated their Buy rating and $7.00 a share price target last week on BioDelivery. Janney Montgomery upgraded this name a month ago as well.
The long hard slog of the election campaign will soon be over, and I think investors should take advantage of the oversold levels in the biotech and pharma sectors now while they still can at such attractive long-term levels.
To help facilitate your investments in the sector, I have just released a new FREE report on some of my favorite small cap stocks that I think are primed for explosive growth. These stocks will also be unaffected by a Hillary Clinton Presidency and in this report you will see all of the information you need to be convinced that these stocks deserve a spot in your growth portfolio.
Click here to see the 3 biotech stocks for explosive growth.
Positions: ACAD; AGN, BDSI, CELG, MYL, PGNX & TEVA