Invest in a massive global economic super cycle over many years that will send profits in these four stocks higher by purchasing any of the four stocks Tony Daltorio shares today. With his research as the Growth Stock Advisor editor, he has discovered what could be one of the best investing opportunities of 2017. 
You may remember the commodity super-cycle of 2000 to 2014. That's when the price of many commodities – particularly in energy and industrial metals – moved higher over a number of years thanks to the rapid industrialization of China leading to above average demand for commodities.
Well, now another super-cycle is here… the semiconductor super-cycle.
This super-cycle is due to many of the things I talk about in Investors Alley Growth Stock Advisor. These include the Internet of Things (IoT), artificial intelligence (AI), cloud computing, big data, machine learning and smartphone/video advances. All of these are combining, leading to a huge surge in demand for dynamic random-access memory (DRAMs) chips used for processors and NAND flash memory chips, which are used in a type of non-volatile storage technology. NAND Flash Memory is found in devices such as digital cameras where large files are frequently uploaded and replaced.
Samsung Powerhouse
For proof of this, one needs look no further than across to the Pacific Ocean and Korea's Samsung Electronics (OTC: SSNLF).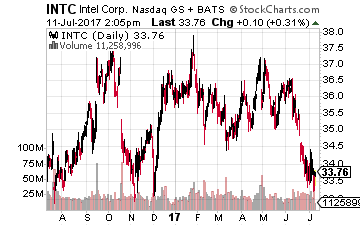 The company just reported record quarterly profits thanks to booming sales of memory chips (and display panels too). In fact, Samsung has now overtaken Intel (Nasdaq: INTC) as the world's biggest chipmaker. Its quarterly profit is now larger than its rival Apple (Nasdaq: AAPL).
And Samsung's income is bigger than the combined operating profits of the famous FANG stocks – Facebook (Nasdaq: FB), Amazon.com (Nasdaq: AMZN), Netflix (Nasdaq: NFLX) and Alphabet (Nasdaq: GOOG).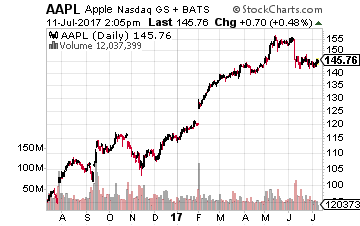 As the head of research at Nomura, CW Chung, told the Financial Times, "Samsung has hit the jackpot with the memory chip super-cycle."
Still Track Left to Run
Of course, all super-cycles – as happened with commodities – eventually end.
But even though DRAM prices have more doubled in the past year, this super-cycle in memory chips looks like it has further to run.
Research firm IHS Markit forecast the memory chip market would surpass $100 billion for the first time ever this year, growing by about 30% in 2017. This is up approximately from the previous record of $78.6 billion set in 2016. The outlook for 2018 is that the market will be worth roughly $107 billion.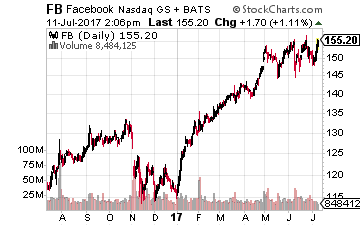 Prices for DRAM chips have doubled in the past year as demand has outstripped supply. Of course, eventually, supply will catch up to demand. But the only way that will happen is with the building of new multi-billion dollar semiconductor fabrication factories, known as "fabs".
That leads us directly down the path toward the chip equipment making companies.
Chip Equipment Makers
Just look at what SEMI (Semiconductor Equipment and Materials International) – the global industry association – is saying about fab equipment spending. SEMI has the best track record at forecasting industry trends.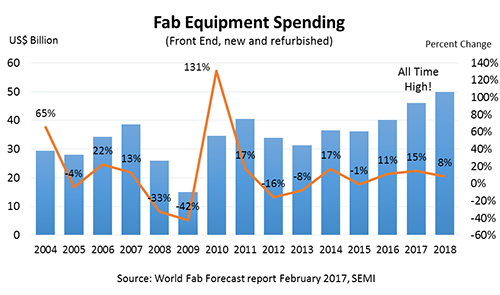 SEMI forecasts spending to surge 15% and reach an all-time record of more than $46 billion in 2017. That record won't stand long as SEMI projects spending in 2018 to hit the $50 billion mark. The three years – 2016, 2017 and 2018 – will be the best three year period for the industry since the mid-1990s.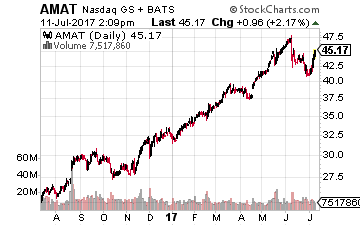 The number one choice here and the largest player in the industry is Applied Materials (Nasdaq: AMAT). Its stock is up 35% year-to-date and nearly 75% over the past 52 weeks.
Its second quarter results blew away analysts' estimates. Revenues grew 44% year-on-year, with earnings soaring 144% year-on-year. Guidance for its fiscal third quarter was also above the expectations of analysts. I like the fact that Applied Materials is a relative bargain the tech space, with a price-to-earnings ratio of only 18 times. Depending on the data source, the average p/e ratio for the semiconductor sector is in the low-to-mid 20s.
Other stocks to consider among the semiconductor equipment manufacturers include the number two player, ASML Holding NV (Nasdaq: ASML), as well as Lam Research (Nasdaq: LRCX) and Tokyo Electron (OTC: TOELY).
Here are their respective gains year-to-date and over the past 52 weeks:
ASML – up 19.5% and 37.8%
LRCX – up 41% and 75.5%
TOELY – up 42% and 57.25%.
I expect these companies to continue to do well until the super-cycle begins to slow sometime near the end of the decade. Until then, enjoy the ride.
In the meantime, I'm working on a special project that unifies investing in the biggest mega-trend to transform humankind… and it will all happen in the next few years, right before your eyes. In fact, you'll be a part of it. It includes themes including Internet of Things, Big Data, a 4th Industrial Revolution, materials sciences, biotechnology, quantum computing and so much more that will fundamentally change the way we work, play, eat, communicate and live. My Growth Stock Advisor is just the beginning of this. Click here to request a free 30-day trial subscription.