Increasing distributions streams, especially those that are tax shielded, are one of the best ways to compound your income from dividend stocks. With these four investments, you can expect bigger and bigger dividend checks every quarter and pay zero taxes on them. It's a win-win for income-focused investors.
The last six months have been a rough ride for investors with energy sector holdinGEL, gs. With the prices of both crude oil and natural gas shedding about 50% of their value since last summer, common stock and MLP unit prices have suffered similar declines. It is in times like these that quarterly earnings and distribution announcements provide real information on what is happening with our investments and let us know whether long-term expectations are still intact or changes should be made.
One of the positive aspects of the MLP sector is the fact that many MLPs increase their distribution rates every quarter. Also, many MLPs will announce a new quarterly distribution rate several weeks before the official release of quarterly earnings results. After a period of falling energy and MLP unit prices, a couple of quarterly distribution increases can help counter the negativity in the market and start a turnaround in share prices.
The majority of MLPs operate in what is called the midstream portion of the energy sector. These companies own some combination of oil and gas gathering systems, natural gas processing facilities, transport assets like pipelines, trucks and rail cars, storage facilities and a wide range of loading and unloading facilities. Put another way, the midstream MLPs own and operate a large portion of the North American energy infrastructure. These companies tend to generate revenues from stable fee-based contracts. Growth comes from built-in fee rate escalations and, more importantly, from the development or acquisition of additional fee producing midstream assets. To judge the health of any MLP you own or are researching, a good start is to look at the distribution growth rate and the cash flow coverage (distributable cash flow or DCF in MLP jargon) that is the source of those quarterly payments.
I use the early distribution announcements as an early warning system for the upcoming earnings report. If an MLP maintains its distribution growth rate, the earnings should be OK. Accelerating distribution growth is a sign that investment results may improve in the future. Slowing or no distribution growth is a warning sign, and I need to take a close look at the quarterly earnings report.
So far through mid-April there has been a handful of distribution increase announcements. In general, with MLP prices much lower than they were half a year ago, these increases show that the midstream business models are still working and you can invest with the expectation o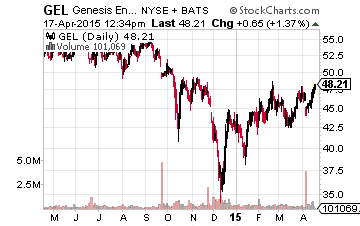 f a growing future income stream. A final note before I give the list. MLP distributions are classified as a non-taxable return of capital. The yields discussed here are tax-free, increasing your returns compared to stocks paying taxable dividends. Here the distribution increases announced over the last couple of weeks. These are companies an income-focused investor should own or spend some research time on: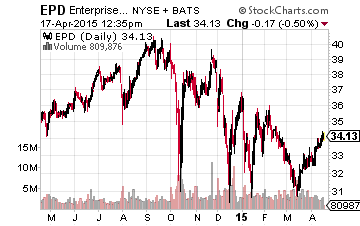 On April 4, Genesis Energy Partners LP (NYSE:GEL) announced its first quarter distribution of $0.61 per unit, a 2.5% increase over the previous quarter, and up 10.9% from a year earlier. Genesis has been a steady 10% annual growth MLP and currently yields 5.1%.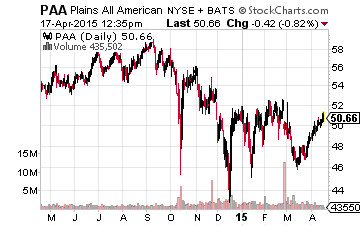 On April 6, Enterprise Products Partners LP (NYSE:EPD) increased its quarterly payout by 1.35% to $0.375. The new rate is up 5.6% from a year earlier. Enterprise is the largest MLP and has increased its distribution for 43 consecutive quarters. EPD yields 4.4%.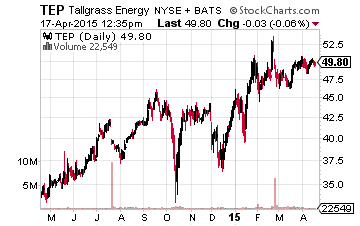 On April 7 Plains All American Pipelines LP (NYSE:PAA) announced a quarterly distribution of $0.685, up 1.5% from the previous quarter and 8.7% higher than a year ago. PAA yields 5.3%.
On April 14 Tallgrass Energy Partners LP (NYSE:TEP) announced a $0.52 per unit distribution, up 7.2% over the last quarter and 60% higher than what investors received a year ago. TEP yields 4.2%.
While all four MLPs listed here are high-quality MLPs, there are another 50 or so that will be announced distributions between now and mid-May. The point is that with a growing distribution stream, you can worry a lot less about the ups and downs of the stock market.
High-yield MLPs with a solid track record of increasing distributions are one of the core investments we use in my Monthly Dividend Paycheck Calendar.
The Monthly Dividend Paycheck Calendar is set up to make sure you're getting 6, 7, even 10 dividend paychecks per month from stable, reliable stocks with high yields.
The calendar ensures that your dividend stock income stream, including MLPs as well as REITs, BDCs, and regular high-yield dividend stocks, will be more stable and predictable as you're getting payments every month, not just once a quarter like some investors do.
The Monthly Dividend Paycheck Calendar tells you when you need to own the stock, when to expect your next payout, and how much you could make from stable, low-risk stocks paying upwards of 8%, 10%, even 17% in the case of one of them. I've done all the research and hard work; all you have to do is pick the stocks and how much you want to get paid.
The next critical date is Thursday, April 30th, so you'll want to take action now to make sure you don't miss out. This time we're gearing up for an extra $3,150 in payouts by Memorial Day, but only if you're on the list by the 24th. Click here to find out more about this unique, easy way of collecting monthly dividends.
Position: Long TEP.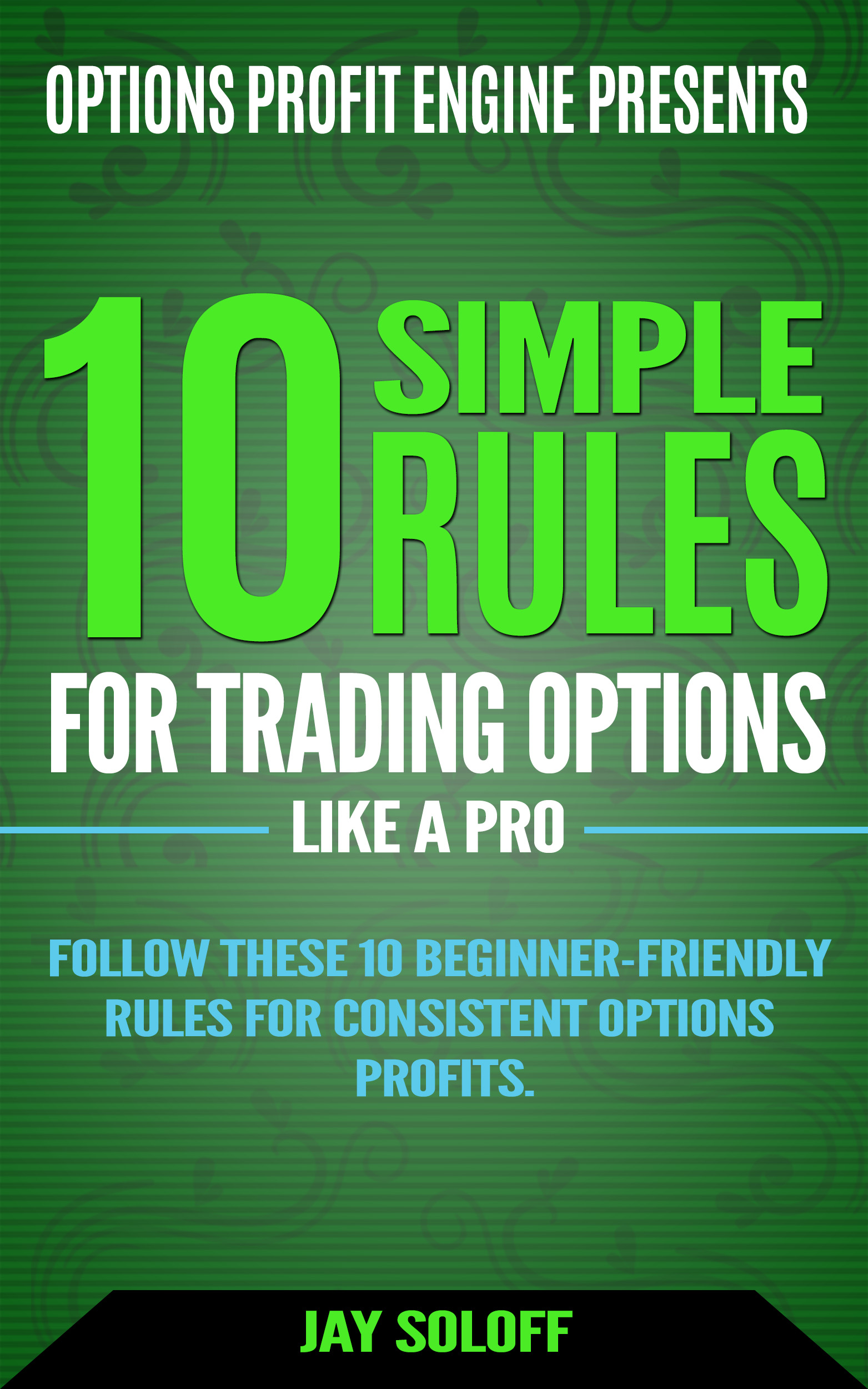 [FREE DOWNLOAD] 10 Simple Rules for Trading Options Like a Pro
Follow these 10 simple rules from 20-year professional options trading veteran, Jay Soloff and start earning a reliable extra income from options.
NO prior experience needed to master these 10 simple options trading rules. 
Enter your email below and receive access to this FREE guide...