Fear in the stock market rends to paint all of the stocks in a specific sector with the same red brush. However, this can spell opportunity as rising interest rates do not affect all REITs equally. There are a handful of companies that actually stand to benefit from the Fed's tightened monetary policy. 
Fear in the stock market tends to paint all of the stocks in a specific sector with the same brush. The finance focused real estate investments trusts (REITs) is one group that gets hit hard by the "fear" of higher interest rates. For the typical finance REIT that is involved in the ownership of residential mortgages or residential mortgage backed securities, there is good reason to worry about higher interest rates.
These REITs use significant leverage to boost the net interest income earned, which allows the payment of large dividends with yields much higher than the current rates on residential mortgages. Rising rates hit residential mortgage REITs in two ways. First, increasing rates drive down the values of the MBS portfolios, resulting in falling book value per share and lowering the ability to put capital to work at the new higher rates. Second, rising short term rates will squeeze the interest rate spread between the yield on the owned mortgage backed securities and the money borrowed to leverage the portfolio. In 2013, the rise in mortgage rates resulted in value drops of 40% to 50% by the residential mortgage REIT share prices.
In contrast to the residential mortgage REITS, there are a couple of financial REIT types that have business operations that will generate level or even higher profits as interest rates increase. Before I discuss these stocks, there is one point I want to make sure you understand. The fear of higher rates will cause investors to sell these stocks also, resulting in temporarily lower share prices. However, when rates actually go higher, these companies will experience higher profits and will be able to maintain or increase dividend rates. If you buy shares on the fear driven dips, you will be collecting very attractive yields when interest rates start to move higher. Next up are the two types of financial REITs that will pay very attractive yields and also thrive when interest rates start to increase:
Commercial property mortgage lenders make very different types of loans compared to residential mortgages. The commercial lending REITs put out the majority of their loans with variable interest rates. The companies use much less leverage, and the rate at which they borrow will be tied to the same interest rate index as the loans they originate. As a result, commercial mortgage REITs lock in the spreads they earn, and with many loans will actually earn more if rates go up.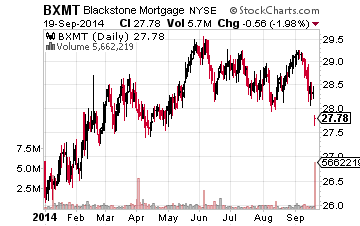 The commercial mortgage REITs generally will lend only 65% to 70% of a building's value, protecting their capital base. Loans have five year terms, which allow these companies to either recycle their capital or renew commercial mortgages and earn additional fee income. There are two commercial mortgage REITs that combine extensive commercial lending knowledge with deep pocket sponsors that allow these companies to write the largest commercial mortgages at very profitable rates:
Blackstone Mortgage Trust Inc. (NYSE: BXMT) was re-purposed by the Blackstone Group (NYSE: BX) into a commercial mortgage originator in May 2013. BXMT currently yields 7.2%.
Starwood Property Trust, Inc. (NYSE: STWD) was launched with an August 2009 IPO. The company is managed by privately held Starwood Capital Group. STWD yields: 8.4%.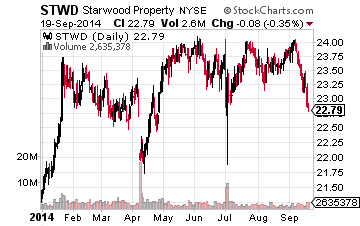 Mortgage servicing rights (MSRs) are fees paid to a mortgage servicing company to handle the collection of residential mortgage payments and then disburse the money to lenders and investors. In most cases, the actual costs to service a mortgage are less than the amount of the servicing fees. Large mortgage servicing companies can sell the excess servicing rights on blocks of mortgages to collect the profits from future fees in a large up-front payment.
Buyers that purchase the excess MSRs pay a discount to expected future value of the cash flow stream from the MSRs. The price paid accounts for the payoff and refinancing of mortgage loans, which stop the rights on those loans. Higher interest rates cause home owners to keep existing mortgages longer, which increases the return on the excess MSR investments. Two companies have made these niche investments the core of their business models:
Home Loan Servicing Solutions Ltd (Nasdaq: HLSS) is a two-year old company that primarily invests in excess MSRs. HLSS is not a REIT, but instead is organized as a Passive Foreign Investment Company (PFIC). The tax consequences of owning HLSS shares are different, so check the company website before investing. HLSS has steadily increased its dividend and currently yields 9.7%.
New Residential Investment Corp (NYSE: NRZ) is a REIT that owns excess MSRs and other niche, high return real estate related securities. NRZ has paid a steady dividend and yields 11.3%.
Remember the share prices of these stocks may also drop on the fears of higher interest rates, but over a multi-year period of rising rates, they will generate a growing stream of dividend income for your brokerage account.
I've recently added several of these rate protection stocks to our portfolio with The Dividend Hunter. They're paying high yields now and will protect us with continued high yields once the Fed starts raising rates again. Click here to find out how to use them as a part of my monthly dividend paycheck calendar.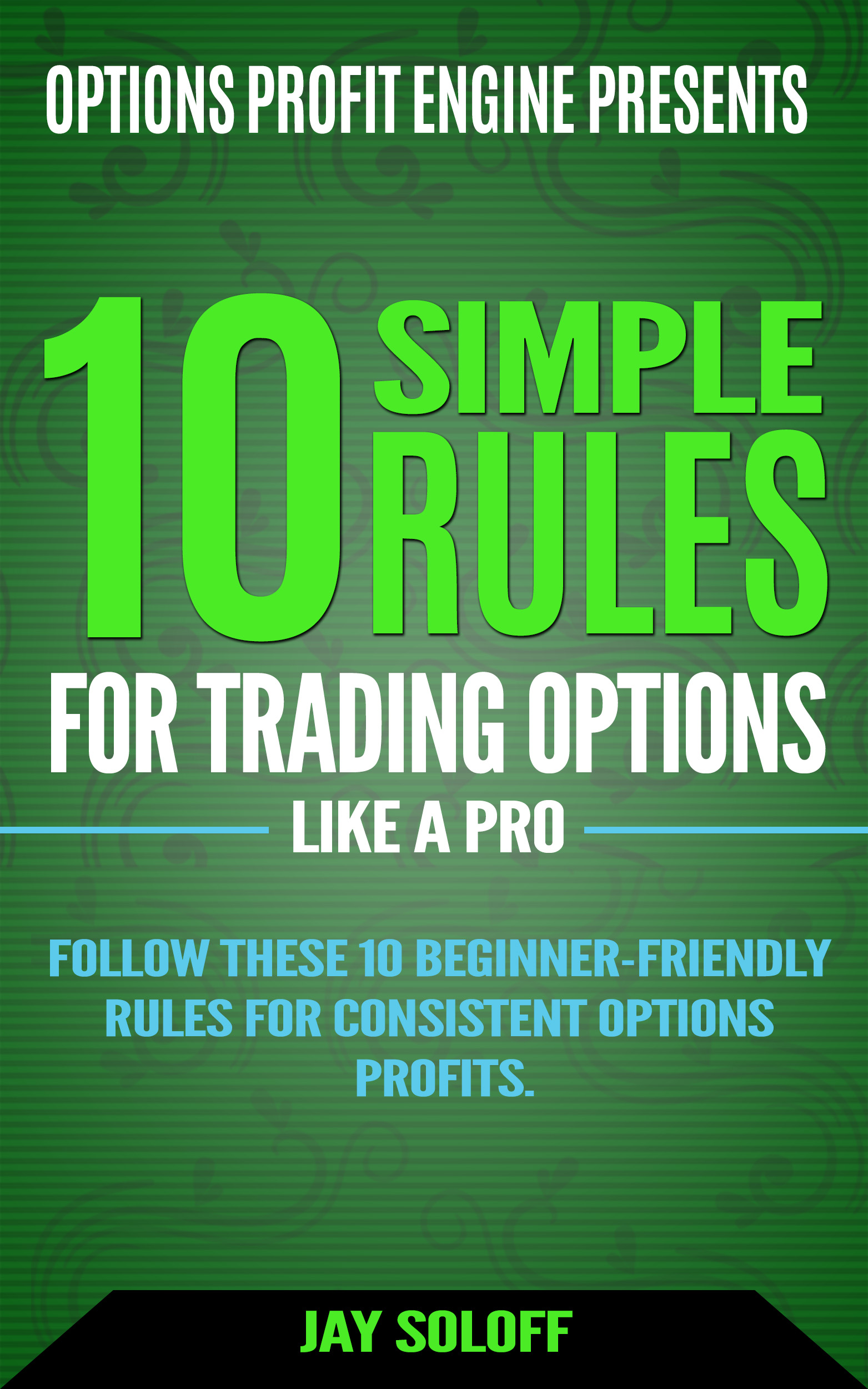 [FREE DOWNLOAD] 10 Simple Rules for Trading Options Like a Pro
Follow these 10 simple rules from 20-year professional options trading veteran, Jay Soloff and start earning a reliable extra income from options.
NO prior experience needed to master these 10 simple options trading rules. 
Enter your email below and receive access to this FREE guide...