Having not participated in the market rally of 2016, these four stocks with strong cash flow and businesses are great candidates for growth in the New Year. Also, their strong dividends will put cash in your pocket as you wait for their share prices to recover. 
A year ago, the stock market went into a two-week, 10% decline, with almost every stock down significantly from the highs set in the first half of 2015. In hindsight, January and February 2016 were a great time to buy shares of almost any company, as long as you had the guts to fight the fear of buying into a falling market.
If you bought the SPDR S&P at the very start of 2016, your investment made 12% last year. Not too bad. If you bought on February 16, 2016, when it started to look like the bottom of the market correction had passed, you earned 21.4% through the rest of 2016.
The big lesson to be learned is that if you can ignore the dire warnings from the financial news channels, you can really boost your future returns by buying during market corrections. In 2016, you could have boosted your returns by making stock investments anytime in the market correction window that lasted from January 2 through March 11. Now, investors are facing a different dilemma.
Over the last two months, the stock market has moved sharply higher. A lot of pundits are predicting another correction like last year. The fact that so many believe that leads me to guess that it won't happen. The question now is how to put money to work in the stock market with the major indexes sitting at or near record highs. That idea feels like a good opportunity to be set up for near term losses and longer term below-average total returns.
SEE ALSO: Tim Plaehn's Top 2 Dividend Stock Picks for the New Year
To make decent returns going forward, I recommend that you start by looking at stocks where the share prices have not participated in the 2016 leg of the current bull market. There are plenty of stocks that posted negative or near zero total returns over the last six months. With many of these stock, the poor performance is due to a poorly performing company.
However, there are companies with strong businesses and attractive business growth prospects, but with share prices that have lagged significantly behind the overall market over the last year. To find those poorly performing stocks with strong future potential I start with stocks out of my high yield databases. I sort for negative or low price gains over the last year and then dig through the financials to find those companies with attractive yields, stable and growing free cash flow, plus strong continued growth prospects.
Even with the significant overall stock market gains, there are a couple of sectors where share values are flat or negative and 2017 prospects look very strong. If you are looking for some stock ideas to start out the year, here are areas where I will be drawing from for recommendations to my newsletter subscribers.
In 2016, the energy infrastructure/master limited partnerships (MLPs) sector started to recover following the severe bear market of 2015. For the year, the Alerian MLP Index reported an 18% total return. However, half that return was from the high average distribution yield in effect at the start of the year. Share prices were up 9%. I also noticed that most of the big gainers in the MLP space were the most financially troubled companies at the end of 2015.
These companies were forced to slash distributions, restructure debt, and cancel or reduce growth projects. Investors saw the turn around and the "fast" money went into the riskiest of the MLPs. A number of the stable, financially secure, strong growth infrastructure partnerships had down to flat years for their share values. In 2017, I expect the investment sentiment in MLPs to shift to the stronger, growth focused companies. Here are a couple of examples: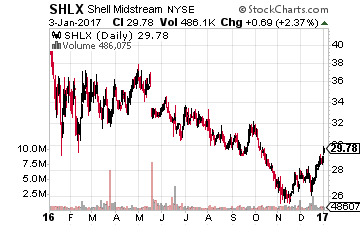 Over the last year, Shell Midstream Partners LP (NYSE: SHLX) produced a negative 28.8% total return. Yet during the year, the company increased its distributions by 28%, and the Wall Street analysts forecast annual 20% per year compounding distribution growth for the next three years. This is one of the highest growth companies in the midstream MLP sector with a very strong sponsor in Royal Dutch Shell plc (NYSE: RDS.A).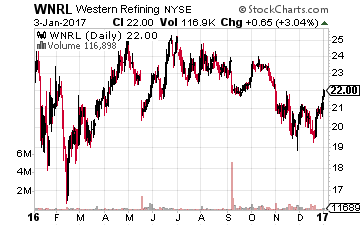 Western Refining Logistics LP (NYSE: WNRL) was down 8.1% over the last year. This MLP has grown distributions by a steady 10% to 12% a year and has a current 7.9% yield. WNRL's sponsor, Western Refining, Inc. (NYSE: WNR), will merge with Tesoro Corporation (NYSE: TSO) this year. It is likely that WNRL will eventually merge with Tesoro Logistics LP (NYSE: TLLP) and be taken out of the market at a premium share price.
The value of the real estate investment trust (REIT) sector peaked on August 1, 2016, and the overall sector ended 2016 about 11% below that peak value. There was a very wide range of results among the different REIT subsectors.
Self-storage was the worst sector, down 13% on the year. Historically, self-storage has been a top performing sector and I expect it to resume a top spot this year. Healthcare REITs were down 1% on average with several quality companies posting negative share price results. Here are a couple of representative stocks from each sector.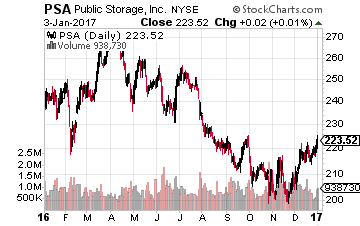 For 2016, Public Storage (NYSE: PSA) posted a negative 7.8% total return. Over the last 20 years, the stock has produced an average 14.5% annual compounded total return. A return to the mean is enough to result in handsome profits from PSA over the next several years.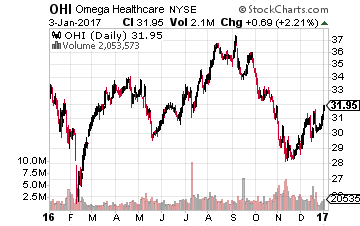 Omega Healthcare Investors Inc. (NYSE: OHI) has increased its dividend for 18 consecutive quarters. Yet the stock had a negative 4.7% total return last year. The current 7.8% dividend yield along with continued dividend growth gives a strong probability to return OHI to double digit total returns.
Stocks that have a high current yield and the potential for dividend growth are an integral part of my income investing strategy that I share in my newsletter, The Dividend Hunter. This is where I recommend the market's strongest, most stable high-yield dividend payers, and there are 20 high-yield stocks currently available through my Monthly Dividend Paycheck Calendar system for generating a high monthly income stream from the market's most stable high-yield stocks.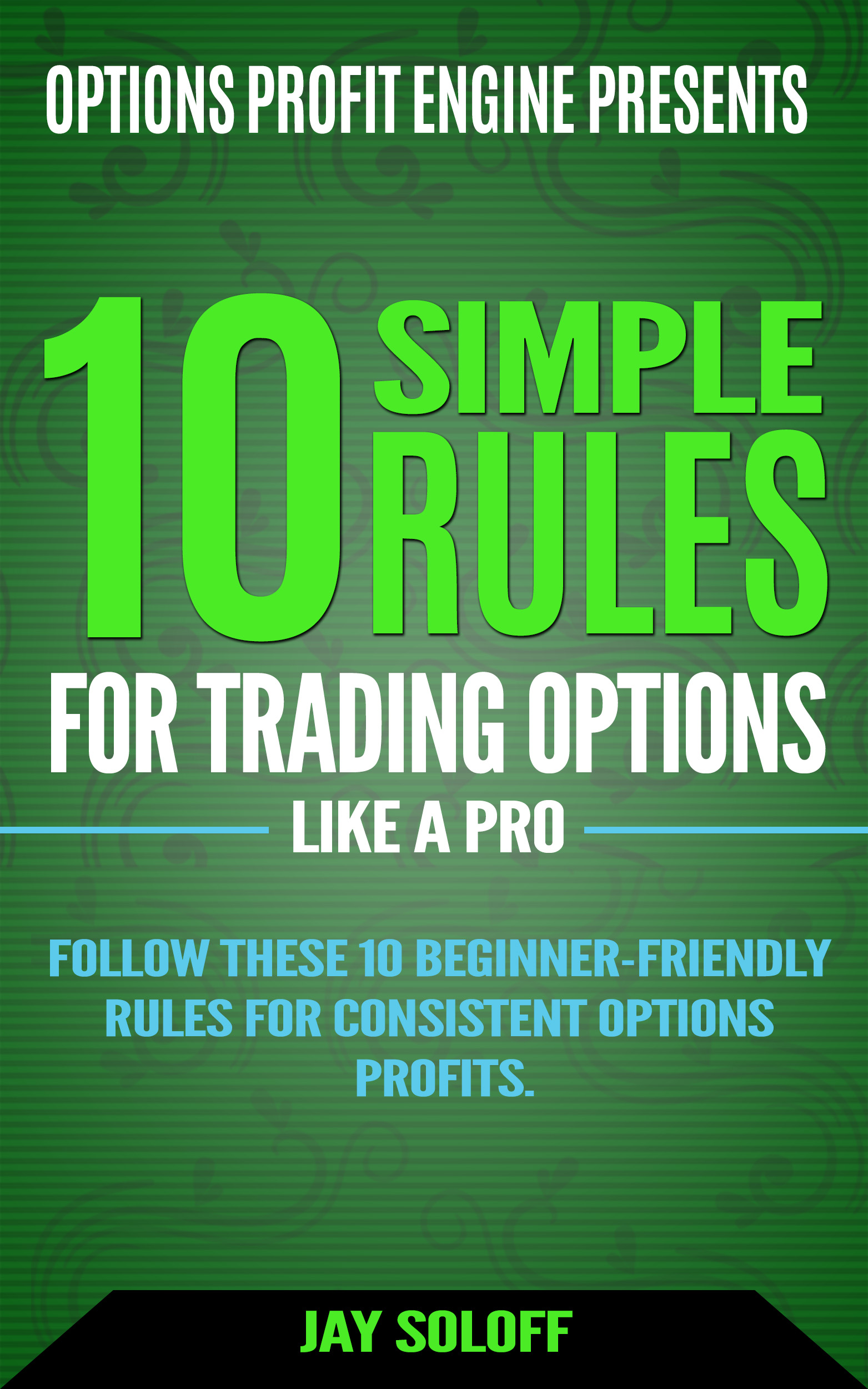 [FREE DOWNLOAD] 10 Simple Rules for Trading Options Like a Pro
Follow these 10 simple rules from 20-year professional options trading veteran, Jay Soloff and start earning a reliable extra income from options.
NO prior experience needed to master these 10 simple options trading rules. 
Enter your email below and receive access to this FREE guide...