As the market appears to be around all time highs the truth is that it's been flattening over the past 12 months, punctuated only by abrupt, downward swings and lengthy recoveries. Finding growth and yield in this market is challenging but not impossible. We'll cover four stocks to give you high growth and yield for higher than average total returns.
I am reading more and more articles discussing the approaching end of the bull market that started in 2009. I think that the writers and analysts are late to the party and the bull market ended in early 2015. If my analysis is correct – and I will lay out my reasons in a moment – then for investors to make decent returns going forward, they need to focus on owning shares of companies that can continue to grow in a flat economy.
If you look at the five-year chart of the S&P 500, you can easily see how the 2009 to 2014 bear market ceased its climb in early 2015. Some analysts have suggested this coincides with the end of the last round of the Fed's Quantative Easing policy.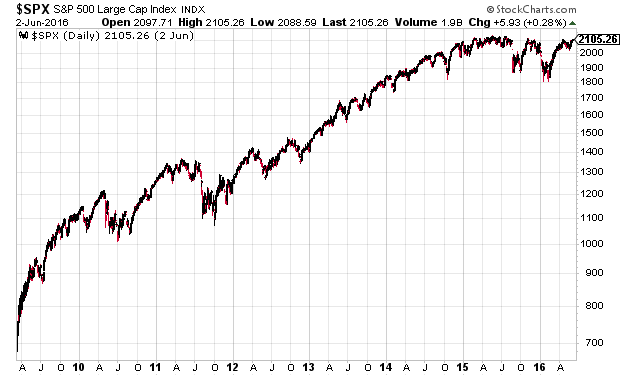 However, since early last year, the market has been flat with a couple of sharp corrections in September-August 2015 and January-February 2016. I see the long bull market as the recovery from the economic recession caused by the 2007-2008 financial crisis. Since the recovery from the recession, U.S. GDP has been growing at an anemic 1.5% to 2.0% per year, much lower than the GDP growth typically seen in an economic recovery. This is not a growth rate that would support a continuation of the bull market.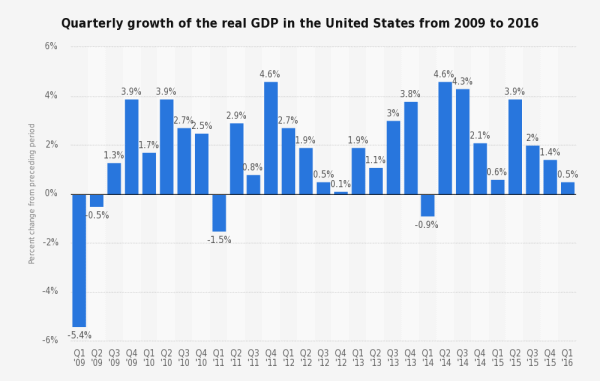 I do not see the typical signs of a pending bear market however, so that leaves us with a flat stock market to match the slow growth of the economy. With this market you can expect more frequent, short term dips such as we have experienced over the last nine months and average annual returns in the low single digits at best.
To make money in a flat stock market, investors need to find those pockets of the economy that are still growing. With the stock market near all-time highs, value investors will have trouble finding undervalued stocks. The ticket to building wealth in this investment environment is to find companies that can grow their own businesses in a non-growing economy. The overall real estate investment trust (REIT) sector includes a wide range of economic subsectors. The growth of a REIT is also fairly easy to track by looking at free cash flow – funds from operations or FFO in REIT speak – and dividend growth rates.
We'll cover two REIT sectors that have the potential to generate mid-teens to 20% average annual total returns – that's share price appreciation plus dividends – even as the GDP chugs along at 2% growth per year.
Self-storage is a business built for the modern economy. Fewer people are buying homes and renters often need additional storage for their stuff. Plus a large portion of the self-storage properties inventory is in private hands, providing lots of opportunity for the self-storage REITs to grow through acquisitions.
Here are two REITs in the sector with strong historic growth rates that should continue into the future: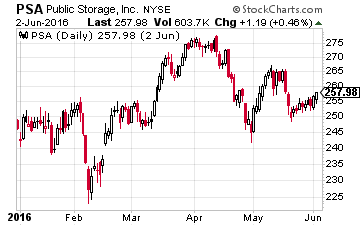 With a $45 billion market cap, Public Storage (NYSE:PSA) is one of the largest companies in the entire REIT universe. Yet even with its size, the company has produced an attractive record of above average growth. The average annual dividend growth rates for the last five and 10 years are 9.5% and 9.7%, respectively. The result has been a 16.6% average annual total return for the past decade. PSA should continue to grow its cash flow at a similar rate, generating mid-teens total returns. The stock currently yields 2.8%.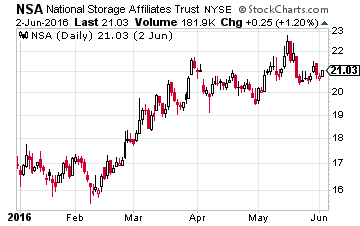 At the other end of the spectrum is small-cap National Storage Affiliates Trust (NYSE:NSA). This $500 million market cap REIT launched with an April 2015 IPO. The company's growth model is based on buying out larger private storage operators in the best growth markets for self-storage. The company has been growing FFO per share at a greater than 20% annual clip. NSA shares yield 4.1%.
Related: A safe high growth, low volatility self-storage stock with 20 consecutive quarters of FFO growth.
The other high-growth REIT sector is data centers. These companies develop and manage data center facilities and then lease space and services to companies that need data storage and Internet connectivity. The market for data center services covers both the Internet commerce companies and almost every large corporation in the world. Data center services have been a strong growth subsector and should continue into the foreseeable future.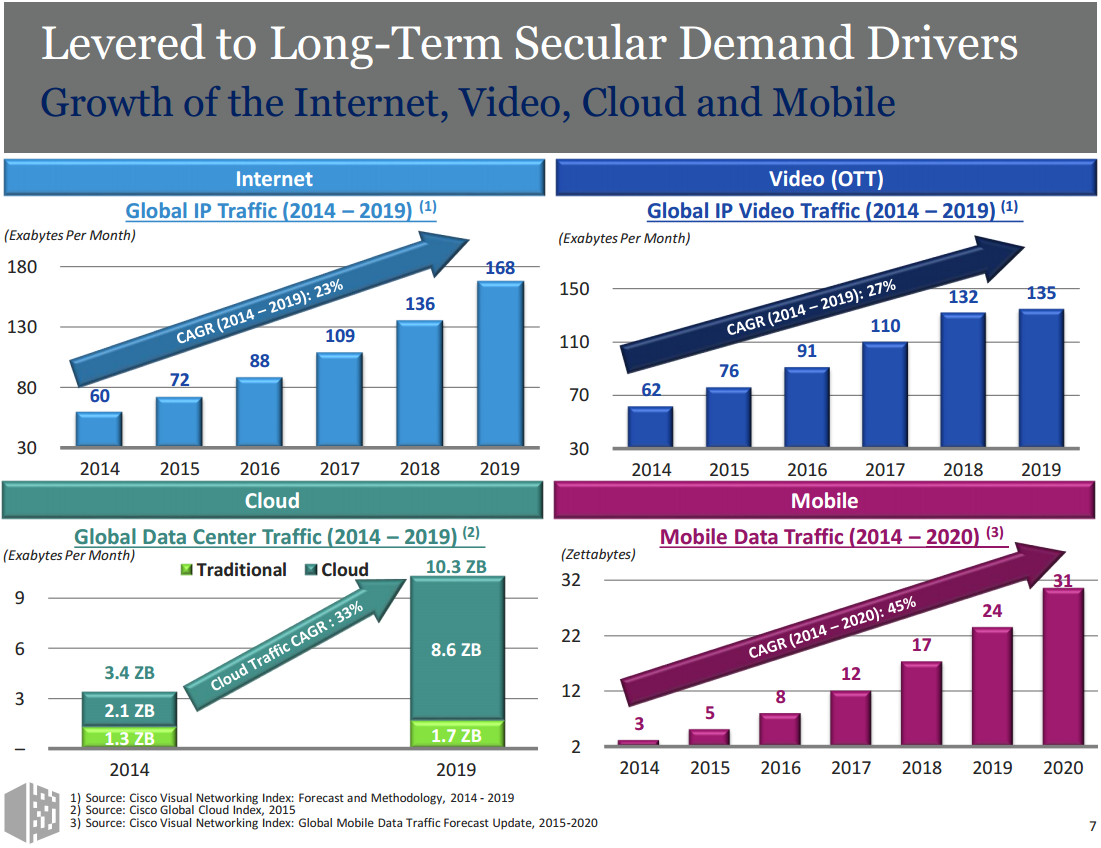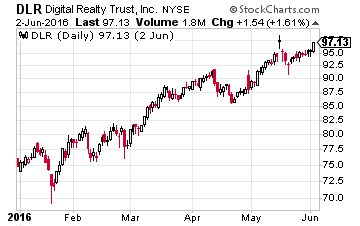 Digital Realty Trust, Inc. (NYSE:DLR) is a large-cap option, with a $15 billion market cap. The company currently owns 140 data center properties, located in North America, Europe, and Asia. The company has 1,750 customers, providing customer diversity to the revenue stream. Historically, over the last 10 years DLR has grown its dividend by 13% compounded annually. The result has been a 19.6% average annual return for the last decade. The stock currently yields 3.6%.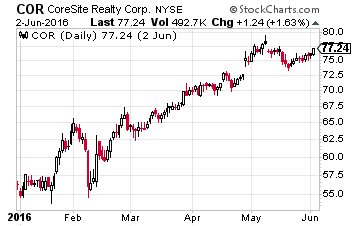 CoreSite Realty Corp (NYSE:COR) is a $4 billion market cap data center REIT that IPO'd in September 2010. Over the last five years, the company has grown its dividend by an annual compounded average of 69%. That torrid growth rate has moderated as CoreSite Realty continues to grow FFO per share by more than 30% per year. COR shares yield 2.7%.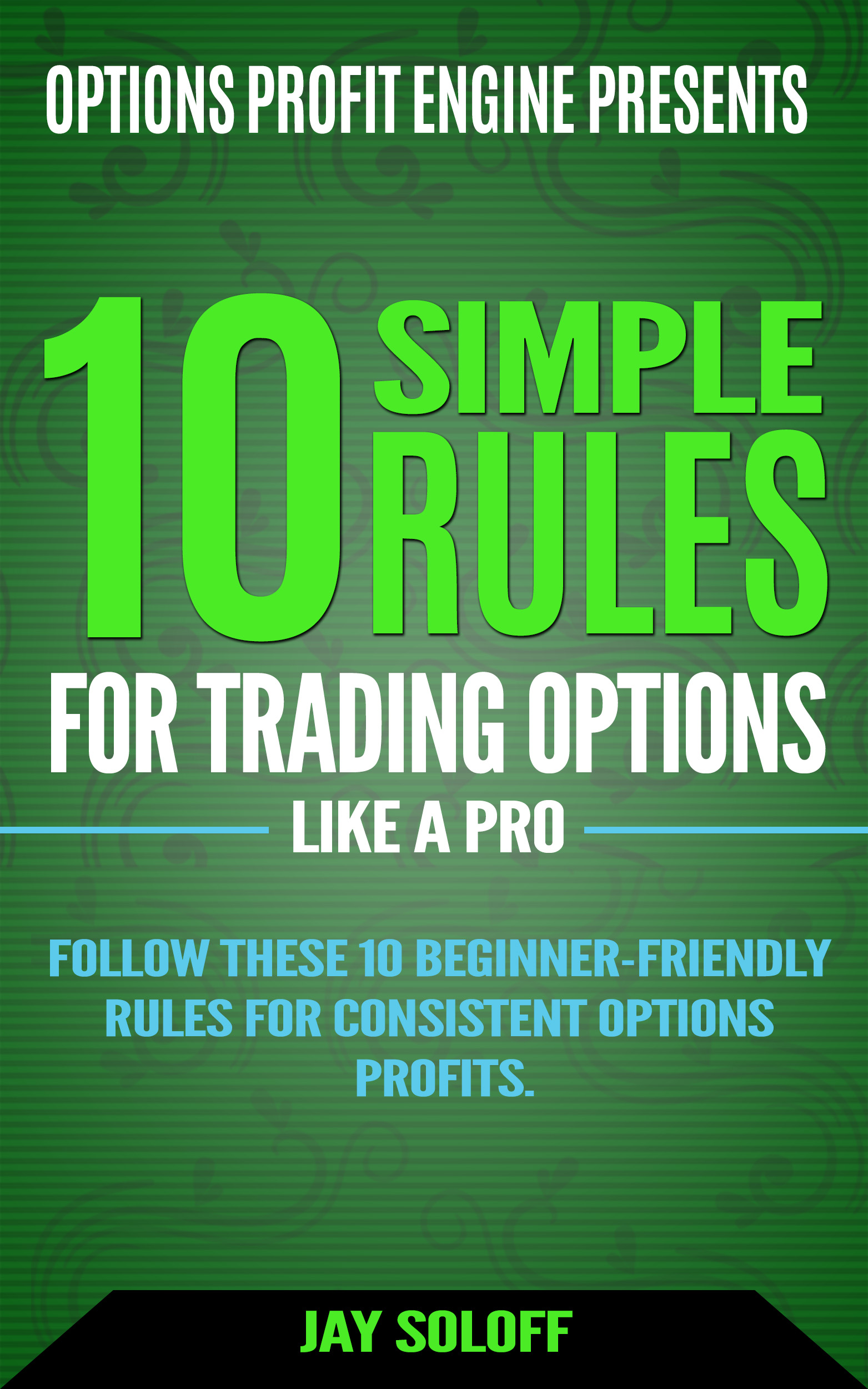 [FREE DOWNLOAD] 10 Simple Rules for Trading Options Like a Pro
Follow these 10 simple rules from 20-year professional options trading veteran, Jay Soloff and start earning a reliable extra income from options.
NO prior experience needed to master these 10 simple options trading rules. 
Enter your email below and receive access to this FREE guide...