It's always interesting to see what technologies are highlighted at the annual Consumer Electronics Show (CES) in Las Vegas. I use it, and so should you, as an insight into the next possible investable technology trends. After all, the U.S. consumer electronics industry's revenues in 2018 are expected to come in at about $351 billion in 2018.
Some of the technologies on display at this year's show were augmented and virtual reality devices, robots, and artificial intelligence (AI). But the real focus of this year's show were the automobile and the automotive parts companies and the seemingly inexorable move toward autonomous vehicles.
More on that a bit later… first, I want to fill you in on some of the other highlights of this year's CES.
Will VR Ever Become Mainstream?
Two companies were front and center when it came to virtual reality (VR) at CES – Facebook (Nasdaq: FB) and Alphabet (Nasdaq: GOOG). Both are still trying to persuade consumers to buy VR headsets. But with little success… the segment is expected to generate only $1.2 billion in U.S. sales in 2018.
Facebook's Oculus Go sells for $199, while VR headsets based on Google's Daydream VR platform, such as a device from Lenovo, sells for almost double that amount.
I think neither company will make a success of their VR efforts. To me the best in the sector is Sony (NYSE: SNE) with its high-end Playstation VR headset. It has sold over two million units of this headset in 2017, which is impressive since it only launched in October. Gaming may be the only market where VR truly becomes mainstream.
Alexa, Make Me Money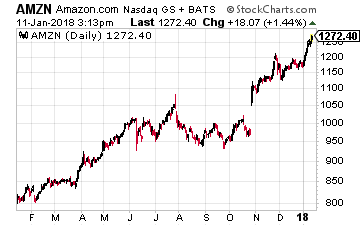 Now, let me tell you about an interesting note at the start of the conference that came from the show organizers. They said that sales of the item that has brought the consumer electronics industry the type of growth it has not seen in years – smart speakers – will peak as soon as next year. They pointed to the 'hockey stick' growth in sales that hasn't been seen in eight years, since tablet computers became a mainstream product.
The leaders in the smart speaker space are, of course, Amazon.com (Nasdaq: AMZN) and Google. U.S. sales of these speakers soared 279% in 2017 over the prior year to 27 million units. Sales are forecast to rise another 60% in 2018.
I believe there is one true leader in this space, with Amazon's Alexa being almost everywhere.
This gives you just another reason as to why Amazon is a must-own stock. At CES, vendors showed off Alexa-powered headphones, smoke alarms, cookers, showers, light switches and even mirrors (for an extra $350).
And even you leave your home and hop into your car, you may find Alexa. Amazon announced an agreement with Toyota to add Alexa to some Toyota and Lexus vehicles. Toyota thus joined a long list of auto companies – FiatChrysler, Nissan, Daimler, BMW, Hyundai, and Ford – that are either letting Alexa into their vehicles or integrating the voice service into the connectivity systems that link customers' cars and mobile phones.
Since we're talking about cars, let's move on to the highlight of the 2018 CES – the automobile of the future.
Nvidia and the Automobiles of the Future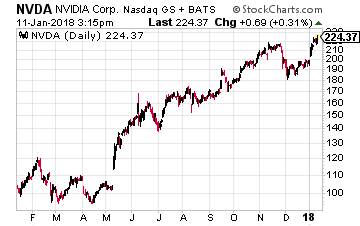 Let me start by talking about a company that was unavoidable at this year's CES – Nvidia (Nasdaq: NVDA). Their graphics processing units (GPUs) are at the core of many machine learning and artificial intelligence solutions, including for automobiles.
Nvidia's stock soared after it announced that it would be partnering with Volkswagen to build an intelligent (AI) co-pilot system. The system that will gather data from both in and outside the car and will use some gesture and natural language voice controls and finally combine all that with what the AI has learned about the driver. And voila – you have a helpful AI assistant. It is expected this type of system may be available as soon as 2022.
Related: 5 Growth Stocks to Ride the Semiconductor Supercycle
In a similar vein, Uber also announced that it will power its self-driving cars and trucks by using Nvidia's AI technology.
Nvidia also said that as part of its DRIVE Pegasus (PX) AI platform, the Xavier processors would be delivered to customers beginning in the first quarter of this year. Xavier is the culmination of a $2 billion investment to expand processing power and capabilities to the autonomous vehicle marketplace.
Auto Parts Companies Nirvana
The other companies I am focused on when it comes to the future of the automobile are the auto parts firms. At whatever auto or technology show they attend across the world, they are like kids in a candy shop. And for good reason…
Currently, the vehicle manufacturers still largely control design, and nearly every other important aspect of vehicle production. But that is slipping away from them as the wave of the future is more electrical systems and electronics and not mechanical systems.
Estimates are that 50% to 70% of the value of a car in the future will lie in those electronic components, which the automakers purchase from other companies. Some of these companies, ironically enough, were spunoff by U.S. automakers years ago because Wall Street told them they were low-margin, no-growth businesses.
There are a number of very good auto parts stocks for you to choose from. Here is just one example: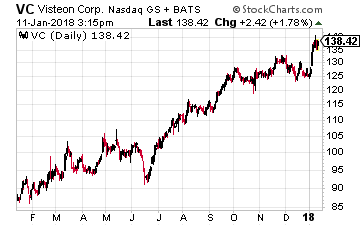 A company to consider is Visteon (NYSE: VC), which designs and manufactures electronics products for automakers. Visteon provides everything from standard gauges to high resolution, reconfigurable digital 2D and 3D displays to infotainment and audio systems.
At CES, Visteon introduced its DriveCore autonomous driving platform, which is the first solution that allows automakers to build such solutions in an open collaboration model. It also unveiled its all-digital cockpit of the future with reconfigurable instrument clusters and advanced display technology along with driver monitoring, ADAS integration and other features.
I also like the fact that the company has considerable global exposure. It is enjoying strong sales in China, which is Visteon's highest profit region. These trends together should keep the stock motoring ahead, adding to the 52% gain over the past year.
Yet, Visteon is not my top recommendation in the sector. I just revealed that company in the January issue of Growth Stock Advisor. At CES, this company showed off a fleet of driverless BMW cars that had no problem navigating the busy streets of Las Vegas. The cars dealt with traffic lights, slower and faster cars nearby, lane changes, right and left turns, jaywalking pedestrians, and faded lane markings. Only once did the driver take over, and that was to steer around pylons in the middle of the road.
As the 2018 CES brought to the fore, some of the most exciting technologies are centering on the future of the automobile. Stay tuned for even more excitement to come from this sector adding capital gains to your portfolio.
Like I mentioned, Visteon is my runner-up stock in the electronics for cars space. My favorite was just recently added to the portfolio of Growth Stock Advisor and it's already up almost 10% in just the two weeks since being added surprising even me. The entire portfolio has been on fire over the past year with 16 of 17 of our current open positions in positive territory. Some in very positive territory. It's not surprising considering they're tied into what I call The Singularity. It's a technology driven transformation of everything in our daily lives from work to home life, from education to recreation, and communication to transportation. Some have estimated that early investors in The Singularity could see returns in the neighborhood of 3,000%! If you have a moment I invite you to check out my recent briefing on The Singularity and how you could enjoy the same tremendous gains as my current Growth Stock Advisor readers. Click HERE.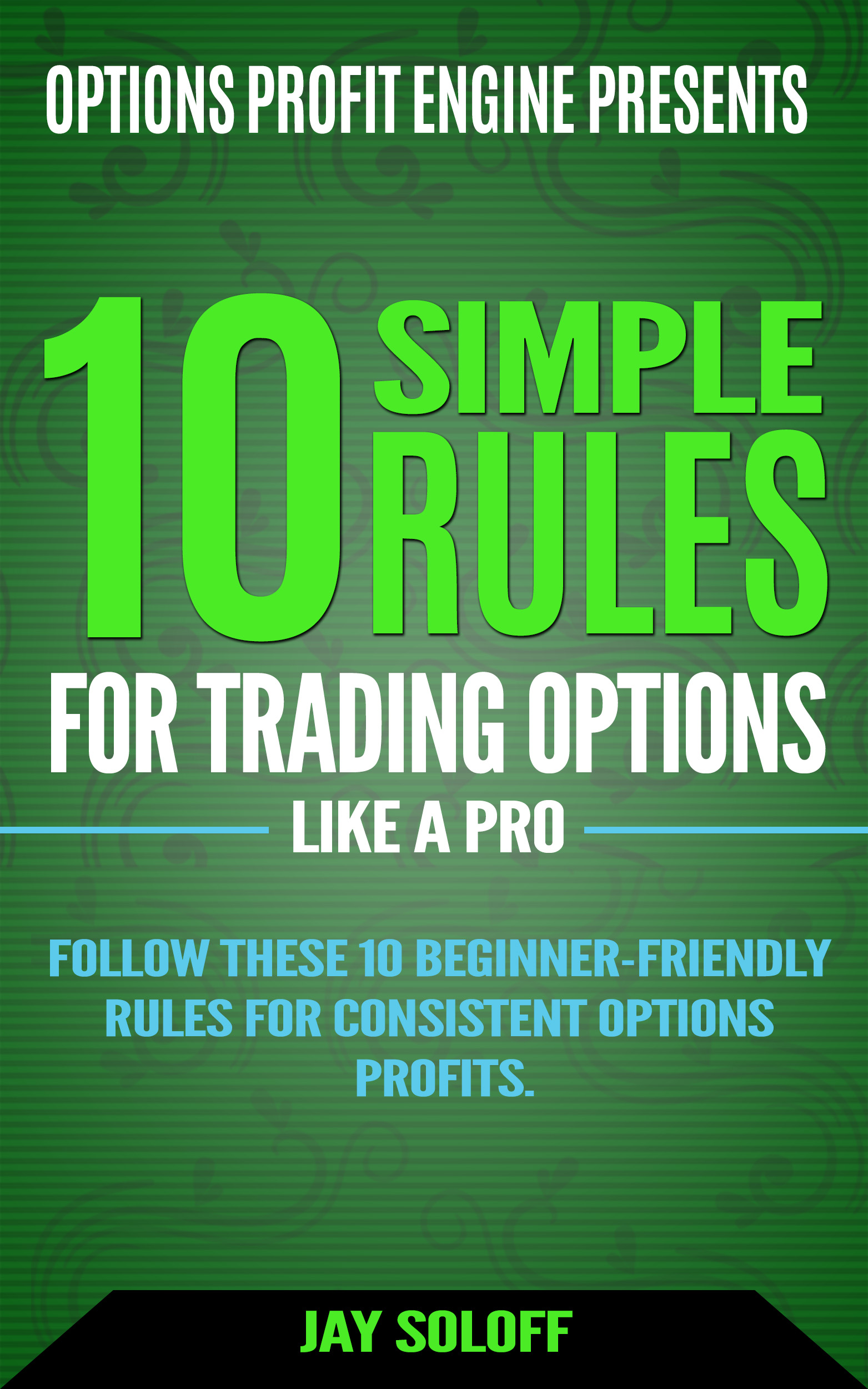 [FREE DOWNLOAD] 10 Simple Rules for Trading Options Like a Pro
Follow these 10 simple rules from 20-year professional options trading veteran, Jay Soloff and start earning a reliable extra income from options.
NO prior experience needed to master these 10 simple options trading rules. 
Enter your email below and receive access to this FREE guide...