While most investors follow the crowd, some of the biggest return opportunities can be found by going against the grain. See these three contrarian investments flying under the radar right now but could return investors huge long-term returns under a Clinton presidency.
The odds of Hillary Clinton winning the Presidency are rapidly increasing. Whether much of the media wants to accept that or not, it is time for investors to start thinking about how to position their portfolios.
To start, many investors are avoiding the biotechnology and pharmaceutical stocks. This comes as Clinton has promised an all-out war on the biotech space — taking to task many companies for charging egregious prices for drugs.
Drug companies have had a great go of it thanks to rocketing drug prices. Then, all that was wiped away after a promise from political pundits to put an end to drug companies' reign over consumers.
The mantra is that Clinton is bad for biotech investors. And Clinton hasn't been quiet about taking the entire industry to task, using the likes of Twitter (NASDAQ: TWTR) to send investors scrambling. One of her more famous tweets, "Price gouging like this in the specialty drug market is outrageous."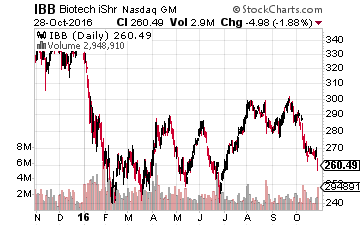 This has helped push the iShares NASDAQ Biotechnology Index ETF (NASDAQ:IBB) down 20% already this year.
The iShares NASDAQ Biotechnology Index holds some of the top names in the biotech and pharma space. This includes two of the biggest culprits of overpricing, Mylan (NYSE: MYL) and Vertex Pharmaceuticals (NASDAQ: VRTX), where both have seen their shares fall over 33% in 2016.
But as Benjamin Graham has famously noted, "In the short run, the market is a voting machine but in the long run, it is a weighing machine." The key to remember is that companies like Valeant Pharmaceuticals (NYSE: VRX) and Mylan are not the rule, rather the exceptions. Not every biotech is out there making serial acquisitions, cutting employees and jacking up prices.
In fact, there's no better time than now to do the hard work that includes bottom up research. Clinton waging war on the drug makers is merely a scare tactic at this point. Healthcare won't become a regulated industry like utilities, and it's unlikely that Clinton will be able to change much at all within the industry.
There are plenty of opportunities given the number of biotech companies with strong balance sheets and plenty of cash. With all that in mind, here are the top three healthcare stocks to own if Clinton becomes President:
Top Clinton Healthcare Stock No. 1: Amgen (NASDAQ: AMGN)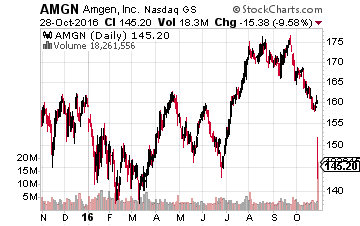 Amgen is a $120 billion market cap biotech player, focused on human therapeutics. This is one of the oldest players in the industry. In truth, there's a lot to love about this industry giant. It's one of the best dividend payers in the biotech industry — offering a 2.5% dividend yield. It's managed to up its dividend by at least 25% every year since 2011.
It's also one of the cheapest players in the industry, trading at just 13 times next year's earnings estimates. Despite being relatively insulated from the biotech fallout, Amgen shares have been flat over the last year.
However, its top drugs have plenty of growth opportunities, with over five of its products seeing double-digit sales growth last quarter. Its cholesterol drug, Repatha, could also get approved for helping prevent heart attacks and strokes.
Then there's the cost cutting that can help juice earnings and its pipeline. The company has a pipeline of over 30 drugs in clinical testing.
Top Clinton Healthcare Stock No. 2: Celgene (NASDAQ: CELG)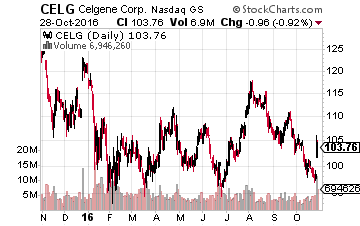 Celgene has an $80 billion market cap and has seen its shares fall 12% in 2016. The company is a maker of drugs for cancer and inflammatory diseases. Celgene has a rather diverse pipeline of drugs and plenty of deals to fuel revenues. Like Amgen, Celgene has just gotten too cheap to ignore. Shares of Celgene are trading at 14 times next year's earnings.
Its key drug right now is Revlimid, which treats blood disease. The future could be in Pomalyst – the multiple myeloma drug. Beyond that, Celgene sees over 50 new products coming to market by 2025. That will partly help Celgene grow its earnings by an expected 25% a year through 2020.
Top Clinton Healthcare Stock No. 3: Biogen (NASDAQ: BIIB)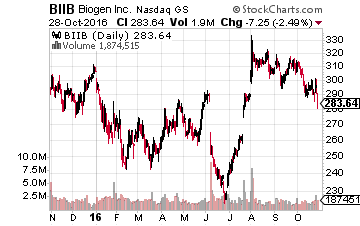 Biogen, another large cap player with a $66 billion market cap, has seen its shares tank 5% in 2016. Again, another biotech that's just gotten too cheap – trading at 14 times next year's earnings. It's not a dividend payer, but it is a buyback machine – having spent some $11 billion on buybacks in the last ten years.
Biogen still has plenty of opportunities to juice growth going forward. This includes its spinoff of the hemophilia drug business, Bioverativ, in early 2017, which could ultimately make Biogen a takeover target. Or, Biogen could go on the offensive and make acquisitions.
For the time being, it still makes plenty of money off its franchise of drugs. Then there's it's big time drug, (or at least could be big time) Aducanumab, which is a treatment for Alzheimer's.
In the end, just buying up the IBB might be tempting. But for retail investors, there's an easy way to avoid some of the most volatile and 'powder keg' type, which includes simply buying the best biotechs. The three above are great places to start.
Finding biotech stocks with upcoming catalysts for explosive growth is a key component of my comprehensive strategy for massive profits in my newsletter, Biotech Gems.
You can think of this service as looking into a window and seeing the exact strategies and investments that I make in the biotech sector. Being a former hedge fund manager and lifelong investor, I can provide a clear advantage over investing just in index funds that track the sector and help you invest in the companies that are on the forefront of curing the world's most harmful diseases.
Right now, you can gain immediate access to 20 stocks that will make up tomorrow's big winners in this lucrative sector… these stocks have the potential for immediate double – even triple-digit gains and I come out with
Whether you're new to biotech investing or feel like a pro you owe it to yourself to see how Biotech Gems can boost your portfolio.
Our latest addition to the portfolio has a huge catalyst right around the corner (this Friday to be exact) that could send its stock price skyrocketing, so don't delay.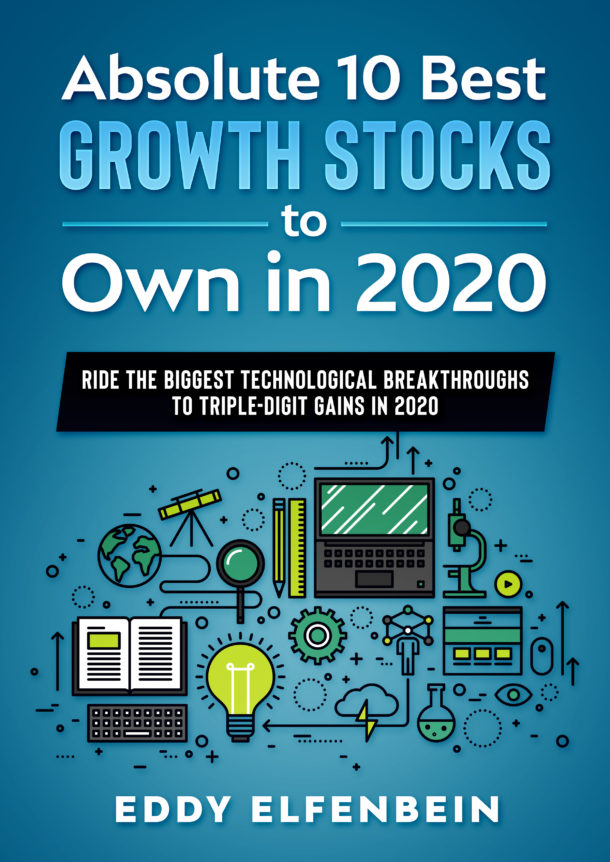 [NEW REPORT] Absolute 10 Best Growth Stocks to Own in 2020
Get the best 10 stocks to ride the 2020 tech explosion. 
One could be the most valuable stock of the next decade. 
Normally, I charge $20 for this report…
But, today...you can claim a copy absolutely free.
One stock alone has a chance at 167% profits in the next 12 months (or sooner). 
Enter your email below to claim a free copy while they last.