Let the dividends pile up over the years after you put any of these three stocks into your retirement accounts. With share prices trading at a discount right now, you will be happy you bought at these low prices. 
The big story for 2017 is: "Retail is Dead."
Retail legends like Sears (NASDAQ: SHLD), JCPenney (NYSE: JCP) and Macy's (NYSE: M) have been closing stores at a rapid pace. The image below from Business Insider for the first part of this year shows just how bad things are.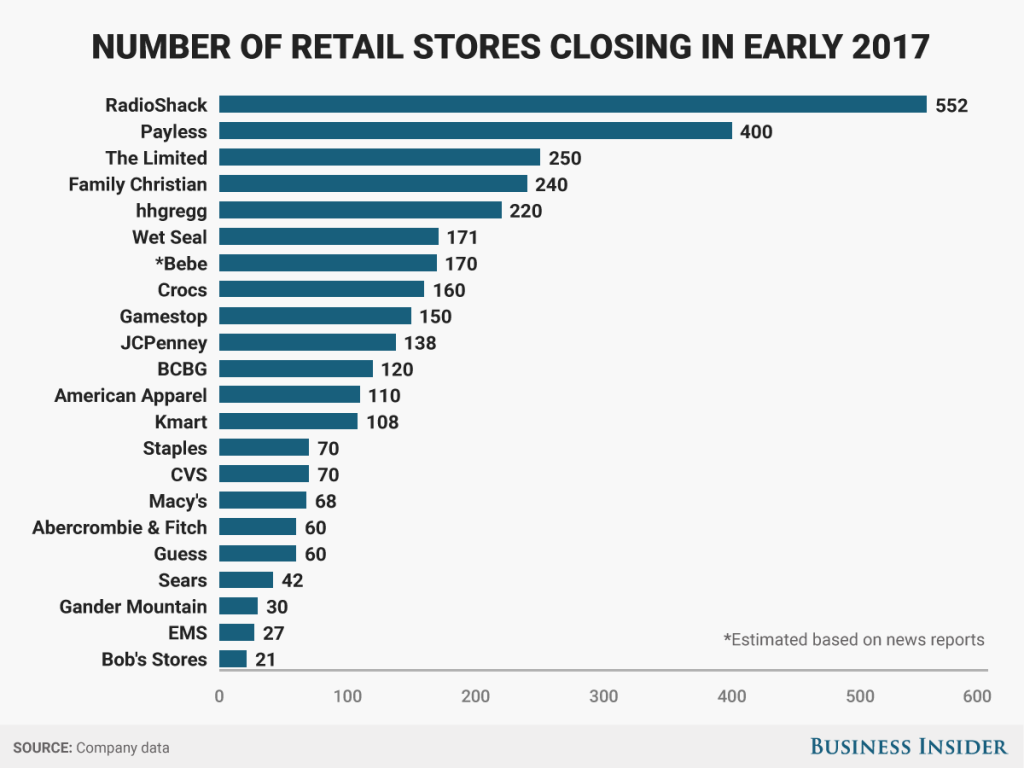 This is bad news for the retail industry — especially malls, as department stores are one of the key drivers of mall traffic.
So instead of trying to figure out which retailers will survive, the better — and safer bet — looks to be real estate.
Real estate investment trusts (REITs), which are publicly owned real estate tenants, are great investments for owning real estate and finding dividends.
The major retail REITs, mall REITs included, have been gross under-performers in the REIT industry over the last year. These same retail REITs now offer better-than-average dividend yields at very attractive valuations. For investors looking for some downside protection, REITs offer relative diversification away from the indices that are overweight technology.
One of the big worries for REITs is rising interest rates. The Federal Reserve will likely raise rates for a third time in just over six months with the June 14 meeting. REITs use debt to fund working capital and acquisitions. However, rising rates might not be all that bad for the REIT industry.
For REITs that focus on a particular area of the economy — especially those weighted toward consumer confidence and spending, like retail REITs, the growing economy can be a boon. So, while rising interest rates are a red flag for some REITs, rising rates generally mean the economy is doing well. Unemployment is at multi-year lows and consumer confidence is near all-time highs for the past decade.
Still, the big worry is that the shift toward online shopping, as well as the shift toward spending more on experiences and less on 'stuff,' will lead to a further decline in mall visitors. The bigger catalyst for retail REITs is their ability to adapt to the changing environment.
Some of the key retail REITs are getting proactive in offering the best shopping experience possible. That is, they have been leasing their space to non-retail tenants for office space, medical facilities, gyms and educational institutions.
With all that in mind, here are the top three REITs to play the beaten down retail sector: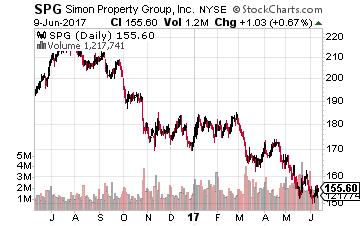 Top Retail Industry Play No. 1: Simon Property Group (NYSE: SPG)
Simon Property is the largest REIT period, across any industry. It just so happens that it specializes in malls and outlets. Simon Property pays a solid 4.5% dividend yield and has upped its dividend for seven straight years.
In an effort to combat the declines in mall traffic, Simon Property is focusing on offering a "21st Century" shopping experience by including valet parking, free Wi-Fi, more dining options and expanded entertainment offerings.
With that, Simon Property is still maintaining a solid occupancy rate, coming in at nearly 97% last quarter. And it's still generating solid funds from operations (the key income measure for REITs). Its FFO has grown at an average annual rate of more than 10% for the last half-decade. It expects that growth to continue with these its mall revamps.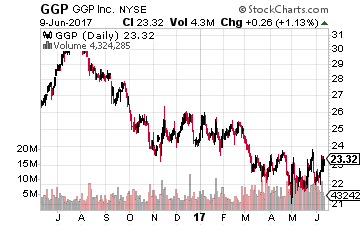 Top Retail Industry Play No. 2: General Growth Properties (NYSE: GGP)
General Growth pays a 3.8% dividend yield and has a modest five-year streak of consecutive annual dividend increases. It's paying out just 60% of its funds from operations via dividends. Like Simon Property, General Growth is maintaining a solid occupancy rate, which stands at just around 96%.
General Growth is opening fitness and lifestyle centers within its malls. The REIT has made a commitment to invest upwards of $400 million a year to redevelop and re-tenant its mall space. Ideally, these redevelopment plans will help boost revenues and drive traffic.
Top Retail Industry Play No. 3: Tanger Factory Outlets (NYSE: SKT)
Tanger Factory focuses on outdoor outlet centers and it's the leader when it comes to dividends in the retail REIT space. It pays a juicy 5.4% dividend yield and has managed to up its annual dividend for 24 consecutive years.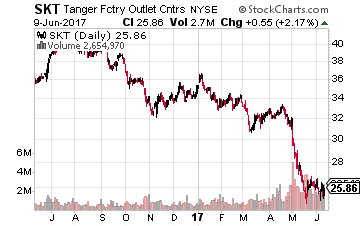 Tanger Factory owns nearly 50 outlet shopping centers that it operates under its namesake. The beauty of outlet stores is that they do well in good economies and bad, as shoppers love a bargain in good times and they love a bargain in tough times. Hence its 24-year streak of dividend increases — that's every year since its IPO. It's also managed to maintain occupancy of at least 95% during that entire time.
In the end, the retail industry has been around for centuries; however, not all the major retailers will survive. Instead of trying to pick winners, the best strategy for investors looking to take advantage of this beaten down area of the market is with real estate.
Our in-house dividend and income expert Tim Plaehn has a number of high-yield REITs in his Dividend Hunter portfolio covering a diverse range of sectors.
Finding these high-yield stocks with growing dividends and safe payments requires a lot of research, but, after it all, his subscribers regularly collect big dividend payments which gives them financial certainty in an uncertain world.
In his Dividend Hunter newsletter, he recommends the market's strongest, most stable high-yield dividend payers, and there are over 20 high-yield stocks currently available through his Monthly Dividend Paycheck Calendar, a system for generating a recurring monthly income stream using the Dividend Hunter recommendations.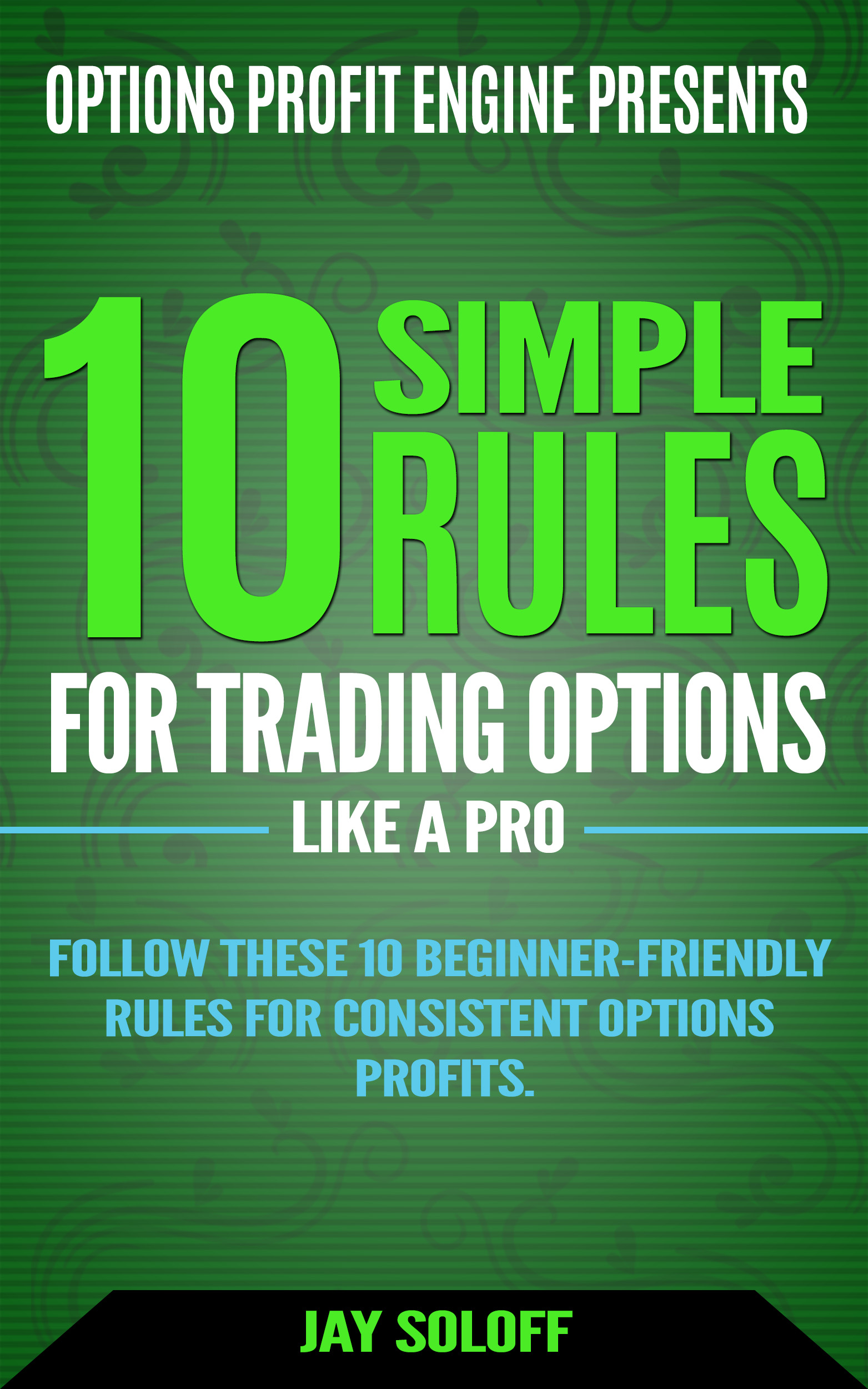 [FREE DOWNLOAD] 10 Simple Rules for Trading Options Like a Pro
Follow these 10 simple rules from 20-year professional options trading veteran, Jay Soloff and start earning a reliable extra income from options.
NO prior experience needed to master these 10 simple options trading rules. 
Enter your email below and receive access to this FREE guide...