My hunt and follow up research for income stocks focuses on finding higher-yielding stocks that should increase the dividends paid over time. I have no limits when it comes to size of companies or what sector or type of business structure. However, some structures, such as real estate investment trusts (REITs) have a natural advantage when it comes to paying higher dividend yields. One analysis tool I use is to rank a group such as property REITs by yield and then research starting at the highest yields to find those that pay and above average yield with the growth and safety criteria that my other income stock selection criteria.
One widespread phenomenon with income stocks is the significantly lower yield that you will earn by sticking with the large-cap, popular companies in almost any category. More investors know about and want to own the larger, better known income stocks. Also, mutual funds, ETFs, and index funds will be market weighting own larger proportions of the larger cap dividend paying stocks. As a result, yields on average get much lower as the market caps increase. To illustrate: accordingly there are currently 165 equity, property owning REITS. The average yield of the entire group is 4.24%. The average yield for the 25 largest REITs is just 3.31%. At the other end of the spectrum the average yield for the 40 REITs with market caps below $1 billion climbs to 4.96%.
By using the same investment criteria for dividend coverage and growth prospects, it is possible to add 1.5% to 2% or more to the yield you earn from REITs by focusing on smaller cap stocks rather than the large caps everyone else owns. From my REIT database, here are three small-cap REITs with both above average yields and either a history or strong prospects of future dividend growth. Never forget that a growing dividend is over 10 times less likely to be cut that a level dividend history.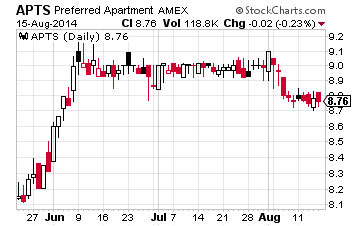 Preferred Apartment Communities Inc. (NYSE: APTS) is a $150 million REIT that owns and operates multi-family apartments and recently purchased nine grocery-anchored necessity shopping centers. The company owns own 3,326 available for rent apartments and an additional 3,491 units where the company holds an option to purchase that are under development and/or initial lease-up. Preferred Apartment Communities went public with an April 2011 IPO. The dividend has increased at least once a year and has grown by 28% since the IPO. APTS currently yields 7.3%.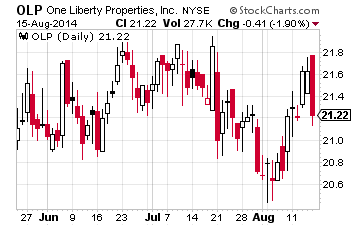 One Liberty Properties, Inc. (NYSE: OLP) has a market cap of $350 million and owns 113 properties including office, industrial, retail, restaurant, and flex use types of commercial real estate. The company has been in business since the 1980's. The dividend has been increased every year since 2008. OLP currently yields 6.95%.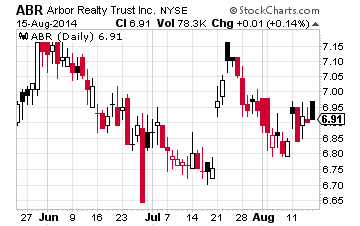 Arbor Realty Trust Inc (NYSE: ABR) is also valued at a $350 million market cap. The company has a mixed portfolio of commercial property equity investments and commercial real estate bridge and mezzanine loans. Arbor Realty Trust stopped paying dividends in 2009 due to the effects of the financial crisis. Dividend payments were restarted in May 2012 and the quarterly payout has been increased by 85% over the last two years. ABR yields 7.5%.
My research for this article uncovered a unique finance related REIT that mirrors a hot trend in dividend stock IPOs with a much better yield and growth profile. This stock will be the feature recommendation of the September issue of The Dividend Hunter newsletter. Click here for more.