Finding the best returns of the next twelve months usually starts with searching out the stocks and sectors that did the worst in the last twelve. Here's what to watch in the market's best bet for big returns in 2017.
After underperforming the overall market substantially for some 18 months, the biotech sector appears to have recovered some of its "mojo" and sentiment feels like it is turning quite a bit more positive. I like the area to bounce back and outperform the overall market by a good margin in 2017, but here are a couple of things I am keeping a close eye right now.
Will M&A Activity Continue to Pick Up?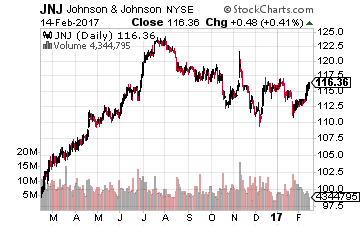 One of the key drivers of biotech's recent comeback is the return of M&A activity. So far in 2017, we have seen Johnson & Johnson (NYSE: JNJ) purchase Europe's largest pure-play biotech concern for some $30 billion. Two other transactions of over $5 billion have also occurred, both with significant buyout premiums.
The oncology space looks like it is in the early innings of a "feeding frenzy".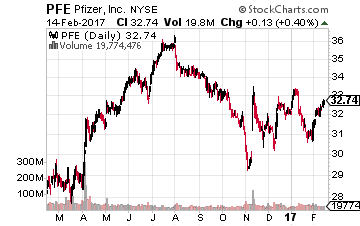 Pfizer (NYSE: PFE) outbid French drug maker Sanofi (NYSE: SNY) by a cool $3 billion to buy oncology play Medivation (NASDAQ: MDVN) for some $13 billion late last summer.
In January, Takeda offered a 75% premium to the previous closing price to acquire mid-cap oncology concern Ariad Pharmaceuticals (NASDAQ: ARIA) for $5.2 billion. Last week, mid-cap oncology firm Tesaro (NASDAQ: TSRO) leapt some 20% on rumors European drug giant AstraZeneca (NYSE: AZN) was about to put in a bid to buy the company. This would be a $12 billion to $15 billion deal depending on the premium.
SEE ALSO: The 1 Stock to Profit 285% or More from President Trump's Biggest Campaign Promise
This caused other mid-cap oncology concerns like Clovis Oncology (NASDAQ: CLVS) and Exelixis (NASDAQ: EXEL) to rise nicely in empathy. If these mid-caps start to fall, "animal spirits" will return mightily to the sector buoying this area of the market solidly. If larger names like Incyte (NASDAQ: INCY) start to be purchased, we might see a rally in the sector we have not seen the likes of in some time.
Will Gilead Sciences Finally Make a Move?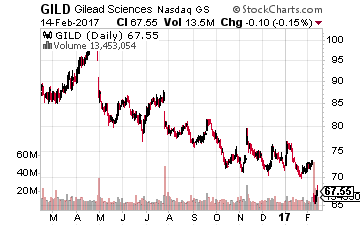 It has been a tough ride for investors in Gilead Sciences (NASDAQ: GILD) for over six quarters now despite having the most successful new drug launch in history. The company's new hepatitis C products (Sovaldi, Harvoni, Epclusa) racked up some $34 billion in revenues in 2015 and 2016 combined. However, quarterly sales have been falling consistently for approximately a year now.
Last week, the company reported fourth quarter results that slightly beat both the top and bottom line consensus. Gilead also hiked its dividend payout by just over 10% as well. However, the stock fell nearly 10% as the company also significantly reduced its 2017 revenue guidance for its hepatitis C products to a range of $7.5 billion to $9 billion. Most analysts were modeling $11 billion to $12 billion for this part of Gilead's business in 2017.
Gilead is seeing some increasing competition from other hepatitis C entrants, but its main problem is its products are just too good with a 98% cure rate. This means as the sickest and even mid-stage hepatitis C carriers get cured, there are fewer patients that need the company's drugs. While this is a great thing for society, it is not so good for Gilead's shareholders.
It is quite obvious now that Gilead should have been much more active on the M&A front over the past two years to maintain its growth prospects. Look for management to come under extreme pressure to start making purchases to replenish its pipeline and boost its growth prospects.
Putting a reasonable valuation on the company's non-Hep C business (which is now the majority of overall sales and growing in the mid-teens) and accounting for cash, the stock is selling at around three times earnings on its future hepatitis C revenues over the next few years according to one analyst firm. However, until the company makes a decent sized acquisition, the stock could be "dead money" despite an almost three percent dividend yield.
Return of Common Sense at The FDA: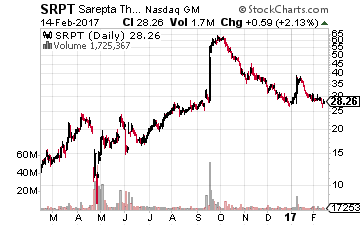 There were only 26 drug approvals by the FDA in the election year of 2016, the lowest in many, many years. Some of the decisions made by the agency in the last half of the year were "head scratchers" to say the least. This included caving to political pressure to approve Sarepta Therapeutics' (NASDAQ: SRPT) even though the drug's Ad Comm Panel had recommended against green lighting the compound.
President Trump recently pledged to streamline the agency and speed up drug approval times when he met with CEOs from the industry. This caused the biotech and pharma sectors to post their best daily gains in the market since right after the election. The new president noted that the average time of 15 years at a $2.5 billion average cost for a new drug was too high. Evidently, only leaders that have not spent a lifetime in government can come to this common-sense observation. Investors will be watching closely on who he nominates to lead the agency and whether there is follow through on this pledge.
With not even a month of being president under his belt, Donald Trump has shown America that he is a man of action. Whether you support his policies or not, at least you can make some money along the way by investing in the fact that President Trump plans on fulfilling every promise he made on the campaign trail.
And, one of the biggest campaign promises that President Trump made was investing $1 trillion in America's infrastructure. Investors stand to make upwards of 285% gains by investing into a specific construction stock that can almost triple in size by taking advantage of this infrastructure boom.
You can see all of the details on the one stock you want to own, the stock that has the potential to shoot up 285% or more by March 15th, in Bret Jensen's new report "The One Stock You Want to Own to Cash in on Trump's $1 Trillion Infrastructure Boom".
Click here to learn how you can score 285% gains – or more – as America rebuilds their failing infrastructure.
Positions: Long EXEL and GILD