As a stockbroker, I would tell clients and prospects that insiders sell their company stocks for all sorts of reasons. They wanted to buy a car or a house or a football team (a play on a Pink Floyd lyric from the song Money). While they sell for anything, I would proclaim they only buy for one reason, to make money, just like you and I do when we feel a conviction that a company will succeed.
Continuing, I would end with management can say all sorts of things, but they never lie with their wallets. It was an effective line, not because it was salesy-sexy, rather because it is true, in my opinion.
Despite the belief that insiders buy with the intention of making the right call, it's not foolproof; otherwise, I, and countless others would be enjoying a fabulous early-retirement with big bucks in the bank.
Instead, separating the wheat from the chaff requires some dot connecting. Insiders cannot tell you why they are buying. That would be illegal. So, today I'll connect the dots as I see them for a trio of stocks under $10 with insider buying.
Viking Therapeutics Inc. (NASDAQ:VKTX) – Six Times Undervalued?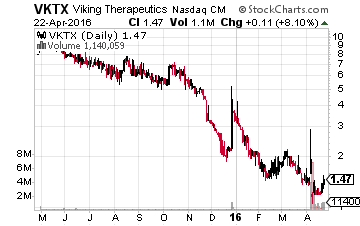 At first glance, Matthew Foehr's purchase of 20,000 shares seems small based on a total of $24,800. I nearly moved on to the next company on the list. A quick review of the company's executive roster doesn't show him as a day-to-day decision maker; he is just a director on the board. Without investigating, the initial response feels like the right one.
But… that is the first dot.
Viking is a clinical-stage biopharmaceutical company focused on the development of therapies for metabolic and endocrine disorders. Its lead clinical program includes VK0612, an orally available drug candidate for the treatment of type 2 diabetes, the most common form of diabetes and with 1.4 million new cases diagnosed every year according to the American Diabetes Association.  The company also has drugs in the pipeline, including VK2809 for the treatment of lipid disorders such as hypercholesterolemia and fatty liver disease – more on VK2809 below.
Time to start connecting; best I can tell, Ligand Pharmaceuticals Inc. (NASDAQ:LGND) is the largest outside VKTX shareholder. The triple-digit priced biotech owns nearly five million shares of Viking. That's a major stake considering there are only 17.2 million VKTX shares outstanding.
Guess what? Mr. Foehr is Lignad's President and Chief Operating Officer. I'd say that's a substantial dot connected. It's not enough to own Viking Therapeutics through Ligand, the guy wants to add more of it to his personal account.
Perhaps, the LGND President sees the same thing as Zacks' analyst, David Bautz, PhD. Based on some recent data from the FDA on VK2809 and merger activity in the clinical-stage bio space, Bautz told clients "Viking is Significantly Undervalued," maybe as much as six times undervalued.
The PhD has an $8 target on Viking. If he is right, heck, if he is half right, Ligand, Matthew Foehr, and investors stand to make tons money on VKTX.
EVINE Live Inc. (NASDAQ:EVLV) – It's a Long Way to the Top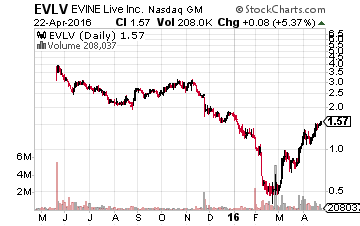 EVINE operates as a digital commerce company in the United States. The company markets, sells, and distributes products to consumers through television, online, mobile, and social media in various merchandise categories.
Formally known as ValueVision Media, Inc., EVLV has access to approximately 88 million cable and satellite television homes, as well as offers its products through live streaming at evine.com.
The online catalog company recently experienced what I term "Cluster Buying." That means more than one insider decided now is the time to purchase the company's stock.
Since late March, ten different executive team members and directors have loaded up on EVINE. Overall, the group bought 674,700 shares for a total investment of $667,600. That's a lot of cheddar, as the kids say.
The two biggest spenders were Robert J. Rosenblat, the Chairman and interim CEO, and Tim A. Peterman, Chief Financial Officer and Exec. VP – I always pay more attention when the company numbers cruncher puts his/her money on the table. Respectively, the duo spent $294,000 and $146,000 on EVLV.
After reviewing the company's most recent quarterly financial statements, it is possible that reduced inventory levels and accounts receivables mean EVLV is enjoying positive pricing power. Additionally, Cost of Sales (CoS) dropped substantially quarter over quarter (QoQ), to 29.6% of revenue from 35.3%.
It's not a stretch to connect cluster buying and seemingly improving financials to better than forecasted results for EVLV. Better results typically lead to a better stocks price. Considering the 52-week high of $6.54, the digital commerce company has plenty of headroom.
RELATED: How to earn 7% a year from a specialty bank in as little as 5 minutes.
Bazaarvoice Inc. (NASDAQ:BV) – This Guy has his Finger on BV's Pulse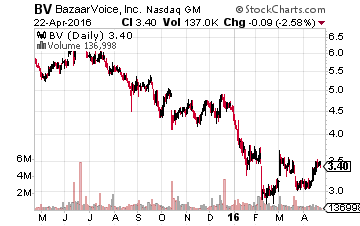 The last of the trio operates as a network that connects brands and retailers to the voices of people where they shop. It provides its solutions through Bazaarvoice conversations, a Software as a Service platform, which enables clients to capture, manage, and display online consumer-generated content, including ratings and reviews, questions and answers, amongst a list of other uses – no need to bore you.
The attention-grabbing insider transaction for BV belongs to Marc Cannon, Executive VP, Client Services. He is the management member with the pulse of the company's customers.
Now, a $31,000 buy doesn't seem like much, but it is Cannon's previous trades that bring his name into this article. His only other transactions – besides exercising options – were sells in January and June of 2015.
The first time he unloaded the stock it was trading at $8.34 and the second time around at $6.21. You see where the stock is today. Needless to say, the VP apparently has his finger on the pulse of BV future share price.
One might speculate that some fat, new contracts might be on the way and with it a higher stock price, considering Cannon's position and previous activity.
Recently, Tim Plaehn, income expert with Investors Alley, met with the CEO of one of America's fastest growing specialty banks, and what he told me just blew me away.
This bank didn't take TARP money or other taxpayer bailouts–or any other bailouts for that matter–back in 2008 or ever.
This bank didn't get tangled up in risky mortgage-backed securities, credit default swaps, stress tests, FDIC watch lists… you name it.
The CEO told Tim how his bank has been growing by leaps and bounds since even before the financial crash of 2008 and while impressive it's not what stopped Tim in my tracks.
This specialty bank in America's heartland is currently paying 7%.
He then shared with Tim exactly how his bank is able to pay so well and how everyday Americans (and Canadians!) can get in on this. Click here to find out.
Tim jotted down all of his notes and put them in this one report for you.
Click here for the full briefing that tells you exactly how and when to get started.