These three stocks will make huge moves if Donald Trump wins in November as he takes aim to fulfill the promises he has made on the campaign trail. While two of the stocks will be great buys, the third stock should be sold immediately if you own it in your portfolio.
The first two Presidential debates of 2016 are now history.
The stock market reacted favorably to the perception that Hillary Clinton won the debates over Donald Trump during the first debate. Markets usually like the status quo, and not the uncertainty of change. But it's still early and anything could yet happen as it's clear that both sides are claiming victory after Sunday's second debate.
Pay no attention the polls showing Hillary Clinton with a lead. We all remember Brexit and how the polls all showed the remain camp winning until the actual voting occurred.
So a Trump presidency is still a very real possibility. If that does occur, there will very likely be specific stock market winners and losers.
Here is a look at two possible winners and one possible loser in a Trump presidency.
Trump Focus Sector #1 – Infrastructure
One area likely to receive a lot of attention from a President Trump is infrastructure. During the first debate, he called our country's infrastructure and airports in particular, "third-world".
And even Vice-President Joe Biden last year "joked" that LaGuardia Airport, before its recent upgrade, was "third-world".
And while it's not quite third-world, our infrastructure is a mess. The reality is that there has not been serious broad-based infrastructure spending in our country since the 1960s.
We need upgrades to just about everything: roads, bridges, waterways, airports, utilities, and energy infrastructure. The 2013 report card from the American Society of Civil Engineers (ASCE) gave our nation's overall infrastructure a grade of D+.
The ASCE went on to say that $3.6 trillion in infrastructure investment is needed by 2020. That won't happen, but perhaps a President Trump will the get ball rolling.
If so, here is a perfect stock to play it. . .Vulcan Materials Company (NYSE: VMC).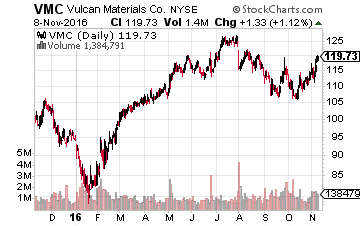 Vulcan is the country's largest supplier of construction aggregates like sand, gravel, and crushed stone. It has a 15+ billion ton reserve base of aggregates, which should last 75+ years.
It sounds like a boring business, but the construction aggregates business is one with rather high barriers to entry, so VMC doesn't have to worry much about a major new competitor coming in and taking market share. That means its existing public sector contracts, which already account for half of its product shipments, are safe.
Shipments last year rose to 178 million tons of material. That is still 43% below what the company sees as "normal" demand over the next few years. That "normal" figure will get a huge boost if infrastructure spending is raised markedly by a President Trump.
Adding to VMC's bottom line will be price rises for aggregates. The company has raised prices on average by 5.1% annually since 2004.
Another plus is company management's focus on cost-cutting and debt repayment over the past several years. Vulcan paid down nearly $800 million of its debt and increased its operating margin to 18% from just 7% in 2013.
If demand for Vulcan's aggregates rises under a President Trump, forecasts are that its EBITDA earnings will rise from $944 million over the past four quarters to $2 billion.   
That should add more oomph to its stock. VMC has gained 18.5% the past 52 weeks.
Trump Focus Sector #2 – Defense
Another area that a President Trump is likely to boost spending on is defense. He described our military as unprepared to meet the threats the U.S. faces.
Therefore, Trump proposes to remove the sequester on defense spending that was imposed in 2013 and to increase spending in order to boost the number of our planes and ships. It is believed a President Trump would boost spending to above the levels pre-sequester.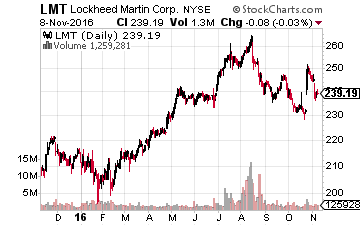 The one stock that immediately comes to mind is… Lockheed Martin (NYSE: LMT), which is the largest defense company in the world.
It is best known for its airplane and aeronautics division. Think F-22 Raptor, A-10 Warthog, C-130J, not to mention the F-35, which is in development. The company is now also big in helicopters, having purchased Sikorsky from United Technologies (NYSE: UTX).
Lockheed is also well-known for its missiles and related systems, and its space and growing cyber war capabilities are also well-respected.
The stock is up 12.5% over the past 52 weeks and has a nice 3% yield. A Trump presidency promises even more.
Trump Focus Sector #3 – Mexico
Candidate Trump has been bad news for Mexico.
One needs look no further than the Mexican peso, which has become a proxy for Trump's political fortunes. It declined to record lows versus the U.S. dollar at 19.9333. Analysts are still waiting for it to crack the crucial 20-peso mark versus the dollar.
The weaker peso has been pressuring the Mexican central banks to raise rates (4.25%), one of the very few central banks globally that is doing so. That and Trump's poor performance in the first debate did give the peso a much-needed boost however it has traded somewhat erratically since.
But expectations are that, under a President Trump, the downward spiral in the peso and the Mexican economy would continue.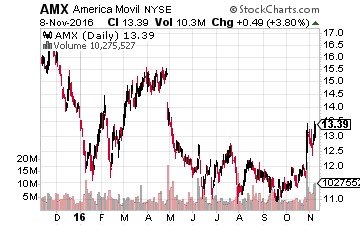 The stock that has been among the weakest in Mexico is the company that used to dominate its telecom sector, America Movil (NYSE: AMX). It is controlled by Mexican billionaire Carlos Slim.
Its stock is down 48% over the past five years and recently touched a seven-year low.
That is largely due to the deregulation of the telecoms sector by the Mexican government. Competition has come in – such as AT&T (NYSE: T) – America Movil no longer has the stranglehold on the sector as it once had.
That can be seen in its latest earnings report, which showed earnings to be down 11% from a year prior.
So the stock is an avoid or short, depending on your risk tolerance.
Bottom line – a President Trump will shake things up and not just politically.
As this article goes out to press, both Hillary Clinton and Donald Trump still have a chance of making it into the White House. But both candidates effects on the stock market will be very different. And right now I have discovered "7 Dividend Stocks to Sell If Hillary Clinton Becomes President."
A Hillary Clinton presidency means 4 more years of the Obama administration's economic policy that has the economy limping along at just above recession levels – GDP growth in the anemic 2% per year range.
This means a continuation of low interest rates and a further flattening of the yield curve. Combine that with the reality that banks are paying almost nothing on savings, and income stocks have never been more important to investors than now, especially those of us who seek higher-yielding stocks out of necessity for retirement income.
But not all high-yield stocks are created equally. These 7 popular dividend stocks are at severe risk of dividend cuts that will also send their stock prices plummeting. If you own any of them, you must sell now!
Click here to get free instant access to my report.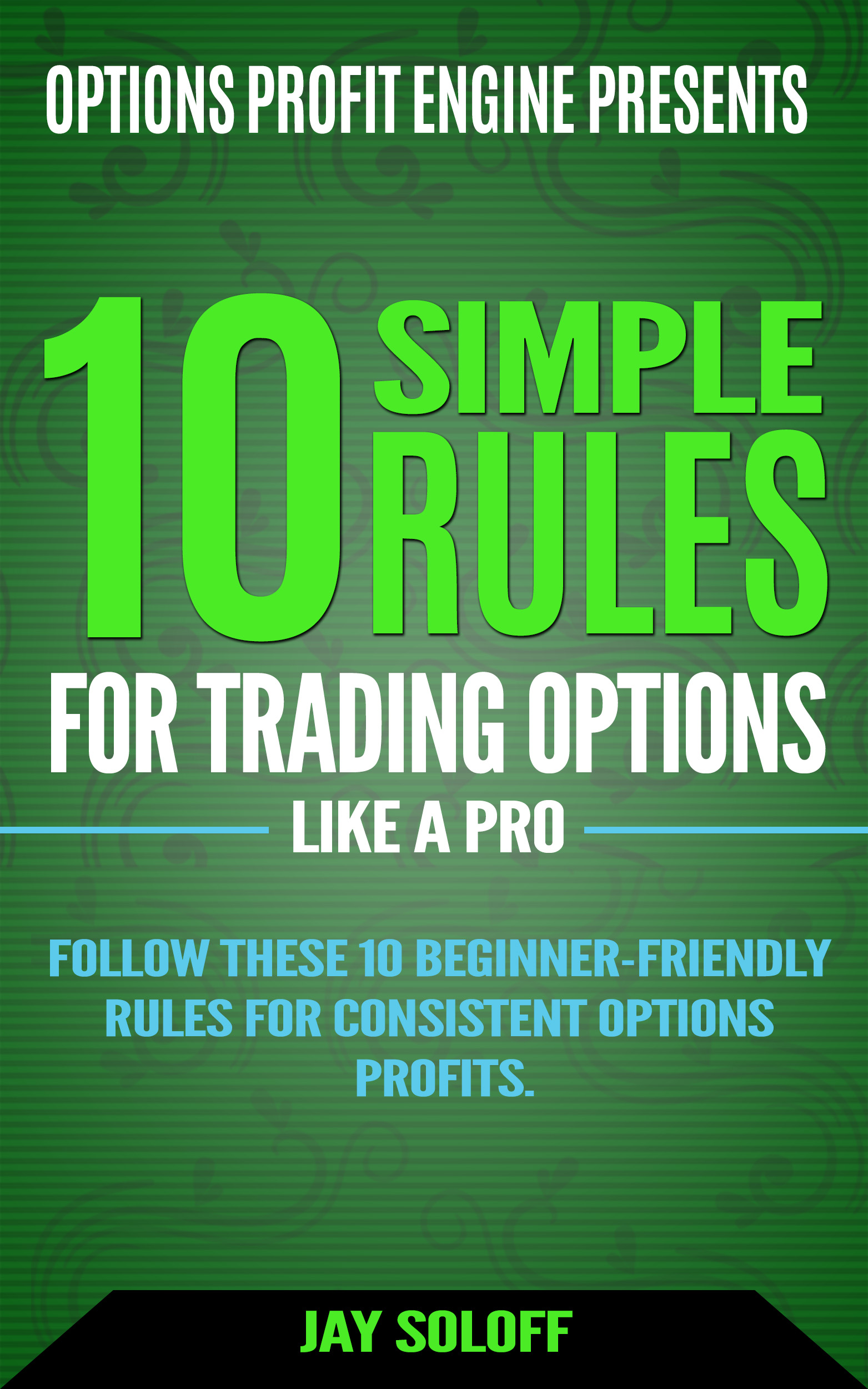 [FREE DOWNLOAD] 10 Simple Rules for Trading Options Like a Pro
Follow these 10 simple rules from 20-year professional options trading veteran, Jay Soloff and start earning a reliable extra income from options.
NO prior experience needed to master these 10 simple options trading rules. 
Enter your email below and receive access to this FREE guide...