Thursday last week, July 17, the stock markets gave investors a taste of what may be the early signs of a true market correction, which would be a drop in the major market indexes of at least 10%. Since the bottom of the last bear market, there have been three 10% or greater corrections, in the spring of 2010, summer 2011 and spring of 2012. Now as we close out the summer of 2014, it has been about 2 1/2 years since the last market scare.
Corrections are an important mechanism in the market, preventing over exuberance and keeping the investing public from believing that they can earn 20% per year forever. For the last three years or so, Fed policy has had the effect of discouraging any sell-offs in the market that last more than a couple of days.
Indicators that a correction is possible in the near term are a combination of an increasing willingness (at least as stated) by the Fed to move back toward more normal monetary policies and the fact that the record highs in the major indexes have not been supported by small and mid-cap index values. With earnings season now underway, a sell-off trigger may be a handful of disappointing earnings numbers from some widely followed companies.
When the correction does occur, besides adding to my existing recommendations with The Dividend Hunter I will focus on a couple of investment theses for a few additional stocks establish positions. For example, a correction is a great time to buy closed-end fund shares.
During a market decline, CEF price to NAV discounts typically widen, allowing you to buy a fund's assets at an even steeper discount. Then when the market recovers, the discount will narrow, enhancing the share price gains.
My other focus will be those stocks that I would really like to own, but not at current valuations. My overall focus is on higher-yielding stocks, so in a correction, I want to get shares that currently sport yields that are too low, but will be higher at lower share prices.
Closed-End Funds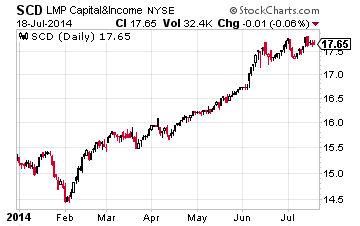 The LMP Capital and Income Fund Inc. (NYSE: SCD) owns a diversified mix of income producing securities including common stocks (45%), MLPs (25%), convertible preferreds (16%), and REITs (14%). There are two BDCs in the top 10 common stock holdings. At the market price the fund yields 6.3%. SCD currently trades at a 9.6% discount to NAV with a 52-week max discount of 12.6%, Picking up shares of SCD at a 20% discount during a market correction would be like finding $100 bills on the street.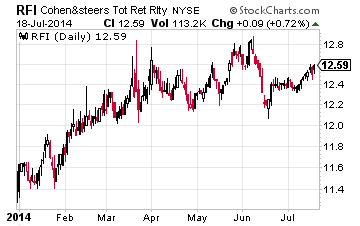 The Cohen & Steers Total Return Realty Fund (NYSE: RFI) is a pure play REIT fund, well diversified across all of the equity REIT sectors. RFI does not employ leverage and currently yields 7%. The dividends are managed to provide a level income stream, with tax characteristics that are a combination of investment income and capital gains. RFI is currently priced at an 8.8% discount to NAV, close to the 52-week max of 9.3%. This fund would be a buy in the combination of a market correction and a 15% or greater discount.
Common Stocks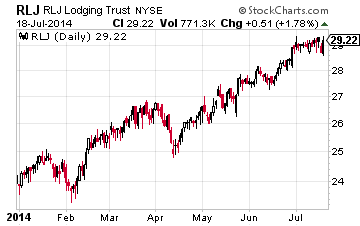 RLJ Lodging Trust (NYSE: RLJ) is a lodging (hotels) REIT with an enviable growth record and more enviable stock price chart. With hardly a blip on the upward trend, the RLJ share price has gained 60% over the last two years, with much of that gain coming in 2014, year-to-date. The RLJ business model involves owning premium franchise hotels in major cities. The company also actively recycles its capital by selling its lower return producing hotels to reinvest the money into higher potential return properties. RLJ currently yields 3.0%. This is a great company with too high of a valuation for my value focused approached. In a correction, a 20% decline to under $24 per share would make RLJ a "value pick" also.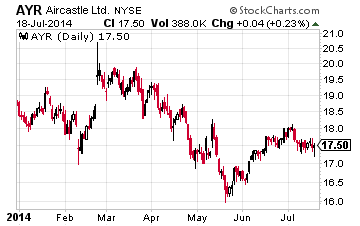 Bonus recommendation: Aircastle Limited (NYSE: AYR) owns commercial airliners and leases them out to airlines from around the world. While AYR has produced an enviable record of keeping its fleet fully leased at profitable rates, generating stable cash flow and paying a growing dividend rate, the stock market treats the share price completely differently. During the last three corrections the AYR share price dropped by 35%, 29%, and 24%. Each time the share price recovered within months to hit pre-correction highs. There is potential for a 30% to 40% gain if you can buy shares near the bottom of a correction driven sell off.
When buying into a correction, remember that most of the price drops will occur within a few weeks of the start of the drop. It can take two to three months for prices to exceed the highs from before the correction.
We have a number of holdings with The Dividend Hunter that we've picked up on the cheap for high yields, growing dividends, and capital gains. Check out how we pick them and how you can make them part of your portfolio today. Click here.