Reading Time:
3
minutes
U.S. housing still hasn't fully recovered from the 2006-07 market meltdown. Although home sales are gaining strength, home-ownership rates still lag historical trends when adjusted for population growth, immigrant growth, and household formation. Many housing stocks have been hammered over the past six months, and now that they're trading at a discount – and the U.S. economy is starting to hum – there are three real-estate stocks every investor should consider for his or her portfolio:
Discounted Realtor for Sale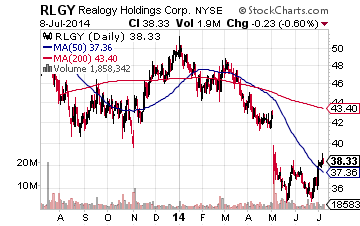 Realogy Holdings (NYQ: RLGY) is the largest owner and operator of residential real-estate brokerages in the U.S., operating under the brand names Coldwell Banker, Century 21, and Sotheby's International Realty. The firm came into being in 2006 when it was spun off from Cendant, and then Realogy was taken private by Apollo Management a year later. Realogy returned to the public markets with an IPO in 2012. It market cap currently stands at $5.6 billion.
Shares of Realogy are down more than 22.5% this year, falling from a 2013 closing price of $49.47 to $38.33, as of July 8. The stock sold off hard on an earnings miss earlier this year, and now it looks like a bargain: its trailing P/E of 12.1 is less than half the industry average of 26.9, and Realogy's price-to-sales ratio of 1.1 is 35% lower than the industry average of 1.7. You may have to hold this stock a few months to realize gains, but shares of Realogy could easily surpass $45 by year's end.
For Whom the Bell Tolls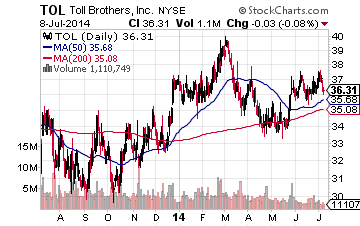 Toll Brothers (NYSE: TOL) builds single-family homes in luxury communities. For the fiscal year ending on Halloween, the firm reported net income of $171 million on sales of $2.6 billion. Toll Brothers has a $6.45 billion market cap, and its shares are down 1.9% this year.
Over the past three quarters, Toll Brothers has been growing earnings per share (EPS) by an astounding 431% per quarter! Last quarter, Toll expanded its bottom line by 131% — that's more than double. Estimates for the current quarter have been revised up to +73%, and Toll has a recent history of beating expectations, too. But despite these impressive growth numbers, Toll's forward P/E of 15.7 yields a PEG of just 0.4. Toll Brothers is a promising value/growth hybrid for the 2014 housing recovery.
Go Big or Go Home-Seller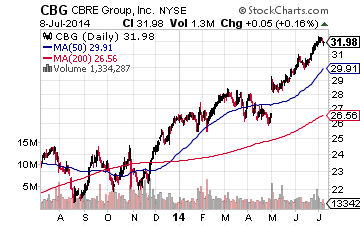 CBRE Group (NYSE: CBG) is the largest commercial real-estate firm in the U.S. Its services include property and facility management, tenant representation, valuation and appraisals, investment management, property development services, and more. In 2013, the firm reported net income of $317 million on sales of $7.19 billion. CBRE Group has a market cap of $10.55 billion, and – much unlike the other stocks profiled here – its shares have performed very well in 2014, returning 21.6% through July 8.
Last quarter, CBRE's EPS grew by 56% compared to the same quarter last year. This was CBRE's second-straight quarter of accelerated earnings growth – meaning its earnings not only grew, but they grew by a greater amount than the previous quarter's growth! Over the past three quarters, CBRE has averaged 30% EPS growth, and estimates for the most recently completed quarter – the results of which will be announced around July 25 – were revised higher to +19%. CBRE is a fantastic looking growth stock in the housing sector.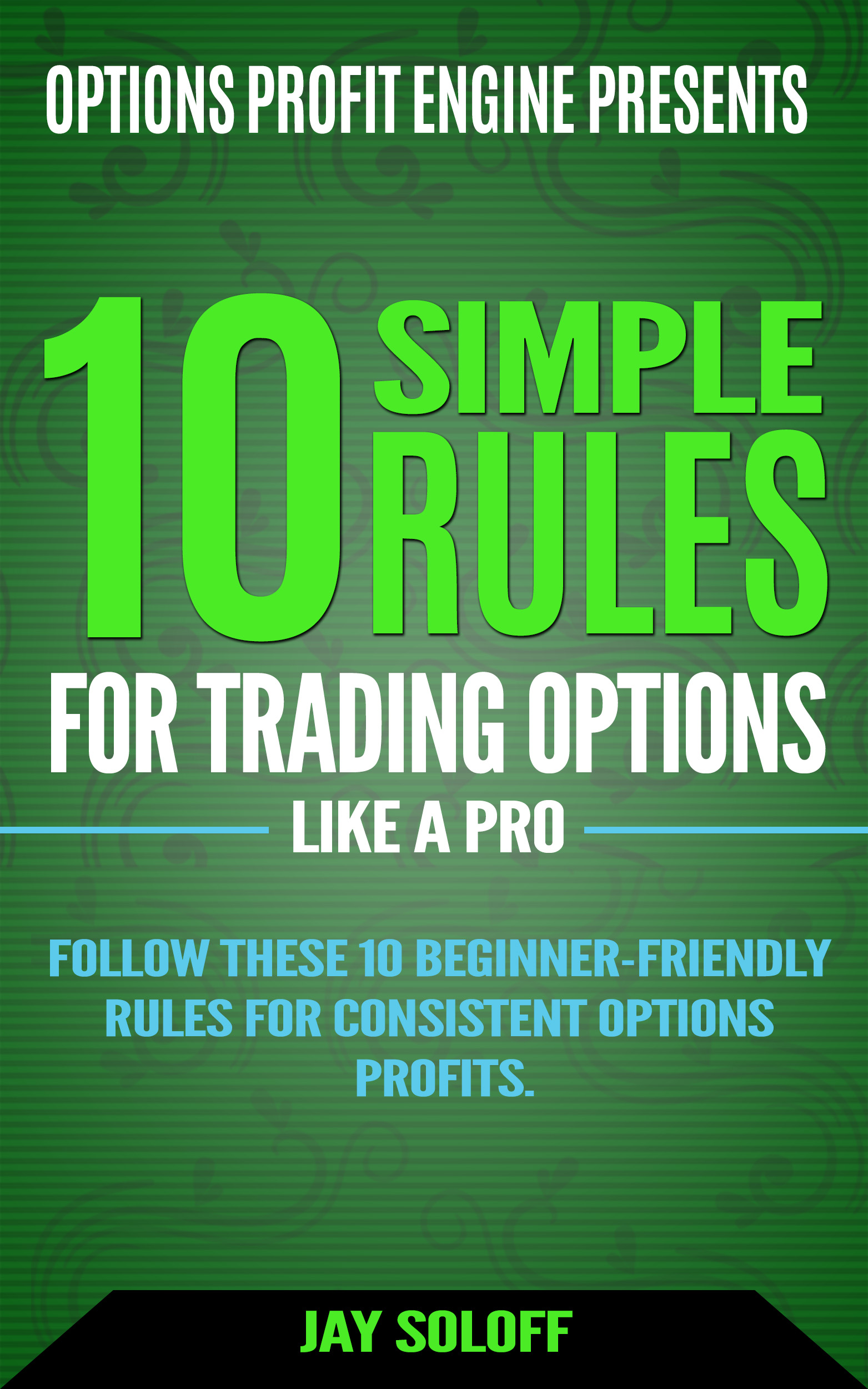 [FREE DOWNLOAD] 10 Simple Rules for Trading Options Like a Pro
Follow these 10 simple rules from 20-year professional options trading veteran, Jay Soloff and start earning a reliable extra income from options.
NO prior experience needed to master these 10 simple options trading rules. 
Enter your email below and receive access to this FREE guide...