There's a stock for every investor in this article. Take a look at the three names featured today and you'll find stocks that have great growth prospects, valuations, and dividends. With the economy looking like it won't be picking up steam yet in 2017, every investor will need to own stocks like these. 
Not many investors were prepared for the anemic economic performance of the U.S. economy in the first quarter of 2017.
 The GDP report, released last Friday, showed economic growth had slowed to a 0.7% pace.
 That slow growth has once again put investors into the searching for growth mode.
 That's why the so-called FANG stocks – Facebook (Nasdaq: FB), Amazon.com (Nasdaq: AMZN), Netflix (Nasdaq: NFLX) and Alphabet (Nasdaq: GOOG) – along with Apple (Nasdaq: AAPL), have again become a very popular and crowded trade.
 Investors do have other choices though.
 Here are three stocks that appeal to my way of looking at investments as the new editor of Growth Stock Advisor (click the link for a 30-day free trial) – a mix of contrarianism blended with finding growth wherever I can, but at a reasonable value.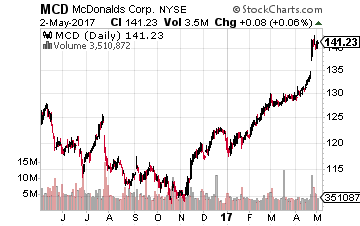 Stock #1 – McDonald's (NYSE: MCD)
 McDonald's is a company Wall Street has been down on for a while. Many analysts were convinced the growth spurt led by all-day breakfast was gone.
 The analysts seemed to forget how good a CEO Steve Easterbrook really is. A top-flight CEO is one item I like to see in any company I invest in.
 On the same day, the Nasdaq pushed beyond 6,000 for the very first time, superb earnings from the world's biggest burger chain caused its stock to hit an all-time high.
 MCD powered higher by 5.6% that day to $141.70 thanks to aggressive price promotions – $1 soft drinks and $2 McCafes – powering global like-for-like sales in the first quarter to rise 4%.
 Another update to its menu was McDonald's coming out several months ago with other sizes for its iconic Big Mac, after suggestions from its core cost-conscious customer base. As Easterbrook told investors on the conference call, "Our greatest opportunities are at the core of our business."
SEE ALSO: Click Here to Growth Stock Advisor for 30 Days for Free
 Combine all those factors and we saw, even here in the U.S., the company's sales rising 1.8% versus analysts forecast for a 0.8% drop.
 With other changes in the works, such as Quarter Pounders made from fresh beef and new technology (mobile ordering and payment options, automated cashiers and even delivery service), I expect McDonald's to continue innovating its way to success.
 The stock is now up about 15% year-to-date and up more than 40% since Easterbrook took the helm. There should be more gains to come as long as it follows Easterbrook's plan to bring "the biggest benefit to the most customers in the shortest amount of time."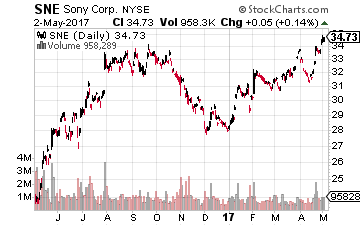 Stock #2 – Sony Corp. (NYSE: SNE)
 The second company, Sony, has been off investors' radar screen literally for decades. And rightly so. Poor management led Sony to nearly the point of oblivion with write-down after write-down in its film, television, and mobile phone divisions.
 But Kaz Hirai – CEO since April 1, 2012 – is slowly turning Sony's fortunes around.
 The fruits of his labor were clearly seen last week when Sony announced it is targeting its highest operating profit in two decades! The company expects its operating profit for 2017 to rise by 73% from the previous year to about $4.5 billion – the best since the 1997-98 fiscal year.
 In the fiscal fourth quarter, Sony reported all six of its divisions were profitable – a feat also not accomplished for 20 years. The success was led by its PlayStation business.
 Sony is a lot more than just PlayStation, however. The company, finally, is in all the right places – high-speed image sensors, cloud gaming and virtual reality among others.
 Image sensors are a key component of Apple's iPhone. Sales at its semiconductor division, which produces the sensors, grew 36% in the last quarter. By next year, I expect Sony will be producing image sensors for automobiles too.
 Another of its divisions shows even more growth potential for Sony. . .
 Sony's sales of its virtual reality goggles (PlayStationVR) reaching one million units is putting Facebook's Oculus to shame. If Sony can make more and better VR games available, sales should ramp up substantially.
 The stock is up about 43% over the past year, as some investors (mainly in Japan), are waking up to Sony's renewed vigor. Yet, it is still trading at a forward earnings multiple (~18) below its recent two-year average making it a relative bargain to other stocks in the technology sector.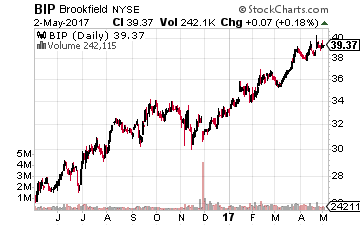 Stock #3 – Brookfield Infrastructure Partners (NYSE: BIP)
 For income investors, one of my favorite plays is the builder, buyer, and operator of infrastructure assets around the world – Brookfield Infrastructure Partners L.P.
Geographically, Brookfield is spread across five continents. It has assets in the U.S., Canada, western Europe, Australia, India, Brazil, Chile, Peru and Colombia.
Its assets span the full range of infrastructure: ports, railways, toll roads, electric utilities, natural gas transmission and telecommunications towers.
Brookfield management – experts in infrastructure – have set the company up for organic growth.
For example, the company has amassed a rather large natural gas transmission and storage network in the United States. With demand steadily growing as more and more U.S. utilities switch from coal to gas, BIP stands to benefit.
More organic growth will come from the emerging markets as their economies recover and resume a rapid growth path.
I like Brookfield Infrastructure too because it has what Warren Buffett called an 'economic moat'. It's not an easy business to get into – you need many billions of dollars and have to learn how to navigate the regulatory requirements of each and every country you do business in.
Since listing in 2008, BIP has given its investors an annualized return of 20%. That is above management's stated goal of 12% to 15% annual return.
It also has hiked the dividend every year since 2010. Brookfield raised its dividend by 11% for the March distribution, putting the current yield at a bit under 4.5%.
The stock also offers something for growth investors. It rose by 85% over the past five years, outpacing the S&P 500 index's gain of 70%.
These three companies are the type of stocks I look for, no matter the economic conditions and you should too.
We just released our May issue of the Growth Stock Advisor and you do not want to miss out on my latest pick.
The stock that sits right at the crossroads of two unbelievably promising industries.
The first industry has the potential to be one of the largest growth opportunities the market will see over the next ten years, and the second is a sector that has been around for over 100 years. It is as essential to the global economy as water is for a human to live.
That combination makes for one massive growth opportunity for this one company. If you're not already a subscriber to Growth Stock Advisor I'm offering up a 30-day free trial to anyone who joins today.
To join at this special discounted rate, CLICK HERE to take advantage.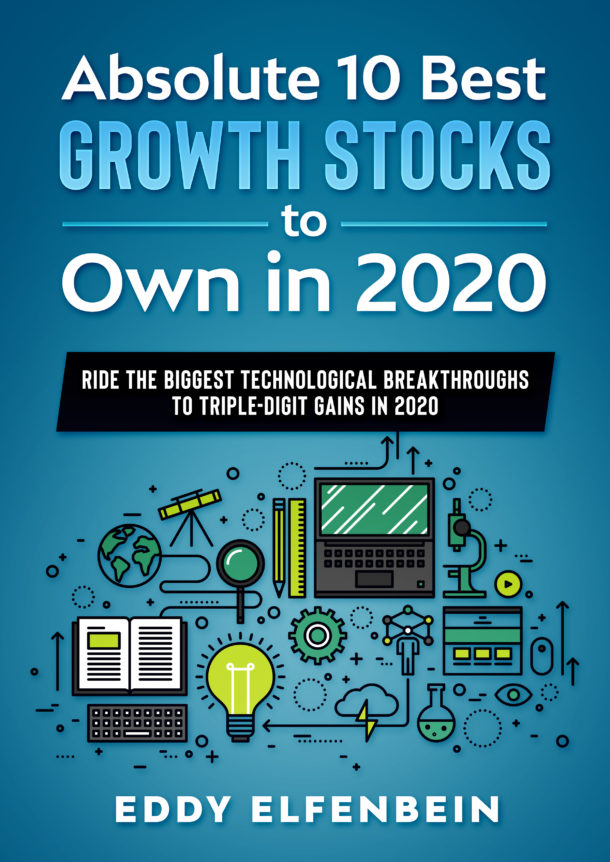 [NEW REPORT] Absolute 10 Best Growth Stocks to Own in 2020
Get the best 10 stocks to ride the 2020 tech explosion. 
One could be the most valuable stock of the next decade. 
Normally, I charge $20 for this report…
But, today...you can claim a copy absolutely free.
One stock alone has a chance at 167% profits in the next 12 months (or sooner). 
Enter your email below to claim a free copy while they last.