The best time to go hunting for stocks on sale is right after earnings. The market has clearly overreacted by selling-off these three stocks with solid growth prospects. Now is the time to purchase shares of these three stocks. 
Just over a year ago, we profiled three stocks that were great buys following earnings overreactions. It must be something about the third quarter that brings about great buying opportunities. Last year we noted that Dunkin' Brands (NASDAQ: DNKN) was ripe for the picking after missing earnings; the stock is up 16% over the last year.
Now, the third quarter 2016 earnings season is coming to a close and we've seen a lot of volatility. For that, there are good reasons. To start, this could be the first quarter of earnings growth for the S&P 500 in six quarters. But it really is a 'mixed bag,' as it might be too early to call an end to the earnings recession.
Goldman Sachs (NYSE: GS) says that the S&P 500 won't hit new highs for at least two years — lowering its earnings estimates through 2018, citing weakness in the economy. This is a big negative for anyone looking for opportunities right now. With all that in mind, here are the top three earnings plays:
Top Earnings Stock To Buy: No. 1: Allergan (NYSE: AGN)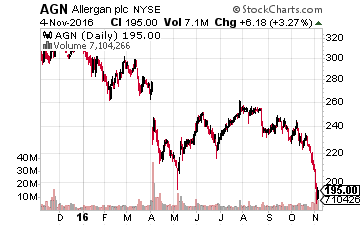 Allergan needs no introduction, as it's one of the largest generic drug makers around. The company took a huge hit after issuing results that were not well received by the market. Shares of Allergan are down more than 11% in the last week, pushing the stock down 36% in 2016.
Still, the earnings disappointment and over-hype of a Clinton Presidency related to drug pricing is overshadowing the strong pipeline and cheap valuation that Allergan is offering. The company expects to grow earnings from now until 2021 at an annual rate of 14%, well above all its major US pharma peers. Also, it's becoming a shareholder returns story. The company just initiated a dividend for 2017 – starting in 1Q 2017, it'll be paying $0.70 a share. Also, it's laid out a $10 billion share buyback program with $8 billion to be used this month.
Top Earnings Stock To Buy: No. 2: Jones Lang LaSalle (NYSE: JLL)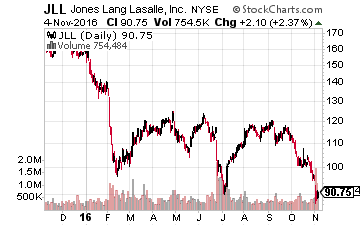 Jones Lang LaSalle, one of the major property management companies, has had its stock pushed down 11% in the last week. This comes as the company grossly missed earnings expectations, posting $1.42 earnings per share for the quarter, versus $1.99 expectations. The other part of the selloff is worries over a Brexit and slowdown in the Eurozone. This has helped push shares down 45% in 2016.
SEE ALSO: Tim Plaehn's FREE webinar on positioning your portfolio for a new president. 
The key is that the company has solid earnings power despite the cyclicality of the stock price. The real estate market remains healthy in most parts of the world and it has a strong balance sheet with steady margins. Assets under management are at record levels and yet its valuation is at a level we haven't seen in years. Trading at less than 10 times earnings, it's now at a hefty discount to top peer, CBRE (NYSE: CBG)'s 16 times earnings.
Top Earnings Stock To Buy: No. 3: Pfizer (NYSE: PFE)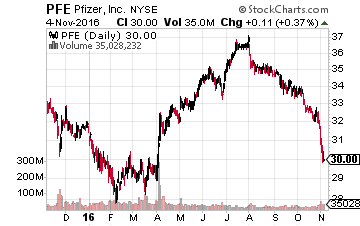 Pfizer is the largest drug maker in the US, and shares are down some 5% in the last week, thanks to a weak earnings report. The company also lowered its 2016 earnings forecast by four cents. Part of the 'problem' was that Pfizer's new breast cancer drug, Ibrance, missed sales expectations by 13%. The drug giant, with a $185 billion market cap, has seen its stock tumble close to 13% in the last three-months. It's now close to 20% off its 52-week high.
For all this 'negativity', there are also still positives. The dividend yield has been pushed up to nearly 4% and the company is looking for new ways of growing since losing its patent protection for Lipitor a few years back. It stepped away from its merger with Allergan given regulatory headwinds, but it still has plenty of firepower to go after other acquisition targets. Its big move could also be a breakup, splitting itself into a generic drug and a branded medicines business. In the meantime, it'll remain a shareholder return leader, having given back $10.5 billion (6% of its market cap) to shareholders in 2016 via buybacks and dividends.
Something that amazes me about the market right now is that never has there been a time in history where an investing strategy has gained so much popularity right at the time when it could be most dangerous to an investors' portfolio. What I'm talking about is a strategy that has caught on like wildfire for the majority of Americans who hire professional money managers and invest their money by themselves.
This is also a strategy that would overlook investing directly into these small growth stocks that offer huge return potential because of their exposure to some of the economy's fastest growing sectors. The strategy I'm talking about is called 'Passive Investing' which means putting money into a market-weighted portfolio or fund that tracks the returns of a specific sector. but what if stock market returns are nothing like what they used to be over the next 10 years?
But what if stock market returns over the next 10 years are nothing like what they used to be?
In fact, that's exactly what many investing experts are saying, and it could put 'Passive Investors' way behind on their retirement savings.
What you and every other investor in the market need to be doing right now is only purchase the stocks with the utmost best growth prospects in the market for the next 10 years. It sounds like a breeze, but even with my decades-long investing career it still takes me weeks or longer to find the right stock that fits all of my criteria for a good investment.
That's why I started my Growth Stock Advisor newsletter, to provide a window to the public that looks directly into my personal portfolio of the market's best growth opportunities both large and small. It's a way for me to share my experience as a lifelong investor and former hedge fund manager to a select group of people serious about transforming their wealth and making the right moves with their money.
Just this last week, I released a new report that I've titled '5 Buyout Candidates to Double Your Money Overnight' that details my highest-conviction growth plays in a hot sector of the market. You can have this report plus my 20 stock portfolio of  the top growth plays in sectors across the market and in companies both large and small if you give my Growth Stock Advisor a 60-day risk-free test drive. Just use the link below to find out more.
Click here to see my '5 Buyout Candidates to Double Your Money Overnight'