After Amazon announced its bid for Whole Foods, stocks across the grocery and pharmacy sector all got slammed lower. That's the power of Amazon right now. But, you can still find stocks safe from Amazon's power. Here are three to consider.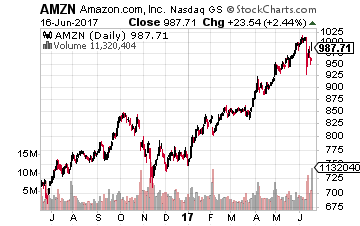 If you're in the retail industry, regardless of your niche, Amazon.com (NASDAQ: AMZN) is coming for you.
Amazon just announced that it's paying $14 billion for Whole Foods (NASDAQ: WFM), the pioneer in the organic grocery business. This is the largest buyout in Amazon's history.
Shares of Amazon jumped over 3% on the news, while all other grocery retailers took a plunge. Amazon shares are now back near $1,000 a share, which is all-time highs.
Amazon has dominated the e-commerce market for years — from books to electronics — and over the last decade, Amazon's stock has outperformed the S&P 500 by over 20-fold.
But now it is time to tackle the massive $600 billion edible food market. Groceries are still a major part of household budgets, but online retailers have struggled to effectively tap into that market. The Whole Foods buyout comes after Amazon spent years trying to get its owns grocery delivery business, Amazon Fresh, off the ground. With the over 400 Whole Foods stores, Amazon will have a large, already installed, distribution network for grocery delivery.
Cumulatively, the five major grocery operators – Walmart (NYSE: WMT), Target (NYSE: TGT), SuperValu (NYSE: SVU), Sprouts Farmers Market (NYSE: SFM) and Kroger – lost over $25 billion in market cap on Amazon-Whole Foods news.
But, even with Amazon's ability to takeover entire retail industries, it is tough to justify buying the stock. Amazon, despite only managing a 2% profit margin on its $142 billion in sales, still trades at 180 times earnings. Value investors will have a hard time stomaching such a multiple, regardless of just how much of the retail market share that Amazon is eating.
Yet, investing in any retailer is a major risk, just ask Kroger, where its stock fell over 16% when Amazon announced the Whole Foods buyout.
Still, not all hope is lost.
Back in April, we covered three income stocks safe from the 'Amazon monster.' The return of all three of those companies have been double that of the S&P 500 since then. And that doesn't include the dividends those companies pay. For studious investors, there are a number of opportunities still out there.
The likes of Tiffany (NYSE: TIF) – which is the high-end jewelry retailer, has seen its stock soar 50% in just the last year, while the S&P 500 is up just 17%. Amazon will have a tough time competing in the high-end engagement ring industry.
There is also Sotheby's (NYSE: BID), which serves the ultra-high-end retail market. This art and collectable auction company has seen its stock rise nearly 80% in the last year. Selling or buying art via Amazon has no appeal for major collectors.
Digging deeper, we've done the legwork to find the very best opportunities currently available for investors looking to take advantage of the Amazon fallout. Here is the top 3 companies safe from Amazon:
Top Company Safe From Amazon No. 1: Dollar General (NYSE: DG)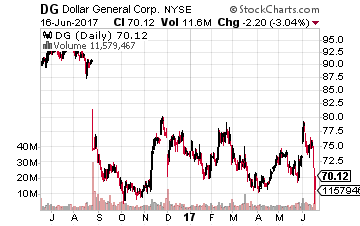 Unlike, Amazon, which caters to the online world, Dollar General is the epitome of convenience. Dollar General is the leader in the dollar store space. However, shares have been hit hard of late, with the stock down 20% in the last year. Now, this is one of the cheapest retailers around – trading at less than 15 times next year's earnings estimates.
Dollar General's small store format fits well in urban areas, but Dollar General also does well in rural and low-income areas. In particular, Dollar General offers value and convenience, looking to serve a different market compared to Amazon. Its small-store format works well in areas where there are no close alternatives. With that, Dollar General has managed to grow same-store sales every year for 27 years.
Top Company Safe From Amazon No. 2: Tractor Supply Co. (NASDAQ: TSCO)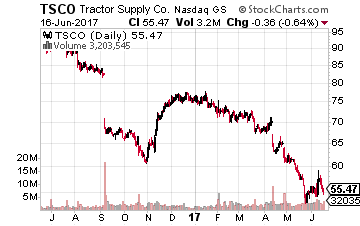 Tractor Supply Co. is another retailer that Amazon will have a tough time disrupting. But Tractor Supply shares have still felt the Amazon fear, as shares have fallen 40% in the last year. The company now trades for less than 15 times next year's earnings.
Tractor Supply offers products to farmers and ranchers via its massive 1,600 store network in rural communities across America. It's relatively uneconomical to ship things like generators and horse feed. And while Home Depot (NYSE: HD) might seem like a major competitor, Tractor Supply's stores are located in more rural areas away from Home Depot and Lowe's (NYSE: LOW) stores.
Beyond just the fact that most ranchers won't be shopping on Amazon, Tractor Supply has also managed to create a moat that protects itself from the e-commerce giant. One of which is relatively new, with Tractor Supply launching its Neighbor's Club loyalty program in April and already having 1.5 million members. Then there's the fact that Tractor Supply is creating its own e-commerce strategy by offering buy online and pickup in store.
Top Company Safe From Amazon No. 3: Ulta Beauty (NASDAQ: ULTA)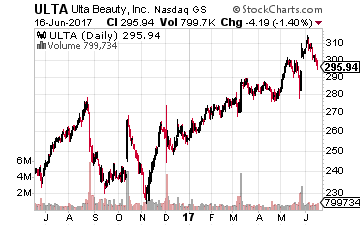 Unlike the other two names on this Ulta Beauty is a gross outperformer. Shares of Ulta Beauty have consistently outperformed S&P 500 for years. The business, which is relatively simple – selling skincare and makeup, has yet to be disrupted by Amazon. In part, that's because Ulta gets customers in its stores by offering skin and eyebrow treatments, things you still can't get done online. Then, those customers end up buying merchandise in stores.
While Ulta isn't cheap, trading at 30 times next year's earnings, it's much more of a growth story. The company expects to grow earnings by 20% this year, while e-commerce sales are expected to grow by 50%.  Ulta remains well positioned, with no debt, superior profit margins and nearly 30% returns on equity.
In the end, Amazon will have its hands full with taking on the massive grocery industry. This should create some breathing room for speciality retailers, and give the market a chance to realize that stores like Tractor Supply are in no danger from the likes of Amazon.
Sign up today for a FREE 'sneak preview' and find out the ticker of an advanced robotics stock that can lead you to massive long-term profits as manufacturing and business become more automated. This growth trend is still in its infancy so investors who hop on today could see decades of profits from just this one stock.