Practicing patience in the stock market will be one of the hardest yet most rewarding tests for becoming a successful investor. Just ask Warren Buffett, the world's most patient investor. If you have the patience, buy these three stocks that will reward you in the long-term.
"How many a man has thrown up his hands at a time when a little more effort, a little more patience would have achieved success." – Elbert Hubbard
Perhaps the key trait for investing success is patience. No investor demonstrates this more than Warren Buffett. He has consistently quipped that his favorite holding period on a stock is "forever." I find patience is extremely important when investing in out of favor stocks or sectors as well as turnaround stories. I have found out in my over three decades of investing that I have a high percentage "hit" rate on these sorts of investments, however, I am usually early on these types of contrarian investment plays by at least a few months if not a few quarters.
For this reason, I incrementally build positions in these solid conviction picks on dips over several months and sometimes quarters. Some names that are tied to the consumer that I have been accumulating since late 2015 and in the first half of 2016 are finally starting to pay off. If past investments are a guide, they are early into the runs to get back to their fair value.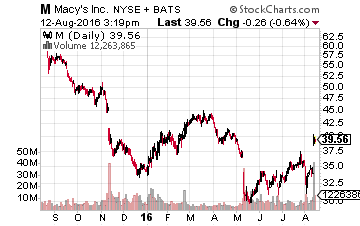 Let's start with Macy's (NYSE: M) which had done little throughout 2016 until it reported quarterly results this Thursday. The stock soared some 17% during that day as the company beat by wide margins both top and bottom line expectations. The company also announced it would close 100 of its 775 stores and continue to monetize its vast real estate holdings.
This is important for two reasons. The first is because the United States is "overstored". There are over seven square feet of retail space per person in this country. In comparison, there exists less than two square feet of retail space per person in France, Japan, and the United Kingdom. More importantly, the real estate Macy's owns might be worth as much or more than the current market capitalization of the stock. Its square city block location in mid-town Manhattan is worth $3 billion to $5 billion in itself.
It was these real estate holdings and a dividend that got above four percent that sustained my faith in the long-term value story of this retailer and why I continued to add to my holdings incrementally in the first half of 2016. In addition, the fears after a disappointing holiday season that department stores were being "Amazoned" seemed a bit overblown. Recent results and surges in the stocks of Kohl's (NYSE: KSS) and Nordstrom (NYSE: JWN) last week seem to confirm that.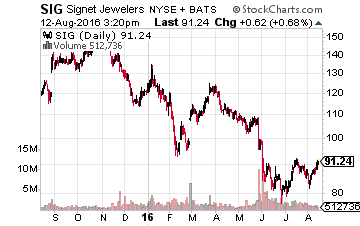 Another retail stock that has fallen on hard times but is starting to move is Signet Jewelers (NYSE: SIG), the holding company of Zales, Kay's and Jared's among other recognizable names in this segment of retailing. The company is the market share leader in this fragmented business with approximately 17% of the overall market. Its next closest competitor is Tiffany & Co. (NYSE: TIF) which has a tad over five percent of the market.
The stock started to go into a tailspin late last year both because of poor holiday sales throughout retail as well as a "diamond swapping" scandal. The latter appears contained to only a few stores and has not hurt the perception of the company's brands among consumers according to a recent Cowen & Co. survey. Signet easily outperformed the department stores in this survey and trails only high-end Tiffany's in terms of how consumers perceive quality in the space.
More importantly, the stock trades at just 11 times forward earnings. This compares to the overall market multiple of nearly 20 times forward earnings and the 15 times forward earnings this stock has averaged over the past five years. In addition, over 10 insiders have bought over $1 million in collective shares in recent months. The shares finally appear to be moving up and I believe this upward momentum should continue into the holiday season.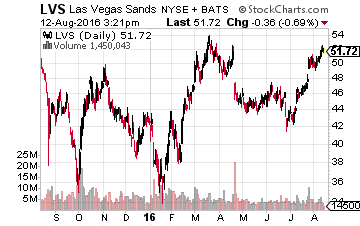 Finally, we have Las Vegas Sands (NYSE: LVS) whose name is misleading since it gets the vast majority of its profits and revenue from Asia, particularly the gambling enclave of Macau. Unfortunately, the crackdown on corruption in China has negatively impacted traffic to Macau for a year and a half, especially in the V.I.P. or "Whale" segment.
Luckily, Las Vegas Sands is more exposed to the "mass market" of Chinese gamblers than any other operator on the island and its capital expenditures will fall significantly in 2017 and 2018 as its 3,000 room Parisian Macao is completed this year. Management recently has stated it is finally seeing a turn for the better in the market and the stock has been on the move of late. An over six percent yield when the stock sold in the mid-$40s made it a bit easier to be patient with this premier gaming operator and add a few shares here and there during the past year. It high-end retailing operations within its properties are also worth at least $10 billion and overlooked by most investors as well.
Patience is going to be the best virtue any investor can have. I know this is overstated, but it's true. Countless are the number of emails I get from readers asking if they should sell their favorite stock because it just dropped 5% on some random news or no news at all. Don't let panic sabotage your strategy for building a wealth generating portfolio. Sometimes there really are stocks you'll want to hold forever or at last almost forever, and you'll experience the market's dips along the way. I'm building a Forever Portfolio right now and have recently finished up a report that shares the blueprint for how to build your own. Click here for more.
Positions: Long LVS, M & SIG