While Netflix is the undisputed king of online streaming right now that might be about to change. These three stocks are fighting to steal customers and market share from Netflix and could end up with a large slice of the $60 billion video on demand pie.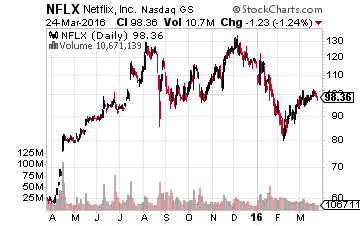 Netflix (NASDAQ: NFLX) has become known as the king of online streaming, blazing a trail to 75 million subscribers and boosting its stock price by nearly 2,300% in the last 10 years.
This comes as Netflix pivoted away from DVDs by mail to the online streaming business — a move that has been more than fortuitous. However, as any booming market goes, it attracts competition, which is bad news for a company that barely makes a profit.
For now, Amazon.com (NASDAQ: AMZN) Prime has yet to become the Netflix killer that everyone had hoped for. This comes as it has over 50 million Prime members, and as a result, streaming video subscribers.
So, a lot of people are flocking to the streaming industry, and there are more and more companies looking to capitalize. And, while Netflix is still the leader based on subscribers, its only managing to generate $120 million in income. This puts Netflix trading at over 350 times earnings.
Combined, Netflix and Amazon are two formidable foes in the online streaming business. Yet, neither are generating a lot of money; Amazon also trades at an outsized valuation of over 470 times earnings.
There have to be better bets on the online streaming industry out there. With that, we're looking for companies that can eat into Netflix's market share and profit from the streaming boom. Here are the top three Netflix killers:
No. 1 Netflix Killer: Rovi (NASDAQ: ROVI)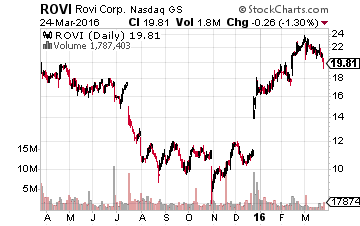 This is one of the most underrated plays, as it generates most of its revenues from patents. However, it's making a big bet on becoming a patent powerhouse with its planned purchase of TiVo (NASDAQ: TIVO).
TiVo is the digital recorder business that pioneered DVR. TiVo has patents for things such as fast forwarding through TV while Rovi owns patents for digital entertainment devices. Rovi makes money from licensing deals with the likes to Time Warner Cable (NYSE: TWC) and Comcast (NASDAQ: CMCSA) paying Rovi to use patented TV guide systems.
TiVo has been a rumored buyout target for years, supposedly attracting interest from the likes of Google (NASDAQ: GOOG) and Apple (NASDAQ: AAPL). This comes as TiVo has been losing ground when it comes to DVR market share, however. The rise of Netflix and Hulu have also put pressure on TiVo.
The Rovi-TiVo combo would make a patent powerhouse, able to make money by licensing out their technologies. However, neither company has managed to turn this into a real income generating business. But together, they might be onto something, with the two having a combined portfolio of 6,000 patents.
The TiVo purchase is also Rovi's latest attempt to regain its foothold in the patent business after losing a major patent battle with Netflix last year. With a larger patent portfolio, Rovi will be better suited to take on the likes of Netflix. As well, Rovi can also use these patents to secure more partnerships with the likes of Sony (NYSE: SNE) and AT&T (NYSE: T).
Related: Gain FREE access to a new system for booking safe 16% returns every year.
No. 2 Netflix Killer: HBO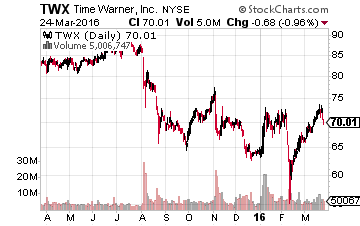 In large part, Netflix's success has put pressure on the major cable companies. The shares of Viacom (NASDAQ: VIAB) and Twenty-First Century Fox (NASDAQ: FOXA) have fallen more than 20% over the last year.
It appears to be too early to bottom feed in the cable industry as competition continues to rise and the major players have no clear plan for capitalizing on streaming. Yet, one cable company does have a strategy.
HBO, owned by Time Warner Inc. (NYSE: TWX), is quietly growing into a Netflix killer. HBO just launched its standalone streaming service, HBO GO, last year.
The beauty of HBO is that it has Time Warner Inc. as its owner. Right now, it's all about content management and ownership, and HBO has plenty of that thanks to Time Warner. HBO has a vast library of content while Netflix is just getting started. Let's not forget that Time Warner generates close to 40 times the income that Netflix does.
No. 3 Netflix Killer: Sling TV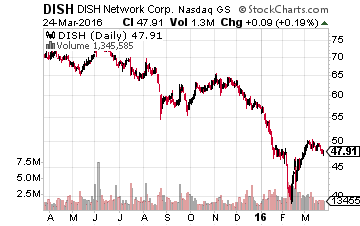 One of the most underrated names on this list is Sling TV, which is owned by Dish Network (NASDAQ: DISH). Sling TV has 600,000 subscribers, which is a small, but growing number.
Now, the beauty of Sling TV, like HBO, is that it has the backing of a much larger company, Dish Network. Dish as a whole has some 14 million pay-TV subscribers, which is a solid subscriber base that Dish can cross-sell to the Sling TV service.
Many of Sling TVs subscribers are either cord-cutters or cord-nevers, which is Netflix's core market. The one positive is that Dish's Sling TV commands a premium price for its monthly service, charging $20 a month compared to Netflix's $8 a month. At $8 a month, Netflix is having trouble making enough money to cover its content and distribution costs. And again, Dish is a real income generating company. It's bringing in $750 million a year and trading at 30 times earnings.
In the end, Netflix trades at a rich valuation. Meanwhile, the likes of Rovi, Time Warner, and Dish are all much more enticing from a valuation perspective. Rovi is the most underrated play on our list, but has yet to figure out how to make steady money from its patents – adding TiVo could give it the extra firepower it needs. It's still too early to say how Sling TV does, but the traction it has is a solid start. In the meantime, Time Warner might have the best bet on putting a dent in Netflix in the near-term.
New Report Reveals How to Safely Earn 16% Returns in 2016
Why settle for puny 1% yields on CDs when you can double your money in 4.5 years with a certain class of safe, dividend-paying stocks?
All you have to do is plug your portfolio into the Accelerating Dividends System.  This breakthrough investment tool works by identifying little-known stocks that consistently increase their payouts year after year…no matter what the market does.
Right now you can get access to this system for free.