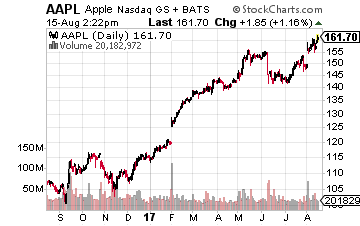 The latest quarterly earnings report from Apple (Nasdaq: AAPL) was a darn good one and sent the stock upward. The buzz continues to build as the 10th anniversary iPhone nears.
But I could care less about the iPhone. That's yesterday's success story. If Apple is to continue rewarding its shareholders, it needs a new kind of product.
Apple CEO Tim Cook got my attention when he said the company was making a "big investment" into a "large project" focused on "autonomous systems from a core technology point of view." Cook added, "The autonomous systems can be used in a variety of ways, and a vehicle is only one but there are many different areas of it. And I don't want to go any further with that."
That intrigued me because it sounded like Apple was moving into something to do with robotics, an area I believe is one the greatest investment opportunities of this decade. Is Apple moving into automated manufacturing systems? Or even robots themselves?
I guess time will tell.
The Future Is Robotic
I'd love to see Apple move into the field of cobots, which are collaborative machines that work side-by-side in industry with people.
Probably sooner than most expect today, cobots will become the norm in industry around the world. But that doesn't necessarily mean people will lose their jobs. Here's why. . . . .
First, people can adapt to a changing situation much more rapidly that a robot. And robots, so far, aren't very dexterous. They can't match human hands.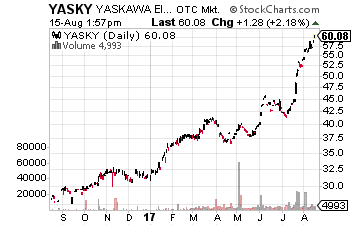 There was a study about a year ago that found that it took a robot 20 minutes to fold a towel. And do know what major problem Japanese robotics company Yaskawa Electric (OTC: YASKY) is working on now? It's trying to teach a robot to pack a Japanese convenience store lunch (called a bento), but the dexterity just isn't there yet.
The collaboration between people and robots can be seen in the U.S. automotive industry. According to the International Federation of Robotics (IFR), there were about 52,000 industrial robots installed by the industry between 2010 and 2016. Yet, in that same time period, the number of jobs in the automotive sector rose by over 260,000, according to the U.S. Bureau of Labor Statistics.
Not surprising when you consider research from MIT that found that robot-human teams were about 85% more than productive than either humans or robots alone!
The future will likely look like that envisioned by the robot technology manager at the Danish Technology Institute, Søren Peter Johansen. He says that automating the simplest 80% of a production process is significantly cheaper than a fully automated solution. The remaining 20% of the work will be done by human co-workers.
Robot Profits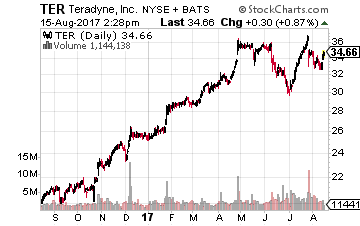 This reality will continue to drive the growth in industrial robots and cobots. Currently, 40% of industrial robots are used by the global automotive industry. But that is changing rapidly, as the fastest growth is now occurring in the electronics industry.
IFR forecasts an average annual growth rate of 13% through the end of the decade, thanks to the rapid installation of robots in China.
Companies in the sector are enjoying operating margins that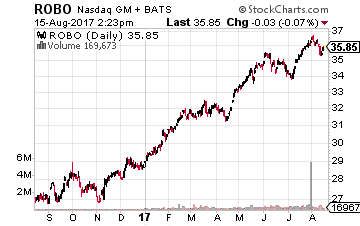 are often in excess of 30%. That has turned a company like Yaskawa Electric into a Japanese market darling.
Another company that I've mentioned in the past is Teradyne (Nasdaq: TER), whose stock has soared over 66% the past year. But semiconductors still make up a much larger portion of its business than does robotics.
For a purer play, you can turn to the two exchange traded funds that focus on robotics: the Robo Global Robotics & Automation ETF (Nasdaq: ROBO) and the Global X Robotics & Artificial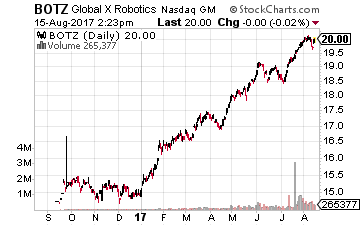 Intelligence ETF (Nasdaq: BOTZ).
If I had to choose one of these, I would opt for BOTZ because of its broaderglobal exposure. Another plus is that it can be bought for no commission through the ETF marketplaces at major discount brokerage firms like Schwab.
Discover the 1 Technology Amazon's CEO says is entering a "Golden Age."
New free report reveals how investors can tap into a world altering technology that will dwarf the internet.
It's no wonder Amazon CEO, Jeff Bezos, is calling it "a renaissance" in technology…
…or why other tech billionaires like Elon Musk and Bill Gates are already investing their own fortunes.
Click here to discover how to find the industry profits the World Economic Forum predicts will surge over $100 trillion!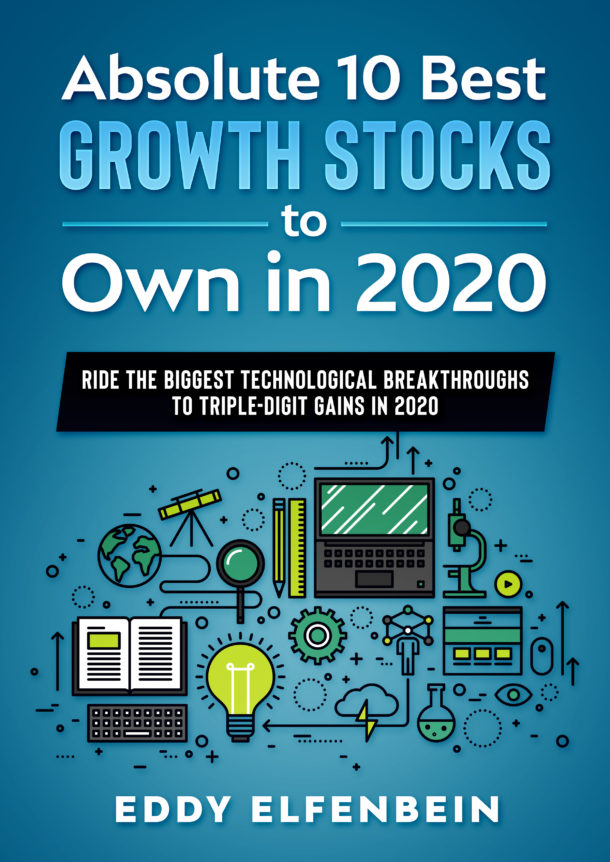 [NEW REPORT] Absolute 10 Best Growth Stocks to Own in 2020
Get the best 10 stocks to ride the 2020 tech explosion. 
One could be the most valuable stock of the next decade. 
Normally, I charge $20 for this report…
But, today...you can claim a copy absolutely free.
One stock alone has a chance at 167% profits in the next 12 months (or sooner). 
Enter your email below to claim a free copy while they last.