The definition of sports is changing. For those people who have never known a world without the internet, sports can mean something quite different than for us a wee bit older. For those people, sports are just as likely to be played sitting in a comfy chair with headphones, a keyboard and a mouse.
Welcome to the brave new world of e-sports!
This new realm for sports still requires quick thinking, lightning reflexes and dedication to the sport. And like traditional sports, these athletes are playing for substantial money. Here is a list of the top 10 purses for e-sports in 2017:
The e-Sports Market
According to PricewaterhouseCooper (PwC), the global e-sports market was worth $327 million in 2016. One reason for its smallish size compared to say the NFL is that e-sports is a collection of different game titles across different game genres, with different intellectual property holders that, to date, have not bargained together for TV (and streaming) rights and sponsorship deals.
But now e-sports is moving into the 'major league' of sports. They will be added as a medal event in the 2022 Asian Games. That's not surprising considering that South Korea is the hot spot for these sports, with other Asian countries also joining in. The backers of e-sports are pushing too for it to be added as an official event in future Olympics too.
Any future Olympics boost will only add to the growth already occurring. PwC estimates that the e-sports market will expand at a compound annual growth rate (CAGR) of 21.7% through 2021 into an $874 million market. Other forecasts are even more bullish. For example, the Dutch research firm Newzoo says e-sports will be a $1.6 billion industry by 2021.
Whatever forecast you believe, the bottom line is that the e-sports industry is growing in leaps and bounds. Especially in certain countries… here are the projected growth rates for the three top e-sports countries – South Korea, China and the United States – according to PwC…
China is set to be the fastest grower with a 26.3% CAGR, with its industry set to hit $182 million in 2021. The growth there is being spearheaded by its two tech titans – Tencent Holdings (OTC: TCEHY) and Alibaba Group (NYSE: BABA). Tencent, which is a major games developer, agreed last May with the city of Wuhu to transform it into an e-sports hub, with a dedicated stadium to host international tournaments and with an e-sports university to train the next generation of players.
The next-fastest growth is forecast to come from the U.S. with a CAGR of 22.6% though 2021, while South Korea is expanded to expand at a 13.9 rate though 2021.
Eyeballs = Revenues
I believe these projected growth rates may even be conservative. The reason is because e-sports is becoming a major spectator sport.
Goldman Sachs estimates that the global monthly audience for e-sports will reach 385 million by 2022. That's more than the NFL, folks.
That will give Amazon another boost, as if it needed it. It got into the 'game' early when it bought Twitch, a very popular live streaming platform for gamers, for $970 million in 2014.
Others have followed Amazon. BAMTech, Major League Baseball's streaming company, is a subsidiary of Disney. In 2016, it agreed to pay video game developer Riot Games (owned by Tencent) $300 million over six years for the "exclusive rights to stream and monetize" League of Legends tournaments.
These viewer eyeballs will turn into revenues for the industry. You see, there are three main areas where e-sports can produce revenues. First is direct payments from live streaming services – some live tournaments have tens of millions of viewers. Last year, there were 11.1 billion e-sports videos streamed in China and 2.7 billion in North America, where about one-third of gamers reside.
The next source of revenue is the sale of content rights to broadcasters. Finally, advertising revenues, which today come largely from the gaming industry. But it isn't hard to imagine a whole raft of companies looking to get their message in front of millions of viewers.
Goldman Sachs analyst Christopher Merwin said in a note to clients, "We expect sponsorship will be one of the largest revenue opportunities for e-sports." He pointed to the fact that nearly 80% of the viewers are between the ages of 10 and 35, which is a very coveted demographic for advertisers.
Importantly, the backers of e-sports are being smart and adapting what works for traditional sports and applying it to e-sports. Such as creating a league and having permanent teams in many of the major cities. The parent companies of the New England Patriots, Los Angeles Rams and the New York Mets now own franchises (at a cost $20 million) in the first attempt to create an actual league.
The teams were sold by the world's largest publisher of video games, Activision Blizzard (Nasdaq: ATVI), which came up with the idea of a 12-team Overwatch League. Unlike traditional U.S. sports leagues, this league also has teams from London and Shanghai.
Related: 5 Growth Stocks to Ride the Semiconductor Supercycle
The Overwatch League is not the only e-sports league in existence. There is a similar venture from Riot Games, which charged $10 million for franchises in the North American League of Legends Championship Series. Over 43 million people watched last year's League of Legends World Championship online, up from just 8 million in 2012. Major venues such as Seoul, South Korea's Olympic Stadium were sold out to watch the event.
The build-out of leagues is already attracting sponsors, as I hinted at before. Both Intel and HP are lead sponsors for the Overwatch League. And Geico and Nissan are among the sponsors of the North American League of Legends league while Coca-Cola sponsored the finals for the league.
e-Sports Investments
So how can you invest into this e-sports phenomena?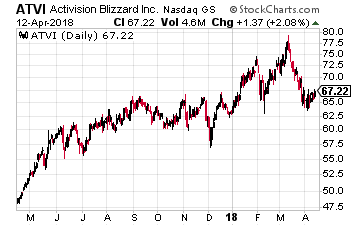 At the top of my buy list is the aforementioned Activision Blizzard, which also has a live streaming channel called Major League Gaming, which it acquired in 2016 for $46 million. It currently has many popular franchises including Call of Duty, Destiny, Skylanders, World of Warcraft, Candy Crush and, of course, Overwatch.
Management believes the release of new titles, its expanding mobile pipeline and increasing initiatives in advertising and e-sports will drive growth. In-game net bookings are anticipated to show a double-digit percentage growth in 2018. The release of World of Warcraft's Battle for Azeroth this summer should also boost growth this year as will Destiny 2. Activision also anticipates Overwatch League to be profitable this year. The company also plans to ramp up ad business by rolling out more video-based ad products.
For 2018, Activision expects GAAP revenues of $7.35 billion and earnings per share of $1.78. On a non-GAAP basis, revenues and earnings are expected to be $7.35 billion and $2.45 per share. Its stock, up about 30% over the past year, should enjoy another good year in 2018.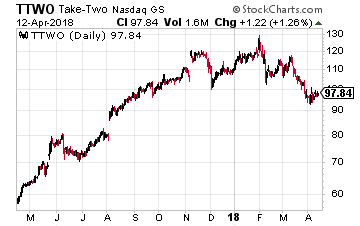 Next on the list is a rival of Activision, Take Two Interactive Software (Nasdaq: TTWO), which is best known for its Grand Theft Auto, Red Dead and NBA 2K franchises.
While trailing in the e-sports business, the company is finally moving ahead now. It inked a deal with the NBA to launch a NBA eLeague. Take Two had conducted an NBA e-sports tournament the last two years. The NBA will be the only major professional sports league to have its own e-sports league. The league will begin in May 2018 with so far 17 of the 30 NBA teams saying they will play for at least three years. The NBA eLeague recently held its initial draft.
Take Two is also expanding rapidly into mobile games. It strengthened this area of the company with its acquisition of Barcelona-based Social Point for $250 million in 2017. Social Point is one of the most prolific mobile game developers.
Take Two's for fiscal 2018 centered on strength in its franchises like Grand Theft Auto, NBA 2K and WWE 2K, which should boost the top line in the fiscal year. GAAP net revenues are likely to be in the range of $1.80–$1.85 billion, above the earlier projection of $1.74–$1.84 billion. The company forecasts earnings per share in the range of $1.40–$1.60, well above the 55–80 cents projected earlier. Once again, that should keep the stock, up about 66% over the past year, moving forward.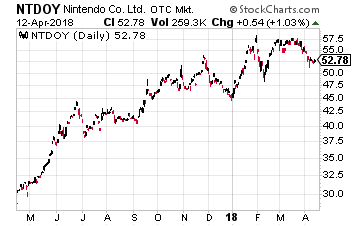 Finally is a bit of a dark horse since it has yet to really move into e-sports, Japan's Nintendo (OTC: NTDOY). The company has already enjoyed a major change in fortunes thanks to its launch of the record-breaking Switch console, causing its stock to nearly double.
Related: Legally Profit from Japan's Recent Corporate Scandals
The company has accelerated the launch of Super Smash Brothers, a brawling game involving its best-known characters, just in time to catch the deregulation of laws in Japan that have barred paid tournaments and hindering the progress of e-sports in the country. Earlier iterations of Super Smash Bros are already popular among e-sports enthusiasts here in the US.
I fully expect Japan to become as avid e-sports viewers as their Asian neighbors. By opening Super Smash Bros to e-sports events on the Switch, Nintendo has vast potential to cultivate not only gamers, but also the non-gamer or the casual gamer. That will make a hot stock even hotter.
Buffett just went all-in on THIS new asset. Will you?
Buffett could see this new asset run 2,524% before the end of 2019. And he's not the only one... Mark Cuban says "it's the most exciting thing I've ever seen." Mark Zuckerberg threw down $19 billion to get a piece... Bill Gates wagered $26 billion trying to control it...
What is it?
It's not gold, crypto or any mainstream investment. But these mega-billionaires have bet the farm it's about to be the most valuable asset on Earth. Wall Street and the financial media have no clue what's about to happen... And if you act fast, you could earn as much as 2,524% before the year is up.
Click here to find out what it is
.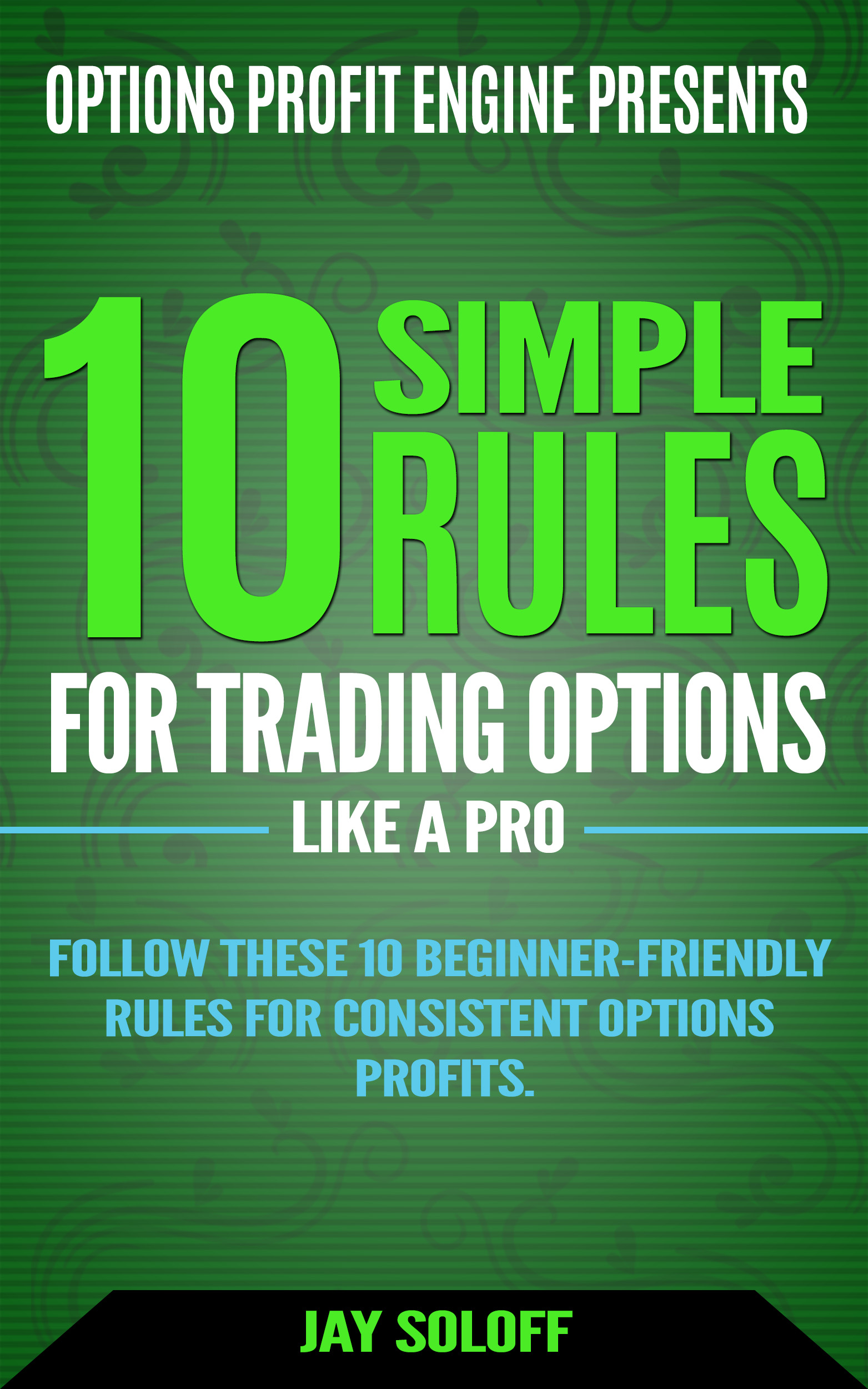 [FREE DOWNLOAD] 10 Simple Rules for Trading Options Like a Pro
Follow these 10 simple rules from 20-year professional options trading veteran, Jay Soloff and start earning a reliable extra income from options.
NO prior experience needed to master these 10 simple options trading rules. 
Enter your email below and receive access to this FREE guide...