Now two times more popular with the millennial generation than any of the big four U.S. sports (football, basketball, baseball, and hockey), esports is rapidly becoming the next growth sector in entertainment. Here are the top three stocks to profit from the millennial generation's love of video games.
As editor of Investors Alley's Growth Stock Advisor, one of my tasks is to find for you the sectors and stocks that are in a growth mode.
That sometimes leads me into some surprising areas.
One such surprise, for me at least, is the meteoric rise of esports. The amount of time people around the world spend watching competitive video games is soaring.
According to IHS Markit, last year people spent more than six billion hours watching esports! That is a rise of 19% from the previous year. Over the past four years, the rise in viewership is almost 750%!
The country leading the way was China, with games being watched over 11 billion times online.
That translated into China accounting for 57% of all esports viewership in 2016. That was four times as much as the second-biggest market – North America.
IHS Markit forecast global viewership will be approaching the 10 billion hour mark around 2021.
Data from games market intelligence provider Newzoo on individual viewership is in agreement.
In 2017, Newzoo says about 191 million people worldwide are expected to watch an esports contest live or online at least once a month.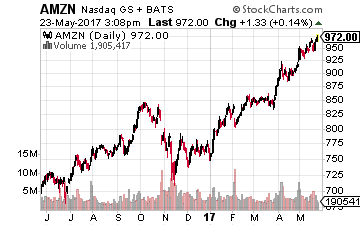 That is more than double from just 2012 and many of those watchers will be millennials. By 2020, that number is forecasted by Newzoo to grow to 286 million viewers.
Nascent Market. . . . .
Those numbers mean esports is a growth business, albeit one that is still in its very early stages.
Revenues for the sector are still small. But revenues will be broad and include ecommerce and rights sales in addition to advertising.
Advertising revenues last year for the sector were only $280 million. But that is forecast to rise to $1 billion around the end of the decade.
What should catch your eye is the audience for esports – the advertising industry's favorite audience, millennials.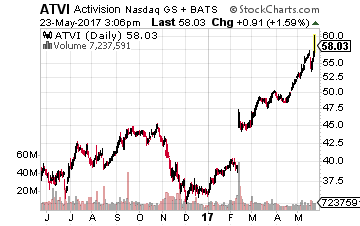 The share of millennials that watch esports is two to three times higher than any of the four big U.S. sports, says the CEO of Activision Blizzard (Nasdaq: ATVI), Bobby Kotick.
But It's Getting Noticed
The growth of esports has not gone unnoticed.
Casinos, for example, are hosting competitions in order to attract a younger audience. The industry has never really recovered from the 2008-09 recession.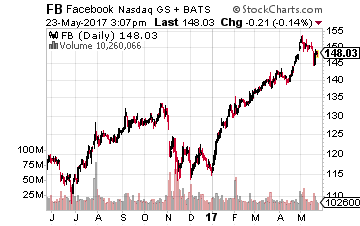 And in an effort to deliver more premium programming to its vast user base, Facebook (Nasdaq: FB) earlier this year signed five esports teams to publish live and on-demand videos of players. And Facebook signed a deal last week with the ESL Gaming Network to broadcast matches, player interviews and more.
Amazon.com (Nasdaq: AMZN) got into esports in 2014 when it acquired video game streaming site Twitch for $1 billion.
And of course, Microsoft (Nasdaq: MSFT) is involved through its Xbox division. It has booked space at casinos for contests featuring dozens of esports teams.
The Real Winners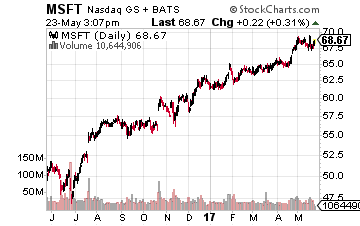 The real winners if esports takes off in a big way are the video game publishers and related companies.
In China, that means Tencent (OTC: TCEHY) and to a lesser extent Alibaba (NYSE: BABA). Other Asian companies in the mix are Nintendo (OTC: NTDOY) and Sony (NYSE: SNE).
But for the rest of the world, the beneficiaries will be the aforementioned Activision Blizzard, Electronic Arts (Nasdaq: EA) and Take Two Interactive Software (Nasdaq: TTWO).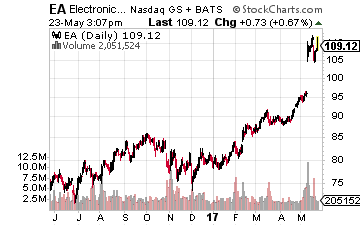 Perhaps the most active of these companies is Activision Blizzard, which is the world's biggest video games company when measured by market capitalization.
Last year it bought esports network Major League Gaming and plans to launch Overwatch League, which is based on its Overwatch games later this year. Morgan Stanley put a very conservative estimate of $105 million in annual revenues from the league.
I suspect the number will be much higher. After all, Overwatch has already attracted 20 million players. That puts it in the league with hits like League of Legends and Dota 2, which were developed by Riot Games (owned by Tencent) and Valve Corporation respectively.
Activision fully expects investors to profit from esports team franchises that will be created around the Overwatch league.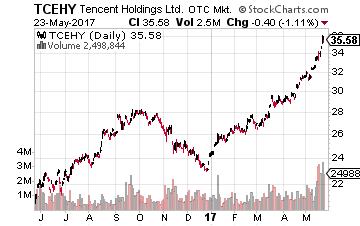 The Future
The future looks bright for Activision, Electronic Arts and Take Two.
The stocks are up 50%, 47% and 88% respectively over the past 52 weeks. This could be just the beginning if esports continues its growth trajectory.
If it does, it will remove much of the cyclicality from the industry. The need to immediately develop the next big video games hit will be lessened.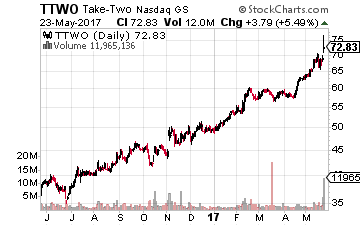 It looks to me as if esports is here to stay.
Just last month, the Olympic Council of Asia gave its approval for esports to be a medal event in the 2022 Asia Games.
Will esports gain Olympic status for the 2024 Olympic Games?
With the generational change happening as we speak, I would be surprised if it's not.
That makes any investors carrying a torch for the game making companies a wise move.
An "Olympic" investing trend like this will produce at least a couple of huge winners in your portfolio, and my research shows there are at least SIX other "megatrends" going on right now in the world  just like esports that can power huge profits in your portfolio.
These are sectors like advanced robotics, industrial internet of things, cyber security, virtual and augmented reality, and artificial intelligence. With many of these technologies still in their infancy and if you invest in the right stocks, triple, even quadruple-digit profits from these technologies is not far fetched.
I'm watching these sectors closely and devoting dozens of hours of research to finding the best stocks in these sectors, AND I want to share them with you.
For a limited time, I'm offering up a 30 day risk-free trial to my Growth Stock Advisor newsletter to anyone that comes on board today. Just click the link below to start your free trial. My June issue comes out next week and you will gain FREE access to my next "Olympic" recommendation.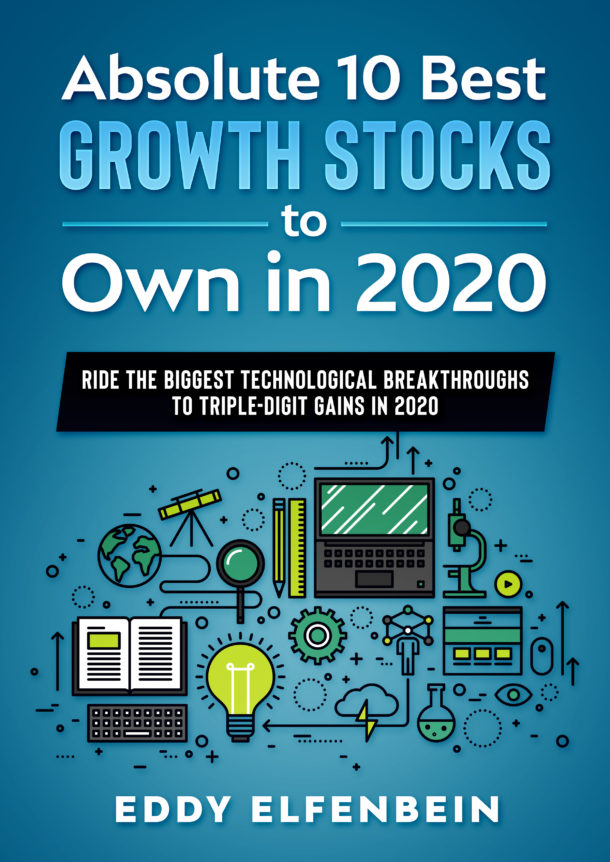 [NEW REPORT] Absolute 10 Best Growth Stocks to Own in 2020
Get the best 10 stocks to ride the 2020 tech explosion. 
One could be the most valuable stock of the next decade. 
Normally, I charge $20 for this report…
But, today...you can claim a copy absolutely free.
One stock alone has a chance at 167% profits in the next 12 months (or sooner). 
Enter your email below to claim a free copy while they last.