Many sectors have shot up as the DOW flirts with $20,000, but which stocks will have the legs to continue moving higher for the next four years? Consider the stocks in these three sectors that should benefit most from Trump's potential policies plus one sector that might have run up too far and should be sold. 
The Trump Rally Broadens
The famed economist John Maynard Keynes described it as "a spontaneous urge to action rather than inaction."
The "it" is often called "animal spirits" by the media and there is no doubt it has been unleashed on Wall Street.
The Trump election-induced rally has broadened with new record highs for the Dow Jones Industrials Average, S&P 500, Nasdaq Composite, Russell 2000 and Dow Jones Transportation Average. The DJTA hit its first high since 2014 and is up 25% this year.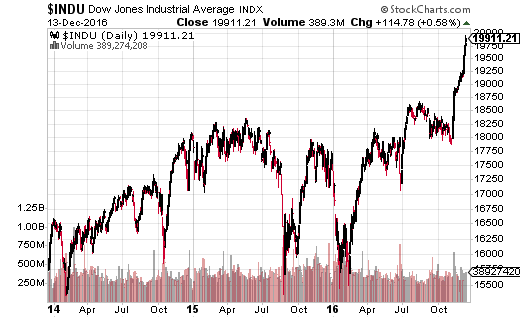 The market has been called the "stock market of our dreams" in a Wall Street Journal article. The market has been fed by a $2 trillion global rotation (Bloomberg estimate) out of bonds and into stocks.
Of course, the current period of euphoria will die down. Probably as soon as Congressional politicians become involved in trying to implement some of Trump's proposals.
The key to making money will then be to identify the sectors that will benefit the most from Trump's policies and those where traders have gotten ahead of themselves.
Trump Sector #1 – Infrastructure
The number one sector in my mind is infrastructure. Just think about it for a moment.
There has been one consistent trait of Trump throughout his life, he has built things. The major difference now is that instead of building hotels, resorts and golf courses, Trump will rebuild our nation's deteriorating infrastructure.
This is a smart move economically. According to BCA Research, public spending on infrastructure has one of the highest multiplier effects. This makes it much more effective at stimulating an economy than tax cuts.
Our country's infrastructure certainly needs the help after many decades of neglect. Last year, U.S. public capital spending (including infrastructure) was just 3.4% of GDP, the lowest in 60 years! Net of depreciation, capital spending's share of GDP was a mere 0.5%.
The results from the 2013 report card on our infrastructure from the American Society of Civil Engineers was an absolute embarrassment:
Energy – D+, Transit – D, Roads – D, Rail – C+, Ports – C, Inland Waterways – D-, Bridges – C+, Aviation – D, Wastewater – D, Levees – D-, Hazardous Waste – D, Dams – D, Drinking Water -D. Cumulative grade – D+.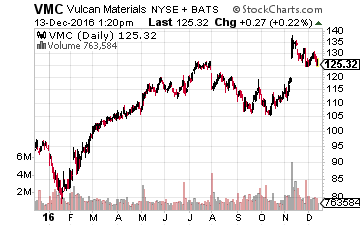 There are a number of ways to play infrastructure. These include aggregates suppliers such as Vulcan Materials (NYSE: VMC) and building materials suppliers like Eagle Materials (NYSE: EXP). Even a metals miner like Freeport McMoran (NYSE: FCX) can see big gains.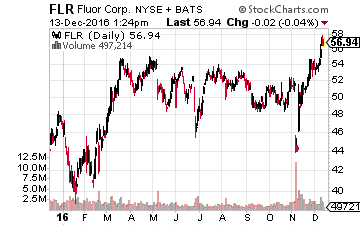 Also, there are a number of engineering firms like Flour (NYSE: FLR). In the small-cap space, there is an engineering firm called Argan (NYSE: AGX). It is heavily involved in the construction industry and specializes in the engineering and construction of natural gas power plants.
Trump Sector #2 – Defense
Another sector to receive to a boost from a President Trump will be defense.
In a September campaign speech, Trump was highly critical of both Hillary Clinton and President Obama for allowing defense spending to track to levels as a share of the U.S. economy not seen since the end of World War II.
He said, "We currently have the smallest Army since 1940. The Navy is among the smallest it has been since 1915. And the Air Force it has been since 1947."
SEE ALSO: Tim Plaehn's 'Top Dividend Stocks for 2017'
Not surprisingly, in the same speech, Trump called for 100 more modern fighter aircrafts and 42 more Navy ships.
But judging by his tweets, the beneficiaries may not be the big name defense stocks.
In my view, anything connected with the U.S. Navy will prosper under Trump. He and his hawkish Cabinet choices, such as Defense Secretary nominee, General James 'Mad Dog' Mattis, all strongly support expanding the Navy.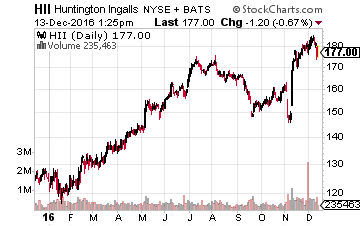 This will benefit no company more than Huntington Ingalls Industries (NYSE: HII), which pretty much has one customer, the U.S. government in the form of the Defense Department, the U.S. Navy and the U.S. Coast Guard.
The company is the sole builder of nuclear-powered aircraft carriers. HII also builds nuclear-powered submarines and is the largest supplier of U.S. Navy surface combat ships, such as guided missile destroyers. Huntington Ingalls is also a major supplier of amphibious ships, including the Navy's latest San Antonio class amphibious assault ships.
Expect lots of business to come their way, boosting an already solid order backlog of $22 billion as of the end of last year.
Trump Sector #3 – Transportation
If the economy does get a boost thanks to Trump's policies, another sector likely to benefit will be transportation. Airlines, rails and shipping companies rise when the economy is on the upswing since they move the goods and raw materials.
Since many of the transportation companies are U.S.-focused, they will get the biggest boost from the rollback of regulations and potential tax cuts.
In particular, I'm looking at stocks in the rail sector.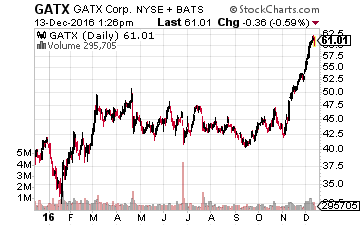 These include GATX (NYSE: GATX) and Westinghouse Airbrake Technologies (NYSE: WAB).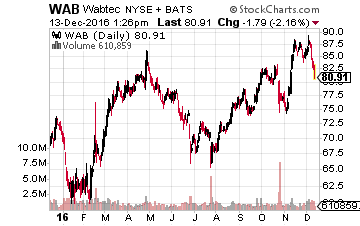 GATX is the global leader in the leasing of railcars. Wabtec is a leading provider of value-added, technology-based products for the global rail industry. It is the supplier of positive train control (PTC) safety systems.
Overvalued Sector
One sector investors may want to become cautious on is the financial sector, which has been the best-performing sector since the election. In effect, traders have already factored in that most regulations will be lifted from Wall Street banks.
Many regulations will be lifted, but it won't be the Wild West on Wall Street. Trump would lose his populist appeal real fast if that happened.
And consider this not impossible "black swan". Trump tweets that he wants the interest rate on the debt incurred in his administration for infrastructure, etc. to be as low as possible.
All of Wall Street will be caught offside and the consensus trade of shorting Treasury bonds will be blown out of the water.
Another warning on financials comes from insiders. The Wall Street Journal reports that companies in the financial sector are seeing records, based on data since 2003, for both the number of insiders selling stock and the dollar value of the shares sold in the fourth quarter.
This is a stark contrast to earlier this year when bank insiders were heavy buyers of their stock. So this is a caveat emptor to anyone chasing the rally in financial stocks.
Of course, these are just educated guesses. We'll all have to wait until Trump is inaugurated to see what policies he actually implements.
Even as we look forward to 2017 I'm looking at a stock right now that could give us a nice end of year pop then set up for big gains early in the new year. It has a key catalyst date of February 28, 2017. This event is expected to propel the stock by as much as 66% in short order, perhaps even more. In my new briefing I detail how this may be the best investment you make in 2016 and how you can expect windfall profits in 2017.