Stocks in general took a bearish turn for most of August, but they've experienced a mini-recovery over the past two weeks. The broad-market S&P 500 remains in a downtrend, though, as do industrial stocks like the blue-chip components of the Dow Jones Industrial Average. Tech, by contrast, has been resilient, and tech stocks look like they will hold up nicely for the next several months.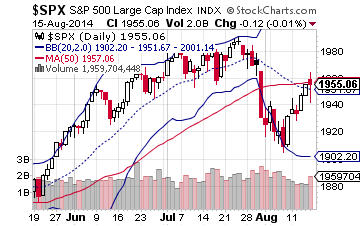 The S&P 500 opened higher on Friday but swooned before noon and closed down a paltry 0.12 points. This may seem insignificant, but the S&P is meeting firm resistance at its 50-day moving average (red line), which it briefly traded above in intraday trading but has failed to close above since July 28. Stocks went into a downtrend at the end of last month, and while they've been rebounding for most of the past two weeks, the recovery is clearly under pressure.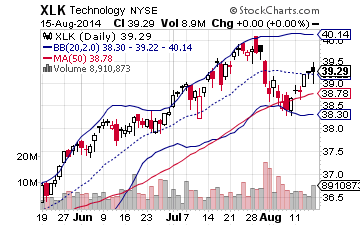 But not all sectors of the S&P 500 are behaving similarly. Financials, industrials, utilities, and most other sectors are under considerably more pressure than the broad market, leaving a few sectors to significantly outperform. The best sector, moving forward, appears to be tech: The "XLK" S&P 500 tech sector ETF not only closed above its 50-day moving average (red line), it also pierced its Bollinger band midpoint (dotted blue line) on Thursday, and then confirmed that move with a higher close on Friday.
It's also worth noting that the Nasdaq, where many of XLK's components trade, closed higher on Friday, while the S&P 500 and the Dow Jones Industrial Average both posted losses.
Clearly, tech looks like a smart sector to mine for stocks, but which stocks? Let's look at three spaces within the sector – Internet, telecom, and semiconductors – and identify the best intermediate-term play in each:
Download this Internet Stock to Your Portfolio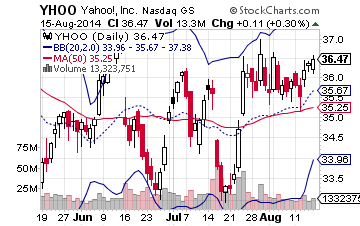 Shares of Yahoo! (Nasdaq: YHOO) have lost 10% in 2014, compared to 5.7% gains by the S&P 500. CEO Marissa Mayer, a Google vet once hailed as Yahoo!'s savior, just hasn't been able to get it done, and shareholders have had to pay the price. But now, the price has been paid, and Yahoo! looks like a good buy.
At its lowest points in July, the stock found support at around $30 in multiple instances, and it seems highly unlikely Yahoo! could fall below that level anytime soon. Now the stock has a firm base off which to build, and as you can see in the chart below, Yahoo! has gone against the grain all August: While other stocks faltered over this period, Yahoo! made a strong move to the upside, piercing its Bollinger midpoint (dotted blue line) and 50-day moving average (red line) in one fell swoop, and it shares have performed admirably since.
Institutional investors have been adding to their stakes in Yahoo!, and the "smart money" is normally instructive. Shares of Yahoo! closed at $36.47 on Friday – I'd be a buyer in the $36-37 range, with a year-end price target of $39.50. Yahoo!'s 52-week high came on January 8, at $41.72.
Run Like the Wind to Buy This Telecom Stock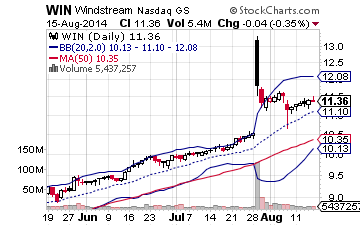 Yahoo! is a household-name stock with a nearly $40 billion market cap. Windstream Holdings (Nasdaq: WIN), by contrast, has a market value of just $6.85 billion, and it's far from a household name – unless you live in the Southeast or southern Midwest, where Windstream serves the majority of its 600,000 business and 1.6 million residential customers with phone and Internet services. A string of acquisitions has brought Windstream to 48 of the U.S.'s 50 states, which means that Windstream may indeed be a household name to rival Yahoo!, and investors have given their thumbs-up to Windstream's acquisitive strategy, as evidenced by the chart below:
The first thing you're likely to notice in the chart above is the huge breakout Windstream experienced in heavy volume on July 28, when the company announced its plan to spin off some of its telecommunications network assets into an independent, publicly traded REIT (real estate investment trust). While the stock has given back some of those gains, it has remained in a consistent uptrend, atop its ascending Bollinger band midpoint (dotted blue line), riding that support-level higher. I would buy this stock at a price between $11 and $11.50, and shoot for a $12.50 price target.
Consider Short-Term Calls on this Microchip-Maker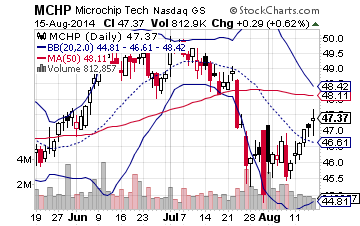 Finally, we'll look at the semiconductor space, where the most attractive stock is the blandly named Microchip Technology (Nasdaq: MCHP). Its shares suffered substantial losses all throughout July, falling from $49.77 on July 1 to a low of $47 on July 31 – a 5.6% swoon for the month. But since then, it has staged a recovery and recently broke through its Bollinger midpoint (dotted blue line) without so much as a pause.
Microchip Technology has excellent recent earnings, with earnings per share (EPS) growing by 19% last quarter and at an average of 30% for the past three quarters. The firm beat earnings expectations the last time it reported, and management guided future expectations higher. I like this stock at between $47 and $47.50, with a modest $50 price target for gains in the 5-6% range. Its $48-strike September calls, which closed Friday with an ask price of $1.10, could provide a leveraged play allowing double-digit profits on a much smaller move.
Our in-house small cap expert Bret Jensen recently uncovered three tech stock sleepers poised to take off because of positive shareholder activism. Click here for more.