One of the primary, if not the top, benefit of dividend-focused investing is to own shares that regularly increase their dividend payments. That is because dividend increases lead to share price appreciation and increase investors' total returns. Buy these three REITs now to profit from the coming dividend boosts.
One of the primary, if not the top benefit of dividend-focused investing is to own shares that regularly increase their dividend payments. Each month I have been providing a preview of the real estate investment trust –REIT– companies in my database that have a high probability of announcing a new, higher dividend rate next month.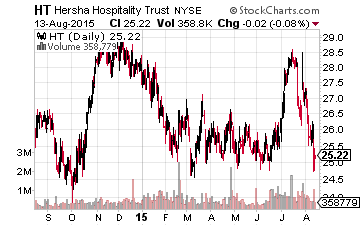 For September, there is just one REIT that has historically announced its annual dividend increase. Last September, Hersha Hospitality Trust (NYSE:HT) announced its first quarterly dividend increase after 13 consecutive quarters at the same rate. Since Hersha Hospitality has not followed the traditional once a year dividend increase schedule, let's look at the potential for an increase announcement in September.
The hotel sector has been on a hot profit growth streak for the last several years, economic growth has been sufficient enough to increase occupancy and room rates. However, the good hotel business economics has not led to the construction of new hotels that would flood the market with additional rooms. It's a good time to be in the hotel business. Comparing the first half of last year to this year, in the first six months of 2014, Hersha reported funds from operations of $0.89 per share (reverse split adjusted) and at this time last year was forecasting full year 2014 per share FFO of $1.84 to $1.92. In September 2014, the dividend rate was increased by 16.7% to an annual rate of $0.96 ($0.24 quarterly). For the first half of 2015, Hersha produced per share FFO of $1.02 and provided full year guidance of $2.28 to $2.36 in FFO per share.
Using a 60% payout ratio to match the higher dividend declared last year to the 2014 full year guidance at the time of the dividend announcement, the next dividend increase for Hersha Hospitality would be up to $1.40 annual or $0.35 per quarter. That rate if announced, would be a 25% increase compared to the current dividend rate. A projected 60% payout ratio gives the company plenty of room if it wants to announce and even higher new dividend. The HT share price is down 10% from its mid-July peak on a recent downgrade by a Wall Street analyst. It appears that the market is not pricing in the projected dividend increase. At the current $25.30 share price, HT carries a forward yield of 5.5% if my dividend increase projection is in the ballpark.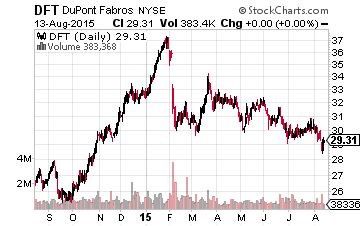 The big question concerning the Hersha Hospitality dividend is whether the company will stick to a new, every four quarters growth plan or wait until later in the year to announce a higher dividend rate for 2016.
As a bonus, here are a couple more REITs that randomly increase dividend rates and have not done so for several quarters:
DuPont Fabros Technology, Inc.(NYSE:DFT) has been increasing its dividend every three quarters, and has paid the same rate for the last four. The next dividend will be a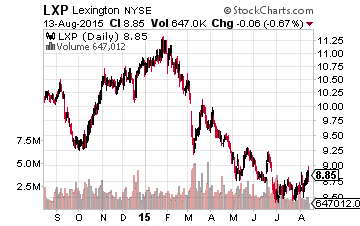 nnounced on about September 20. DFT yields 5.7%.
Lexington Realty Trust (NYSE:LXP) is overdue for a dividend increase. The current rate has been paid for five quarters. LXP dividend increases are random, but 2015 first half FFO per share was up 15% compared to a year ago. LXP yields 7.6%.
High yield / high dividend growth investments that regularly boost their dividends are an integral part of the income strategy with my newsletter, The Dividend Hunter. And there are currently several in my Monthly Paycheck Dividend Calendar, an income system used by thousands of dividend investors enjoying a steady stream of cash.
The Monthly Dividend Paycheck Calendar is set up to make sure you're a minimum of 5 and in some months 8, 9, even 12 paychecks per month from stable, reliable stocks with high yields.
And it ensures that your dividend stock income stream will be more stable and predictable as you're getting payments every month, not just once a quarter like some investors do.
The Calendar tells you when you need to own the stock, when to expect your next payout, and how much you could make from stable, low risk stocks paying upwards of 8%, 9%, even 11% in the case of one of them. I've done all the research and hard work; you just have to pick the stocks and how much you want to get paid.
The next critical date is Thursday, August 27th (it's closer than you think!), so you'll want to take before that date to make sure you don't miss out. This time we're gearing up for an extra $1,539.50 in payouts by September, but only if you're on the list before the 27th. Click here to find out more about this unique, easy way of collecting monthly dividends.