If you live anywhere in the Midwest, you  are probably experiencing gasoline sticker shock. While the price of crude keeps dropping, drivers in middle America are not getting any benefit from lower gas prices due to lower crude oil prices. The problem stems from an outage at BP's (NYSE:BP) large refinery just east of Chicago.
The Whiting, Indiana refinery can process over 400,000 barrels of crude per day, making it the seventh largest fuel producer in the states. Leaks have developed in the facility's largest crude distillation unit, and the refinery is running at less than half its normal capacity. The immediate effect has been a 30 to 50 cent increase in gas prices around Chicago and spreading west and south from there. The Tulsa World newspaper noted that drivers in Tulsa were paying 20 cents more for gas due to the refining issues to the north.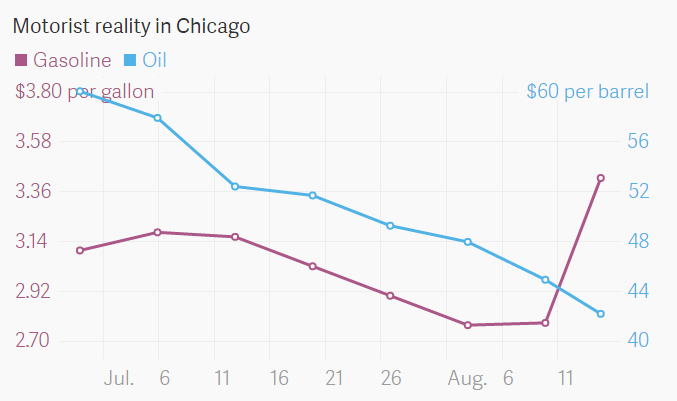 A second effect of the Whiting outage has been a deep price reduction for heavy Canadian crude, the primary crude source for the BP refinery. I have seen reports of Canadian crude trading for around $25 per barrel, well below the current $42 per barrel on the benchmark West Texas Intermediate. The result is if you can refine fuel with cheaper crude to sell into the high Midwest fuel price market, a refiner will need some extra trucks just to haul away the profits. Here are some refining stocks that are well positioned to take advantage of the situation.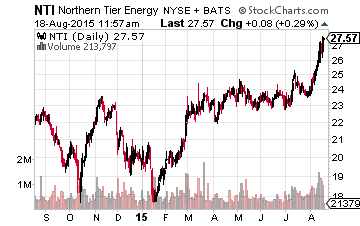 Northern Tier Energy LP (NYSE:NTI) is a master limited partnership that owns an 89,000 barrel per day refinery near Minneapolis, MN. Northern Tier markets its fuels primarily through the 165 SuperAmerica convenience stores it owns and another 90 franchised outlets. The refinery is already having a very good year. The company runs a mix of Canadian and Bakken source crude, with significant flexibility to focus on the lowest price sources of crude oil. The MLP uses a variable distribution payout model, so the quarterly payments to investors move up and down with the profits each quarter. For the second quarter, NTI declared a $1.19 per unit distribution, which gives a current 15% yield. If the current crude and fuel prices hold for the rest of the third quarter, the distribution should be in a $1.50 to $2.00 range for the next payment in October. This chart shows the effect on gasoline over the last month in Minneapolis.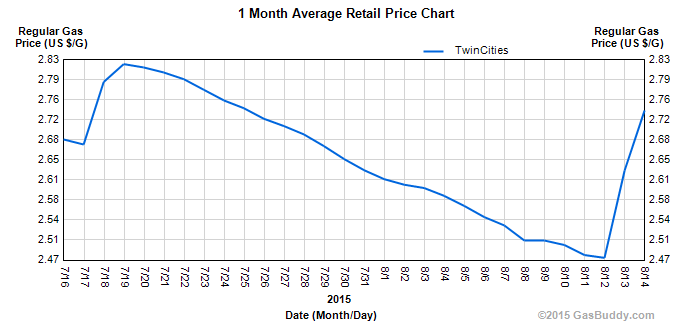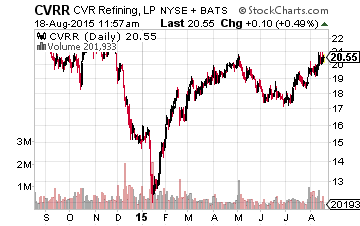 CVR Refining LP (NYSE:CVRR) is another variable pay MLP that owns two refineries located in Kansas and Oklahoma. The high gas prices have spread to that region, and should allow CVRR to continue its upward distribution payments trajectory. The last three quarterly payouts have been $0.37, $0.76, and $0.98 per unit, consecutively. The units yield 19% based on the second quarter $0.98 distribution. For the third quarter, CVRR may also push the $1.50 mark for its next payout to investors.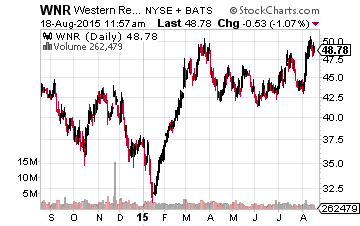 If you don't want to own MLPs, take a look at Western Refining Inc. (NYSE:WNR). Western owns and operates two refineries in El Paso, TX and near Gallup, NM. More importantly, WNR holds 38% of Northern Tier Energy. The stock currently yields 2.8%. Western Refining has a history of making large, year-end special dividend payments –usually in November. A new position in WNR would be a bet on a very large extra dividend before 2015 runs out.
High yield / high dividend growth investments that regularly boost their dividends are an integral part of the income strategy with my newsletter, The Dividend Hunter. And there are currently several in my Monthly Paycheck Dividend Calendar, an income system used by thousands of dividend investors enjoying a steady stream of cash.
The Monthly Dividend Paycheck Calendar is set up to make sure you're a minimum of 5 and in some months 8, 9, even 12 paychecks per month from stable, reliable stocks with high yields.
And it ensures that your dividend stock income stream will be more stable and predictable as you're getting payments every month, not just once a quarter like some investors do.
The Calendar tells you when you need to own the stock, when to expect your next payout, and how much you could make from stable, low risk stocks paying upwards of 8%, 9%, even 11% in the case of one of them. I've done all the research and hard work; you just have to pick the stocks and how much you want to get paid.
The next critical date is Thursday, August 27th (it's closer than you think!), so you'll want to take before that date to make sure you don't miss out. This time we're gearing up for an extra $1,539.50 in payouts by September, but only if you're on the list before the 27th. Click here to find out more about this unique, easy way of collecting monthly dividends.
Position: Long NTI