These three stocks reported positive earnings that surprised the market, and their stock prices reacted by moving up double-digits. However, these earnings mask a broader negative picture; use the pops in price to sell for a profit before their valuations come crashing back down.
Now, there are a few things to like. Namely, that many of the big banks are posting strong results. JPMorgan Chase (NYSE: JPM) got a nice boost thanks to credit card usage, and other banks topping estimates were Bank of America (NYSE: BAC) and Morgan Stanley (NYSE: MS).
Banks have been trying to get ahead of the curve by cutting costs, but they still have to deal with the perpetual low interest rate environment we find ourselves in. All in all, they managed to beat expectations, but profits still fell on a year-over-year basis.
Nearly three-quarters of the companies posting earnings thus far have managed to beat Wall Street expectations, but are the results good enough to justify all-time high stock prices? Sure earnings have been better than expected, but despite the beats, things haven't been all that rosy. The tailwinds of weak crude oil prices, a strong U.S. dollar, and stock buybacks won't last forever.
Thomson Reuters says that collective earnings for the S&P 500 will fall by 5% this quarter. This would be the fourth straight quarterly decline and follow the 5% drop in the first quarter. So certain stocks that got a major boost from earnings may be short-lived, as we continue in the weak growth environment.
Summer earnings can have a tendency to lead to irrational exuberance. During the summer earnings season last year we highlighted five stocks to avoid. Fossil (NASDAQ: FOSL) was a name on that list, where shares have fallen 65% since then. Two other names that have taken it on the chin since include TripAdvisor (NASDAQ: TRIP) and Cyberark Software (NASDAQ: CYBR) — both down 15%.
And so we're back at it again, looking for stocks where earnings are masking the true picture. The recent dichotomy is that investors are flocking toward any stock that shows signs of life, especially with bonds yielding next to nothing. However, this won't last forever. When reality catches up, some of the stocks that have gotten ahead of themselves will quickly come crashing down. Along those lines, we've found three stocks that got huge boosts from positive earnings; however, their run has been built on irrational exuberance. Here are the three stocks to sell this earnings season:
Stock No. 1 To Sell This Earnings Season: Sprint Corp. (NYSE: S)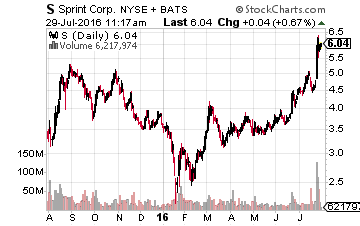 Shares of Sprint are up 35% in just the last week after a "positive" earnings report. The excitement surrounding Sprint is related to better than expected customer additions. The wireless company is looking to raise prices, however.
The problem is, the ultra-low prices are the very thing that helped attract so many customers in the first place. Sprint's network has been lackluster for a decade and that type of customer perception doesn't change overnight.
Meanwhile, its major competitors Verizon Wireless (NYSE: VZ) and AT&T (NYSE: T) have been expanding nicely, taking advantage of Sprint's misfortune. The two have far greater spectrum resources and reach than Sprint.
Sprint shares have soared 75% in 2016, but it still isn't making any money and doesn't pay a dividend. The crash back to reality will be hard and fast for Sprint, likely taking place later this year.
Stock No. 2 To Sell This Earnings Season: Advanced Micro Devices (NASDAQ: AMD)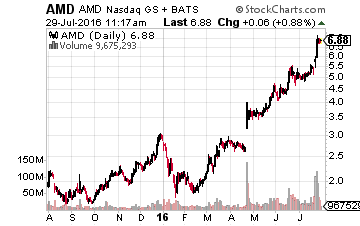 AMD shares have skyrocketed 30% in the last week. AMD is a chipmaker that got a big boost on the promise that custom chips are making a comeback. AMD managed to post a profit this quarter — the first time in nearly two years. The chip making business doesn't have a moat and competition is driven by price. So just as things look to be turning around, it could easily trigger a race to the bottom, compressing margins again. Plus, AMD's biggest revenue boost last quarter was from semi-custom chips, which is a lower margin business, to begin with.
AMD, with a $6 billion market cap, is still competing with the giant, Intel (NASDAQ: INTC), the $165 billion market cap giant in the processor industry. AMD just can't compete with Intel in terms of marketing, research and development spending.
Stock No. 3 To Sell This Earnings Season: eBay (NASDAQ: EBAY)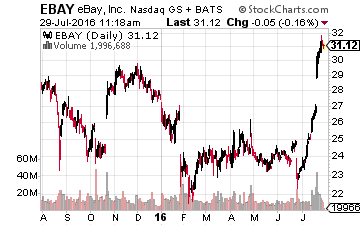 eBay's stock is up nearly 20% in just the last week. That's no small move for a $35 billion market cap company. Since it spun off PayPal (NASDAQ: PYPL), eBay is now just a marketplace. But that marketplace has investors excited, where the total marketplace listings eclipsed the one billion dollar mark last quarter.
But, there are major headwinds coming down the pipeline. Most notably, after successfully putting the hurt on retailers like Wal-Mart (NYSE: WMT), Amazon (NASDAQ: AMZN) now has its sights set on the e-commerce market.
Amazon is making a greater push towards attracting small and individual sellers to its platform. Much of Wall Street hasn't caught onto the flood of small sellers that are being attracted to Amazon's platform thanks to enhanced fulfillment options and scalability.
In the end, the entire market might be a melting ice cube, but the three stocks above appear to be melting faster than others. They have a lifeline with their recent earnings, but headwinds are brewing, both company-specific and broader market wise. Use caution and avoid the above three stocks this earnings season.
While the three stocks above might have a small window of opportunity to sell before their stocks eventually sell-off, high-yield dividend stocks are having a historic year in 2016. The market's appetite for yield has increased the demand for high-yield stocks that can provide a large income to their shareholders.
All high-yield income stocks are not created equal, however. Out of the hundreds of stocks to choose from, only a small percentage have strong enough cash flow to keep up their dividend payments and even raise them every year.
My colleague Tim Plaehn makes does hours of research every day to hunt down and recommend the most stable companies that regularly increase their dividends, and this is the strategy that he has seen to produce superior results most often, no matter if the market moves up or down in the shorter term. The combination of a high yield and regular dividend growth is what has given him the most consistent gains out of any strategy that he has tried over his decades-long investing career.
And, there are currently over 20 of these stocks to choose from in my Monthly Paycheck Dividend Calendar, an income system used by thousands of dividend investors enjoying a steady stream of cash.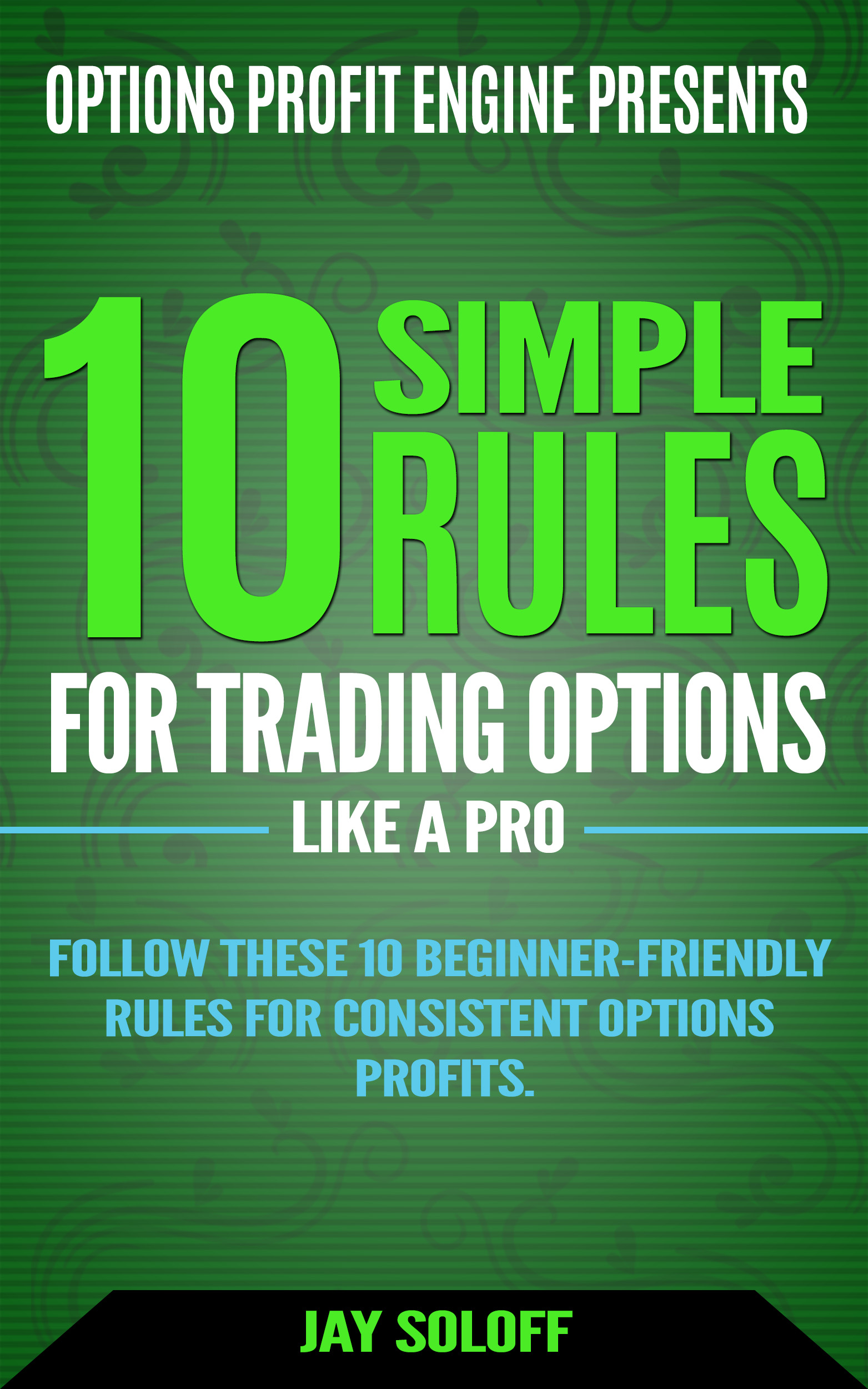 [FREE DOWNLOAD] 10 Simple Rules for Trading Options Like a Pro
Follow these 10 simple rules from 20-year professional options trading veteran, Jay Soloff and start earning a reliable extra income from options.
NO prior experience needed to master these 10 simple options trading rules. 
Enter your email below and receive access to this FREE guide...