While the majority of the market is running head first into the financial sector to profit from higher rates, savvy investors can find better deals with higher return potentials in the three stocks shared in today's article from Tony Daltorio. The editor of Investors Alley's Growth Stock Advisor sees these three stocks as being better investments for rising interest rates. 
Traders are calling it the 'Sintra pact'.
Many of the world's central bankers gathered in the Portuguese resort of Sintra last week. The result was a seemingly universal turn toward hawkishness by the world's central bankers.
The talk is of ending monetary policy accommodation through ending purchases of bonds and even raising rates. All of this even though inflation is hard to find (except in asset prices) and economies globally are just now beginning to show the first signs of growth after years of stagnation.
In my opinion, the markets – as usual – are way ahead of themselves.
If one reads the statements from the ECB and the Bank of Japan and others, this change in monetary policy will be very slooow. . .and will occur over many years.
Yet markets have reacted as if these changes will happen immediately.
Higher Rate Environment
This change in market sentiment is behind the sudden shift from technology stocks to financial stocks.
Let's assume for a moment that the market is right and central banks policy changes will occur quickly.
I still would not join the rush into U.S. bank shares as most of Wall Street is doing at the moment. The contrarian in me avoids crowded trades as if they were the plague.
Instead of banks, I would much rather own the often overlooked financial sector of insurance stocks.
In my view, it is the only financial sector that will both benefit from any creep higher in interest rates and is cheap on a valuation basis.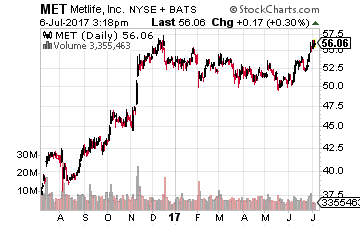 Insurance Sector Benefits From Higher Rates
The insurance sector is a winner if interest rates rise. Here's why. . . . .
Insurance firms' top line is made up of two parts – premiums paid by customers and net investment income generated by the float (premiums collected that will pay for future benefits) invested by insurance companies.
Any increase in interest rates will allow insurance companies to invest the premiums received into higher yielding instruments. The higher rates go, the greater the boost for long-suffering insurance companies around the world.
The last decade of ultra-low interest rates put a major dent into insurers' profitability, to say the least. Just think about those poor insurance companies in Japan and Europe that have had to deal with negative interest rates.
One example of how higher interest rates will help came from MetLife (NYSE: MET). In December, it announced that its operating earnings would improve $300 million over the next three years thanks to rising rates.
Three Insurance Stocks to Consider
With all of this in mind, here are three insurance stocks to consider.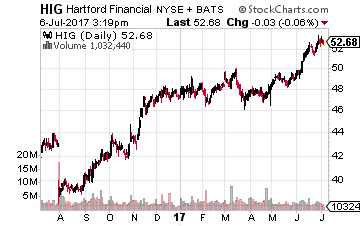 The first company is Hartford Financial Services Group (NYSE: HIG), whose stock is up nearly 11% year-to-date and almost 20% over the past 52 weeks. It yields about 1.75%.
It is a broadly-based company with segments including commercial insurance (workers comp, property, etc.), personal insurance (auto, home, etc.), group benefits (group life, accident and disability coverages), property & casualty insurance as well as mutual funds.
I like the fact that it recently entered into a pension risk transfer deal with Prudential Financial  (NYSE: PRU) that moved 29% – $1.6 billion – of its U.S. qualified pension plan liabilities to Pru.
While there will be short-term charges, it lifts the burden of too much long-term pension obligations.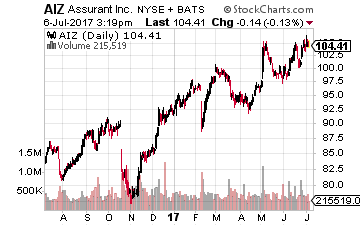 The second choice is Assurant (NYSE: AIZ), which is up 13.25% year-to-date and 19.55% over the past year. It yields roughly 2%.
Assurant is also broadly-based, with offerings in homeowners and renters insurance, mortgage solution services, mobile device protection products and services, vehicle protection services, funeral insurance and credit insurance.
A recent Barron's article said the stock could double thanks to its increased focus on fee-based businesses rather than underwriting. Its capital-light, fee-based business now accounts for 52% of its revenues.
I don't know about doubling, but the stock should do well as it increases its fee-based businesses.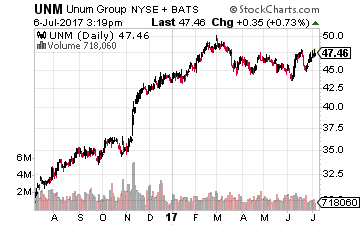 The final choice is Unum (NYSE: UNM), whose stock is up 7.25% year-to-date and up almost 55% over the last 52 weeks. The current yield is 1.69%.
The company's product line includes disability, life, accident, critical illness, dental and vision, and other insurance products. Its main subsidiaries are: Unum US, Unum UK, and Colonial Life.
Unum is the industry's leading disability insurance writer and the second-biggest writer of voluntary business in the U.S.
The company forecast 2017 operating new income per share to rise between 3% and 6%. This likely led to, in May, management raising the quarterly dividend by 15%. This will be the ninth consecutive year of a dividend hike for Unum shareholders.
The pace of interest rate rises is open to debate. But I believe these insurance stocks will continue to do well, no matter the interest rate environment.
I'm giving out 30 day free trials to the Growth Stock Advisor newsletter, and you can get yours by clicking here.
Our July issue just came out, and you will gain immediate access to my newest recommendation on a great long-term growth opportunity that will help you put your savings in a safe place that will gain value over time.
Click here to start your 30 day free trial of Growth Stock Advisor.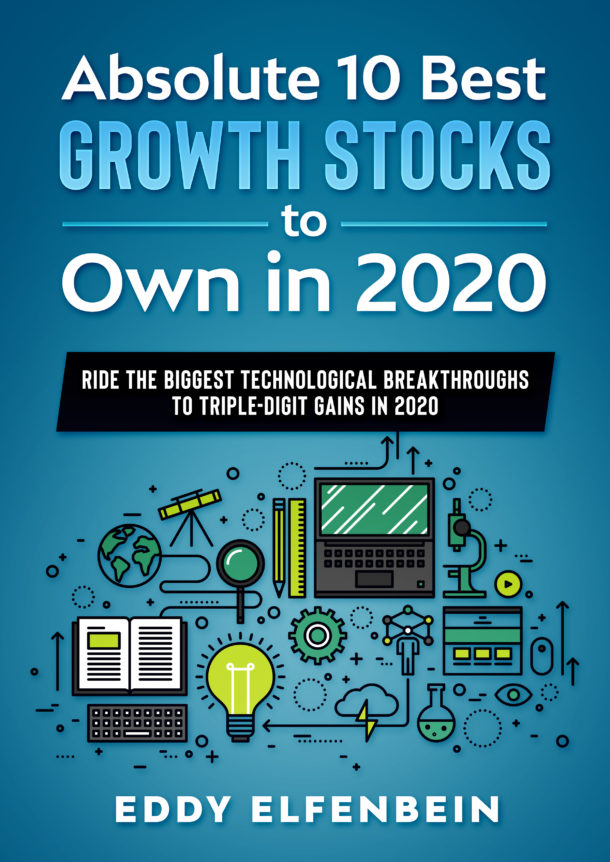 [NEW REPORT] Absolute 10 Best Growth Stocks to Own in 2020
Get the best 10 stocks to ride the 2020 tech explosion. 
One could be the most valuable stock of the next decade. 
Normally, I charge $20 for this report…
But, today...you can claim a copy absolutely free.
One stock alone has a chance at 167% profits in the next 12 months (or sooner). 
Enter your email below to claim a free copy while they last.