Natural and organic foods have officially moved out of "fad" territory to become a dominant trend. Last week's acquisition of organic packaged-foods company Annie's by traditional industry player General Mills indicates the likelihood of more health-food takeover plays by traditional packaged-foods companies in the coming months. However, with natural and organic food stocks at rich valuations, you may need to wait for the companies to pull back a bit before entering a position.
General Mills paid a 37% premium to acquire the organic packaged-foods company Annie's, Inc. (NYSE: BNNY) last week, in what has been described as a "surrender" on the part of the traditional packaged-foods industry to the "natural-foods revolution." This has led investors to speculate on other potential acquisition targets in the organic and natural foods space, but with the broad market near record highs and Annie's deal driving up the prices of its peers on takeover speculation, investors would be wise to wait for these stocks to come down a bit in price before pulling the trigger.
Big Growth for this Organics Star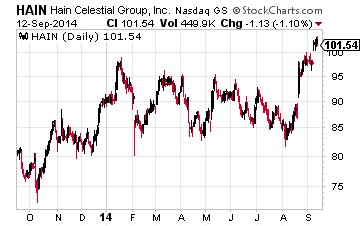 Hain Celestial Group (Nasdaq: HAIN) manufactures and distributes natural and organic food and personal-care products. For the fiscal year ending June 30, 2014, Hain Celestial reported net income of $140 billion on sales of $2.15 billion. Since then, the firm has continued to grow in terms of both earnings and sales, with earnings per share (EPS) growing by 38% and sales growing by 26% last quarter. However, Hain Celestial's share price has also grown considerably, and the stock may be too richly valued to be taken over.
Shares of Hain Celestial are up more than 22% since August 5, and the stock's valuation metrics look stretched. Hain's price-to-earnings (P/E) ratio of 36.2 is 44% higher than the industry average of 25.1, and Hain's 27.8 price-to-cash flow multiple is almost 60% higher than the industry average. But with the shares taking a 1.1% dive on Friday, Hain Celestial may be giving back some of the gains that came on the heels of the Annie's takeover.
At the pre-takeover price of $98 or below, Hain Celestial's lineup of brands – which include Arrowhead Mills, Casbah, Earth's Best, and Greek Gods Yogurt, among others – could be attractive to a traditional food-industry player like Kellogg (NYSE: K). And if there is no takeover, Hain Celestial is a fine stock to hold for the long term, so long as you don't have to pay a triple-digit price tag.
Will This Natural Foods Company Ride the Takeover Wave?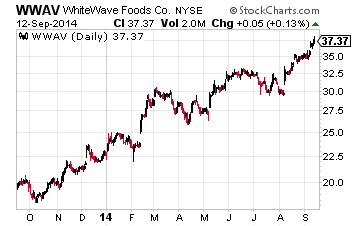 Whitewave Foods (NYSE: WWAV) makes and markets planted-based foods and beverages, including coffee creamers and premium dairy products. Its most popular plant-based brand is Silk soy milk, but Whitewave also produces Land O Lakes half-and-half and International Delight iced-coffee drinks. In 2013, the firm reported net income of $99 million on sales of $2.54 billion, and just like Hain Celestial, Whitewave has continued to post strong earnings- and sales-growth numbers in 2014: EPS were up 38% last quarter, while sales were up 32%; and estimates for the current quarter have been revised higher, too.
Of course, investors have already taken notice, and as a result, Whitewave's share price is up more than 65% in 2014. These gains have given the stock a set of rich multiples that will make it difficult for a larger producer to acquire the firm, as its P/E is 59.5 and its price-to-cash flow ratio is 26.7 – both roughly double the industry averages. Still, Whitewave is perhaps the top operator in the space with the best brand names, and it would be a boon to a firm like Pinnacle Foods (NYSE: PF). I like shares of Whitewave at $30 or less.
To Catch a Falling Boulder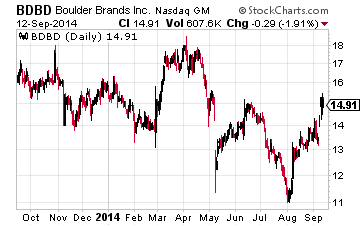 Unlike Hain Celestial and Whitewave Foods, Boulder Brands (NYSE: BDBD) is an organic and natural foods play without stellar growth. In fact, last quarter's EPS fell by 17%, and that's why the stock may be the most likely takeover candidate of them all.
Although Boulder's earnings multiple is swollen by its shrunken denominator, the firm has assets and a price-to-book ratio that's 61% lower than the industry average, as well as a host of recognizable brands: Earth Balance, Evol, Glutino, Smart Balance, and Udi's Gluten Free, which is the #1 gluten-free brand in the U.S. In fact, Boulder Brands is the purest play on the gluten-free trend, and with Boulder's share price falling like a rock for most of 2014, I think it's a solid buy near its current share price at $14.
Except for HAIN and WWAV, the one thing in common to all these organic food companies is they are small caps. Although the organic foods movement has been with us for some years now, the companies in this space are still breaking out to the mainstream market. There are many more opportunities still in front of us. My colleague and small cap stock expert Bret Jensen is building a portfolio of highly profitable small caps just like these. CLICK HERE to find out about one of his more exciting recent portfolio additions.
Jason D. Seagraves is a stock market analyst and model portfolio manager from Saginaw, Michigan. You can read his blog at RadicalWealthCreation.com.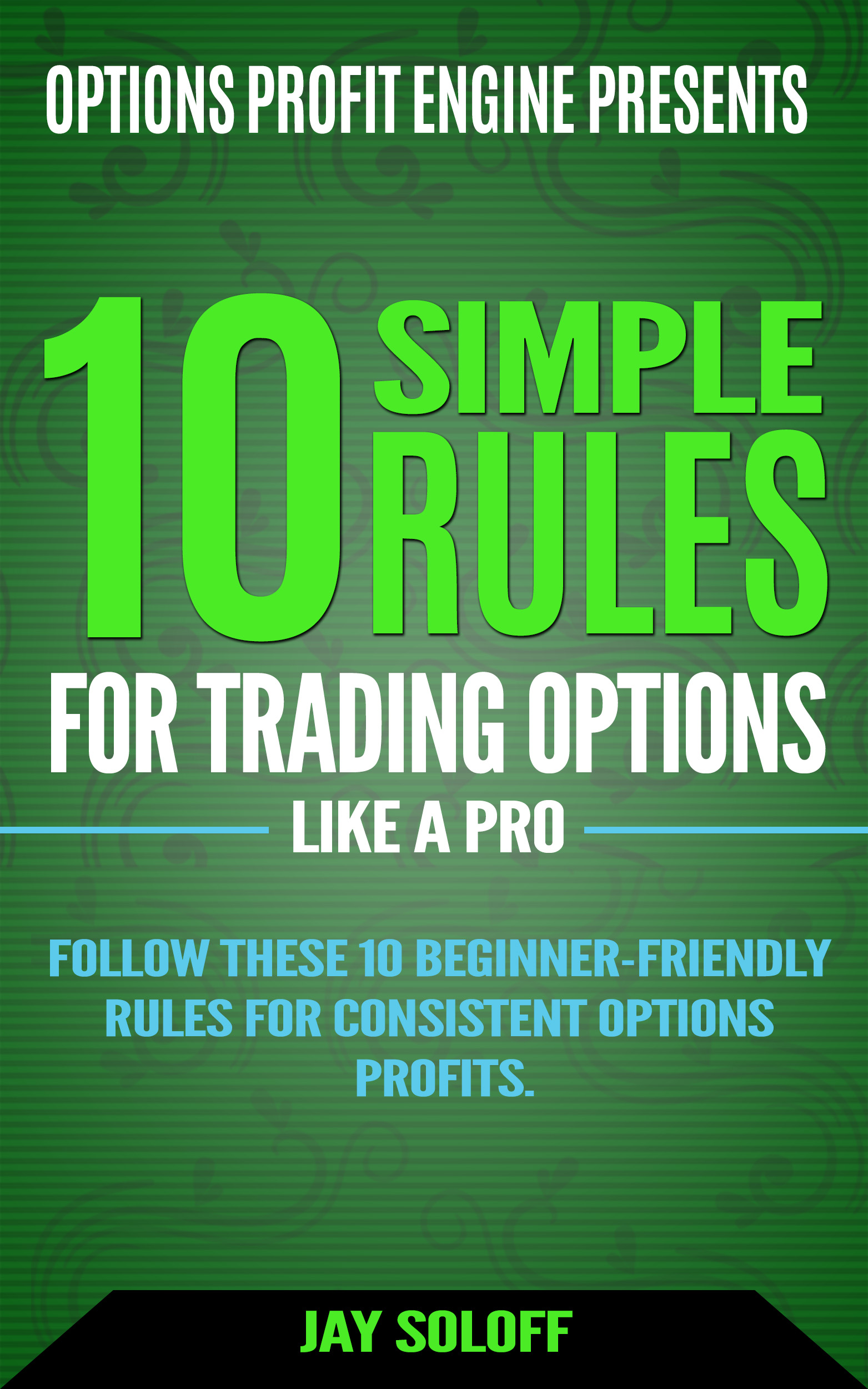 [FREE DOWNLOAD] 10 Simple Rules for Trading Options Like a Pro
Follow these 10 simple rules from 20-year professional options trading veteran, Jay Soloff and start earning a reliable extra income from options.
NO prior experience needed to master these 10 simple options trading rules. 
Enter your email below and receive access to this FREE guide...