There is a dirty secret about oil and gas drilling company stocks that is not generally shared with the investing public. Energy companies involved in exploration and production (E&P) must continue to drill new wells to find more oil and/or natural gas just to keep production at the current level. A new oil well produces at its highest rate soon after the drilling has produced a successful well. From that point the per well production declines, sometimes quite rapidly, with production rates falling by 15% up to 70% per year. To counter this natural decline, E&P energy companies must drill enough to replace declining production and also spend enough capital on additional exploration and drilling to grow the production rate.
As a result, the E&P – also called energy upstream – companies organized as corporations tend to spend and reinvest all of their net profits into more exploration and drilling. These companies must continuously spend an ever increasing amount of capital to show revenue and earnings growth. However, that growth will be sucked up to feed the growth monster that cannot be allowed to stop. Outside of the large, integrated energy companies like ExxonMobil, BP or Chevron, there is little chance the smaller, E&P focused energy stocks will ever pay dividends, even if some of them do present great opportunities for capital appreciation. My colleague Bret Jensen mentions a few in his recent article.
The upstream energy companies organized as master limited partnerships (MLPs) take a different approach to capital spending and payback to investors. These companies buy producing oil fields (typically from the E&P corporations that need more capital to pay for more drilling) with the goal of providing enough cash flow to both invest in the fields to slow the rate of production decline and pay an attractive distribution to investors. However, the upstream MLPs are on the same treadmill as the corporate E&P companies: Capital must be spent on new production – either by acquiring producing wells or by drilling – to maintain the cash flow necessary to grow production for the corporate E&Ps, or sustain the distribution rate for partnerships. Investors who buy upstream MLP units (the loose equivalent to corporate shares) must be aware that these companies must acquire assets or die, there is no standing still.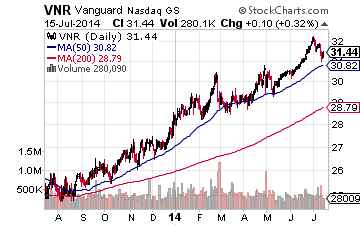 The good news is that the current U.S. energy production boom provides lots of opportunities for upstream MLPs to invest in production assets and maintain or grow distributions. Several of these companies have switched to monthly distribution payments, providing attractive cash flow streams to investors. The upstream MLPs below follow very similar investment and business practices. Dividing an investment between two or more would provide some diversification against management miscalculations.
Vanguard Natural Resources, LLC (Nasdaq: VNR) has a market cap of $2.5 billion. The current $0.21 per unit monthly distribution rate puts to current yield at 8.05%. The distribution was last increased by 0.25 cents for the March 2014 payment.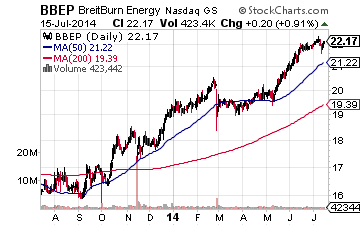 BreitBurn Energy Partners LP (Nasdaq: BBEP) has a market cap of $2.6 billion. The company switched from quarterly to monthly distributions in January 2014. The distribution rate was increased in April and BBEP currently yields 9.15%.
$1.1 billion market cap QR Energy LP (NYSE: QRE) also switched to monthly distributions in January of this year. The annualized distribution rate has not been increased since the second quarter of 2012. QRE currently yields 10.56%.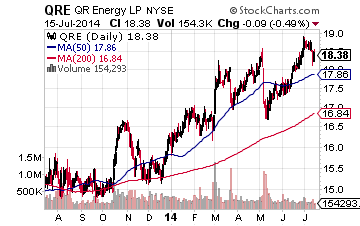 These companies use energy hedges to protect the cash flow and distributions. Higher crude or natural gas prices would help the bottom lines. The major sustaining factor is the growth of energy production across the U.S.
I used Ponzi scheme in my title very loosely. Clearly these companies are legitimate and have sustainable cash flow to pay their monthly dividends. But if you're looking for a unique way to play dividend stocks for market-beating returns without relying solely on their dividend payments or risky hedging strategies I invite you to check out my new 30 Day Dividend service. We've just booked our first winner and have more to lock in during the next few weeks. Click here.