Companies that pay monthly dividends can sometimes be masking sub-par performance, but all companies are not created equally. These three REITs pay monthly dividends on top of having good dividend growth track records, and are all strong candidates to add to any income investing portfolio. 
If you follow my writing with any regularity, you may know that I tend to view monthly dividends as a crutch used by company management teams to mask sub-par performance. Investors very much like the idea of monthly payments and the appeal of those monthly cash payments. For my research of REITs and other higher yielding stocks for this column and The Dividend Hunter, my investment criteria focuses around current yield and expected dividend growth rates. If a monthly pay stock makes the list great, but I often find that the quarterly dividend paying peers of a monthly pay stock offer better total return investment potential. However, if a REIT is a top performer for yield and growth, you get double benefit with a monthly paying REIT that also offers above the average investment potential.
I use Realty Income (NYSE: O) as my bogey or benchmark for REIT comparisons. Realty Income is the gold standard for steady and growing dividends. This retail property focused REIT has increased its dividends every year since going public in 1994. Realty Income also pays monthly and its current practice is to increase the dividend by a fraction of a penny each quarter. For example, the most recent monthly dividend was $0.1831042 per share, up $0.0003125 from the previous quarterly payment of rate $0.1827917. O shares currently yield 5.0% and typically grows the dividend by about 4% each year.
Unless you can find a monthly paying REIT that does better than these numbers, you would be better off investing in Realty Income and losing the password to your brokerage account log-in! But if you're like me, you read and learn about stocks to produce better returns than what the investing herd is willing to settle for.
Here are three monthly pay REITs that will pay a higher yield with faster growing dividends: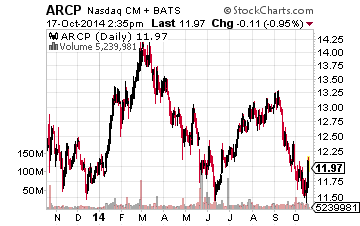 American Realty Capital Properties Inc (Nasdaq: ARCP) went public with an IPO just three years ago and has grown from a $50 million company to a $10.9 billion market cap – for comparison Realty Income mentioned above is worth $9.7 billion. The growth through acquisition strategy has paid off for investors, with steadily increasing monthly dividends. The current dividend rate is 14% higher than than what investors were earning at the end of 2011. ARCP currently yields 8.3%.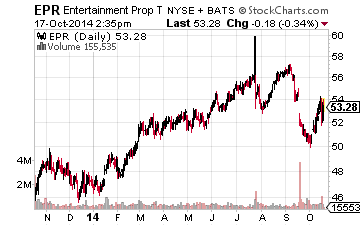 EPR Properties (NYSE: EPR) is a $3.0 billion market cap REIT that owns multiplex movie theaters, entertainment retail centers, metro ski parks, water parks, golf entertainment complexes, and charter schools. This REIT switched from quarterly to monthly dividends in April 2013. The annual dividend rate has grown by 32% over the last 5 years, and increased by 8% from 2013 to 2014. EPR currently yields 6.4%.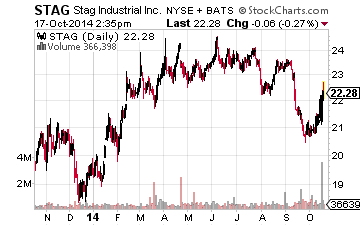 Stag Industrial Inc (NYSE: STAG) is a small cap, $1.3 billion REIT that buys and owns single tenant industrial properties located in secondary markets across the U.S. The secondary markets strategy allows Stag to pick up properties with higher initial and ongoing returns compared to similar investments in large metropolitan areas. The company currently owns over 220 buildings in 31 states. New properties are acquired on almost a monthly basis. The STAG dividend is growing by about 5% per year and the shares currently yield 5.9%.
If you like the idea of monthly dividends generating cash in your brokerage account, veer away from the mainstream and take a closer look at these three REITs from diversified sectors of the commercial property markets.
Or take a look at my new monthly income system that makes sure you get dividend checks every month from a diverse range of holdings. That way you're not overexposed to one sector by still collecting high yields. My system is called The Monthly Dividend Paycheck Calendar.
The Monthly Dividend Paycheck Calendar is set up to make sure you're getting 2, 3, even 5 dividend paychecks per month from stable, reliable stocks with high yields.
The Calendar tells you when you need to own the stock, when to expect your next payout, and how much you could make. I've done all the research and hard work, you just have to pick the stocks and dividend amount you want to get paid each month. Find out more about this unique, easy way of collecting monthly dividends.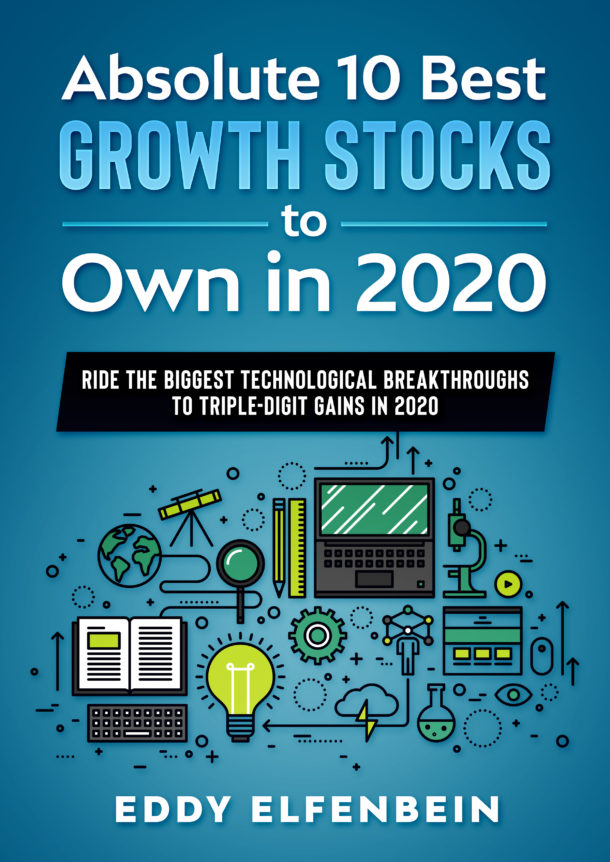 [NEW REPORT] Absolute 10 Best Growth Stocks to Own in 2020
Get the best 10 stocks to ride the 2020 tech explosion. 
One could be the most valuable stock of the next decade. 
Normally, I charge $20 for this report…
But, today...you can claim a copy absolutely free.
One stock alone has a chance at 167% profits in the next 12 months (or sooner). 
Enter your email below to claim a free copy while they last.