Upstream master limited partnerships offer unique dividend investing opportunities. These partnerships can lock in distribution rates for years ahead meaning that, despite volatility in the prices of oil, these high yields are safe. Tim Plaehn has found 3 undervalued stocks that will continue to pay you big dividends no matter what happens in the economy.
The exploration and production – also called upstream and sometimes referred to as "E&P" – energy master limited partnerships (MLPs) generate attractive yields through the drilling and operation of energy wells and the sales of crude oil, natural gas and natural gas liquids (NGLs). The prices of this sector of the MLP space took a double-whammy hit during the recent stock market sell-off. Even as the overall market recovered these unit prices have remained down, offering the opportunity to lock in some safe, double digit yields.
The abrupt correction in share prices hit almost all market sectors without discretion. From record highs in mid-September, the S&P 500 was down 8% a month later. And we all probably own stocks that fell by a lot more than 8%. Since the October 16 bottom, the market overall has recovered about half of the drop.
Over the same period, crude oil dropped from the mid $90's per barrel where it had traded for several months down to very close to $80 per barrel. The drop in the price of crude resulted in a sell off of those companies that sell crude and would see a sharp drop in their profit margins. The upstream MLPs fall into this category, and many saw their unit prices drop by more than 20%. Since the bottom of the sell-off, the MLP unit prices have somewhat recovered, but remain well below the values they carried in late September.
The upstream MLPs are managed to maintain free cash flow and the distributions through up and down cycles in the prices of crude oil and natural gas. When these partnerships sell off during an energy price scare, it can be a great time to buy some units and lock in the higher than normal yields. There are several reasons why the MLPs mentioned in this article those in The Dividend Hunter portfolio will be able to maintain the current distribution rates.
All of the MLPs use hedging strategies to lock in floor values for their expected oil and gas production for the next several years. The current distribution rates are fully protected through at least the end of 2015, and well into 2016 even if oil and gas were to decline further.
The MLPs produce a mix of crude, natural gas, and NGLs. This means a drop in crude only affects a portion of the revenue stream. Natural gas has not dropped as much as oil and NGLs are in high demand with strong pricing going into the cold winter season.
Drilling for oil and gas in the U.S. continues to become more and more efficient. The MLPs will not face a post-2015 cash flow challenge unless oil drops into the $70 range and natural gas down to $3.50 or less for an extended period of time.
These facts support the investment thesis that the upstream MLP distributions are secure through at least 2015 and buying in at the current lower prices will lock in higher yields and possibly result in some capital gains. The unit prices have made modest gains back toward their pre-sell-off prices like the rest of the stock market, but still have some space to run until fully they're back to those levels. Here are three of the most widely owned upstream MLPs, with how much the prices fell from the unit highs and where the current prices are in relation to those peak values: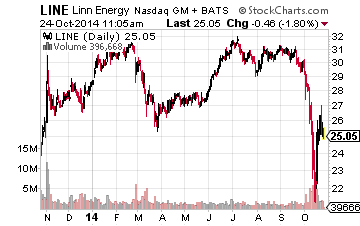 Linn Energy LLC (Nasdaq: LINE) dropped by 29% from a $31.70 share price and a 9% yield to $22.40 and a 13% yield. At its current range between $25 and $26 LINE still yields 11.4%. The price should eventually move back up to somewhere near $30.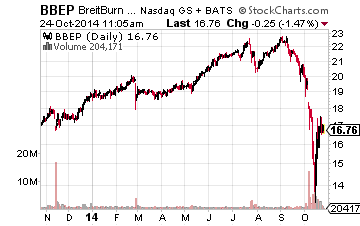 BreitBurn Energy Partners LP (Nasdaq: BBEP) lost 39% going from $23 and an 8% yield down to $14 for a 14.4% yield. The BBEP price has recovered to around $17 and currently yields 11.9%.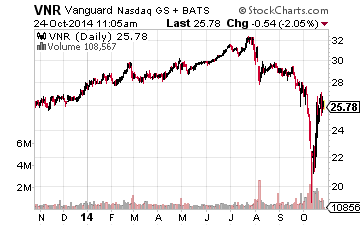 Vanguard Natural Resources, LLC (Nasdaq: VNR) dropped from $29.50 to $22 for a 34% decline and an increase in the yield to 11.5%, up from 8.5%. At its current value around $26, VNR yields 9.7%.
Weather experts predict another brutal winter for much of North America and that usually means a pattern of increasing unit prices as we move from fall to winter: just like last year.
This past summer was particularly mild and many stocks in the energy space were trading at discounts even before the recent sell-off setting up a number of attractive entry points before the next run-up. And as you read above, many are now offering double digit yields for income investors. I've added several high yield MLPs to The Dividend Hunter at attractive entry points. Click here for the full report on my top 5 MLPs.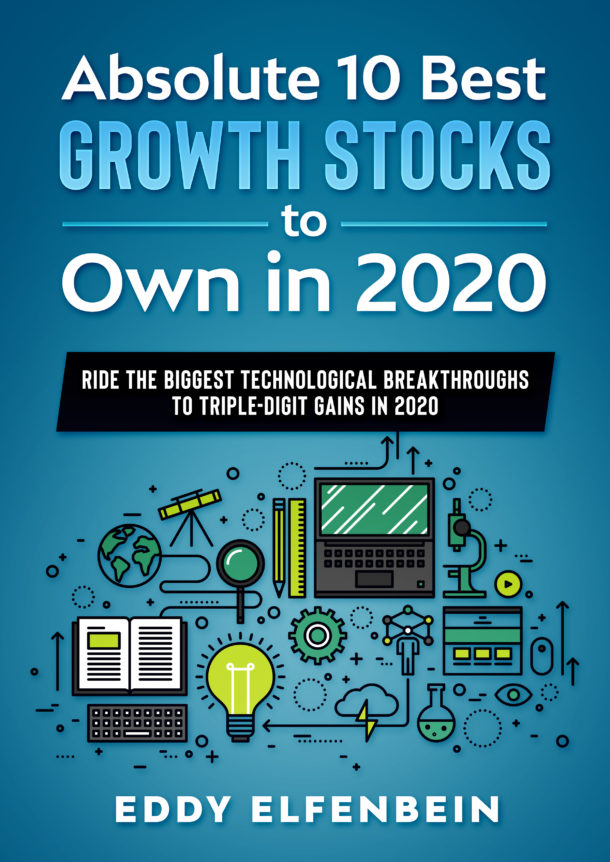 [NEW REPORT] Absolute 10 Best Growth Stocks to Own in 2020
Get the best 10 stocks to ride the 2020 tech explosion. 
One could be the most valuable stock of the next decade. 
Normally, I charge $20 for this report…
But, today...you can claim a copy absolutely free.
One stock alone has a chance at 167% profits in the next 12 months (or sooner). 
Enter your email below to claim a free copy while they last.